Hello, my pretties! Welcome to another edition of the mutiny.
What's the mutiny you ask? Well, I have always said that I wasn't going to become a review blog and yet, I've had this itch in the back of my head… so here we are. I'm waging a mutiny against myself and I'm going to do some mini reviews + feature upcoming reads I'm excited about.
For this specific edition, I'm going to share my 5 star reads from the January to April, so settle in!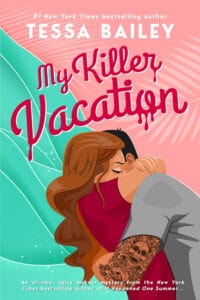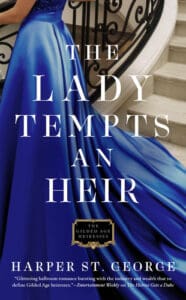 My Killer Vacation by Tessa Bailey — 5★ — I read this one back in February and still haven't posted my official review yet, but I will say that I love the characters, the banter, the everything.  I'll read anything Tessa puts out and this one was fantastic.
The Lady Tempts an Heir by Harper St. George — 5★ –I've loved this series from the beginning and couldn't wait to get to Max and Helena's story. I loved both of them from the first time we saw them on the page. They're both such good, loyal, and loving people and it was delightful reading their fake relationship turn real. Especially after they admitted how much they enjoyed riling each other up with the button pushing. And it's always fantastic seeing August and Violet and the scenes with all three of them together are great. There's a good amount of banter, push and pull, and a few longing filled glances (which is always a favorite). I could have done with a bit more from the epilogue, but I did like the mini futuretake.
Love & Other Disasters by Anita Kelly — 5★ –Well, this was a damn delight. I love love loved Dahlia and London. Dahlia comes across as flighty, but she's steadfast. London comes across as gruff, but they're loyal. Together these two have delightful banter, sweet secret moments, and good amount of dirty talk. I loved London's sister Julie so very much. There are a good amount of characters here, but it's definitely the Dahlia and London show. The pressure of the cooking show really made their personalities shine and while I wasn't sure how the challenges would go, it never felt repetitive. The tension is a slow build up until it explodes into some minor conflict and the resolution is perfect. The only thing better is the epilogue.
Dating Dr. Dil by Nisha Sharma — 5★ — I love love loved Kareena. She's sassy, reads romance, and stands up for herself. Prem is confident, successful, and headstrong. Together they have instant chemistry, loads of button pushing, and a lot of fun. Oh, and there are some great side characters slash BFFs on each of the MC's sides and I hope they get their own books. There's a lot of push and pull, but it really worked here. And give me an older and super meddling family member any time. It's always one of my favorite things and these Aunties are fantastic. Added bonus: the break up doesn't last too long and the grand gesture is perfect.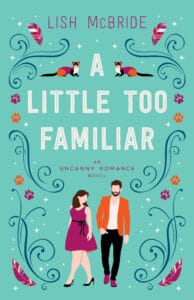 All the Feels by Olivia Dade — 5★ — Well, I need to go kick past Stacee for taking so damn long to get to this story because it was fantastic. I love love loved Lauren and Alex. I loved their banter and their instant chemistry and their incessant button pushing (really, it was Alex doing all of the button pushing, but Lauren played a bit too.) I loved his obsession with fanfiction and how he sucked everyone into reading it too. I loved how they both alternated between tender and crunchy. I think I could just list all of the things I loved and it still wouldn't be enough. These two spend most of the book together and it's exactly what I wanted. The relationship unfurls organically and I really appreciated how they spent time getting to know each other and talking before romantic thoughts came into play. And can I tell you how fucking phenomenal the epilogue is?
Delilah Green Doesn't Care by Ashley Herring Blake — 5★ — I was in just as soon as I saw Ashley's name on it. I have loved her YA books and I couldn't wait to see what she would do with a romance. I love love loved Delilah. She's all crunchy outside and really gooey on the inside, but doesn't know it yet. Claire is charming and unsure and filled with love. Astrid and Iris are both interesting, but I feel like we saw just the surface of them. I loved reading the turn from flirting to unbelievability to something casual to more. The meddling aspect of Astrid's relationship was a good building block for the other three women to get to know each other. Not to mention the snarkfest. And while I wanted more from the final chapter, I'm excited at the set up for book 2.
The Spanish Love Deception by Elena Armas — 5★ — I love love loved Catalina and Aaron. She's a damn delight and he's so very gruff and together they have animosity for days. I loved reading them progress through not quite enemies to partners to friends to more more more. Of course I loved her nosy family and Rosie was the perfect ride or die bff. It was the slowest of slow burns and I was fucking gone for it. So many glances. So many accidental touches. So many times I wondered if he'd been in love with her the entire time. They have chemistry and honest conversation and I appreciated that we got to know them and see everything progress organically. My only complaint is that I definitely wanted more at the end, but I hope I get to see more of the HEA in the next book.
A Little Too Familiar by Lish McBride — 5★ — This was absolutely everything I didn't know I wanted and will be going on my top 10 of 2022 list.  I love love loved Lou and Declan. They fit so well together and it was delightful reading their relationship progress organically. This cast of characters is phenomenal and I enjoyed the main group's love for each other, complete supportiveness, and how they all jumped to help, no matter what. It was a good balance of romance, snark, and magic. The world building was slight, but made sense and the variety of people and abilities was fun fun fun. Oh, and let's not forget the ferrets, baby phoenix, and pigeons. I was here because Lish's name is on the front and I'll read anything she puts out. This just happens to be my favorite thing. I can't wait to read more from this group.
I am still so very behind on review books and have a lot of amazing titles that I'm excited for, so I can't just narrow a few down. I've sort of lost my routine of reading before bed and it's hindered any amount of reading that I'm doing, but I'm working on it!


What about you? Have you read any of these books or do you want to?