When I got the invitation to do an interview with the cast of Destination Fear, I couldn't reply fast enough.  Hubs and I are huge fans of the show and it was exciting to see that they were getting a panel at SDCC at home. As always, I'm always surprised when I get approved and after some back and forth with details, I was going to have a 15-20 minute phone conversation.
Before we get to the interview, let's check out the show!
Title: Destination Fear
Seasons: Three
Format: Live Action
Episodes: 8 x 60 minutes
Platform: Travel Channel, Discovery+
Release Date: July 24, 2021

Synopsis: Destination Fear back on the road for another tour de terror. Paranormal explorers Dakota Laden, Chelsea Laden, Tanner Wiseman and Alex Schroeder hit the haunted highways, byways and back roads of America once again, spending the night inside the nation's most haunted, scariest and abandoned locations. This season, the fear-chasing foursome will be driven to the edge of endurance. Exploring under the harshest conditions they've ever faced and using sensory deprivation tactics to augment their paranormal experiment, this trip will test their mental, emotional and physical strength to the extreme.

Cast: Dakota Laden, Chelsea Laden, Tanner Wiseman, Alex Schroeder
What do each of you look for when selecting a location to visit?
Dakota: Great question. I first think "is this going to scare my friends." (Laughs) For me, I like a big, massive abandoned building since we do separate and sleep alone. So when we do that, how far away are we going to be?
Alex: for me, I think back to the previous location and think about who messed with me the most and pick my location based on how I can mess with them the most. (Laughs) But really, I have my own bucket list of dream locations that I would like to see and I just go down the list and choose off of that.
Chelsea: I'm a little different. If I can pick, ideally I'm looking for a scary story within the building. It doesn't have to be the biggest and the baddest, but I like it to have that creepy story to it.
photo from Travel Channel
Before you get to the destination, the packet is opened to reveal where you're going and some of its history. When you get to the location, what is scarier: knowing what happened from the information provided or the unknown of what could happen when you're in there?
Chelsea: oh, that's a good question. That's tough. Honestly, I think at first, you're just so captivated by the packet. When you walk through the door, you only have the stories that are planted in your mind. Then when you start exploring, it hits you that by the way, that's other people stories and there can be other things that happen here. I definitely think they're evenly weighted in my book.
Alex: I was going to say the exact same thing. When you open the packet and read about it, your mind is racing about all of the stories and trying to comprehend everything. And then you think "dang, this could happen to me now."
Dakota: And sometimes it works against you. You psych yourself out about a certain floor, like the boiler room. You hear so much about the boiler room that you let your guard down on a different floor and that can sometimes backfire where what you're anticipating isn't what happens and it catches you way off guard.
Do you protect yourselves in any way before entering the location?
Alex: I wear a cross every night I go in. I wear a cross around my neck and that's how I protect myself.
Dakota: Afterwards, I'll pray and I wear a cross too. With the road trip and doing so many stops, the actual cleansing part you can't really do until the road trip is over since you're going from the next to the next.
Chelsea: I'm also a person of prayers. I do feel very protected going into these places just based on my faith. I'm definitely a prayer person and I think we need some prayers on this dang road trip. (Laughs)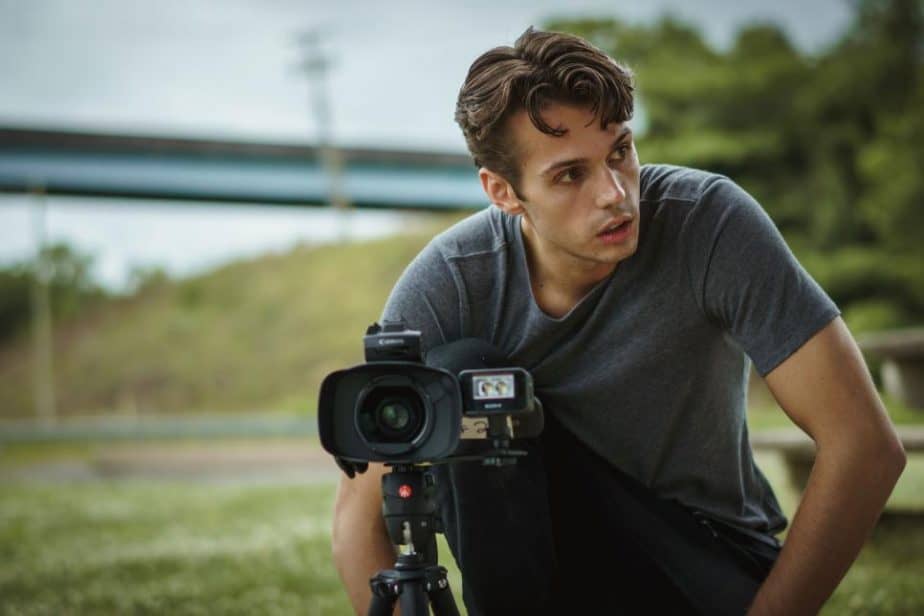 photo from Travel Channel
For Dakota: you won a contest and joined the Ghost Adventures cast for an investigation before being hired. What made you want to branch out to your own show?
Dakota: Back in the day, when we all graduated high school, we decided to do a documentary called Trails of Terror which was Destination Fear. We went on a road trip across the country in an RV to five of the most haunted locations. It was a total passion project. It's something we've been doing our entire lives: going to haunted places and we took it up a notch. It kind of just sat on a shelf for a long time. We never really did much with the movie. We went to some festivals and had screenings, but later on, after being with the Ghost Adventures crew for a while, it somehow got into the eyes of the Travel Channel. They loved the documentary and I'm just glad we had done it because we were able to show a concept in a whole hour and a half of what this could be.
Chelsea: Honestly, you guys have always been filmmakers. You were filmmakers before you were on Ghost Adventures. It was always a passion that you guys had. It was like all of the puzzle pieces of your life fell into place and made for a perfect situation. And now you're producing, editing, and a cast member on the show. It's been amazing seeing the progression from the beginning to now.
Dakota: It's true. I mean Alex, Tanner, and some of our other buddies who helped film, we've all been filming with each other for as long as I can remember. It's been really cool that we're able to do this with our best friends. There's a couple people who film the show who you don't see on camera who are our best friends. It's not like we're doing this tv show with people we don't know. It's never once felt like that. It's always felt like we're just doing some YouTube videos.
Alex: Yeah, I mean your right hand man with editing is your best friend from a long time ago and they've helped with all of the videos.
photo from Travel Channel
So is it safe to say for Chelsea and Alex that the show didn't need to be pitched to you in order to join?
Chelsea: Yeah, that's pretty fair. I thought my brother was pretty crazy when he told this to me, but as a sister, I'm in. If you're in, I'm in and I trust you, so let's see what happens.
For Chelsea: besides being an investigator, you're also an optometrist. Are there any skills you've learned from one practice that has helped you in the other?
Chelsea: that is such a good question and it's funny because when I think about both of my professions, on paper they seem very different, but there are times where learning about the physiology of the eye and the anatomy…things like floaters in the eye or when people see things. I'm always the person who tries to rule things out on a scientific level, so it's funny that you say that because I've never been asked that. It definitely has crossover for sure. The left side of me tends to be skeptical for a lot of things. And the film industry in general, with working with all of these different lenses and lens hue. Optically speaking, there's a lot of similarities.
And I had no idea that you played hockey. It was really cool to find that out.
Chelsea: thank you! People think I'm really tough because I played and then they see me on Destination Fear and they're like wait a minute. This girl's screaming.
Dakota: we actually featured that this season on the road trip. We surprised Chelsea and rented out an ice rink for the day. I had my mom ship out her pads and we all played hockey against Chelsea. As expected, she kicked our butts.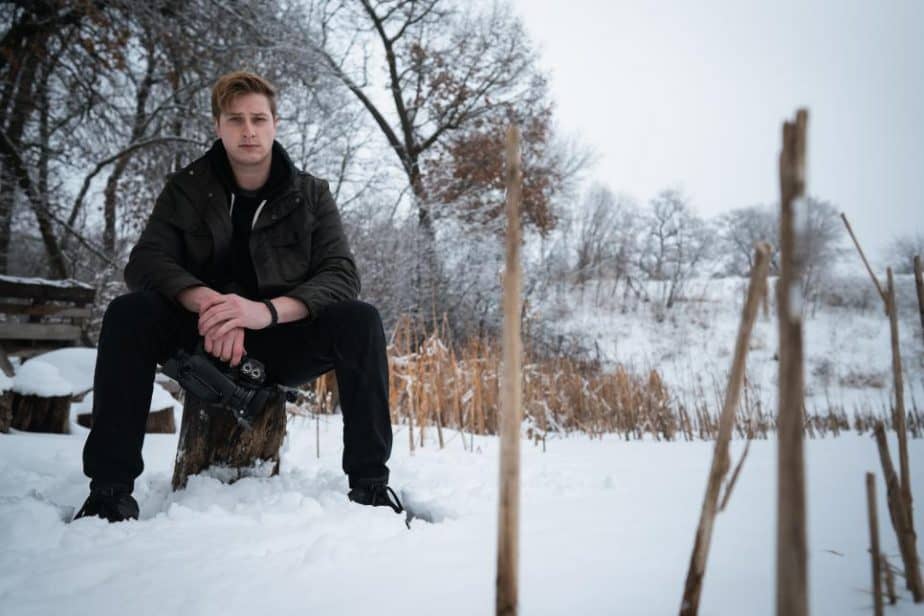 photo from Travel Channel
For Alex: when the show started, did you think you would be as involved as you are or were you planning to stay behind the camera?
Alex: I've been friends with Dakota for as long as I can remember and in the back of my mind I always knew at some point that he was going to throw me into the pulling a location out of the hat. I just didn't know he was going to be as quick as he was. I thought I would get a couple more pit stops on the way before he started doing that, but no. On the second location he goes, "oh hey, Alex, by the way, you'll be drawing out of the hat tonight too." I kind of mentally prepared myself for it, but I didn't expect it to be that quickly.
Chelsea: it just shows how right off the bat, on episode one of season one that you were such an important part of the show. There was no way around it. It wasn't like we were trying to do anything like make your position more noticeable. It just happened organically that Alex was part of it and we're rolling with it.
Alex: that's what happens when you put a group of life long friends together, everyone just feels included, no matter what.
Dakota: even night one, our first stop ever, I was mad that I didn't throw you in at the end. I was like why did I have him stay in the gear room when there was a bunch of other buildings and you could have been haunted.
Alex: don't kick yourself about it.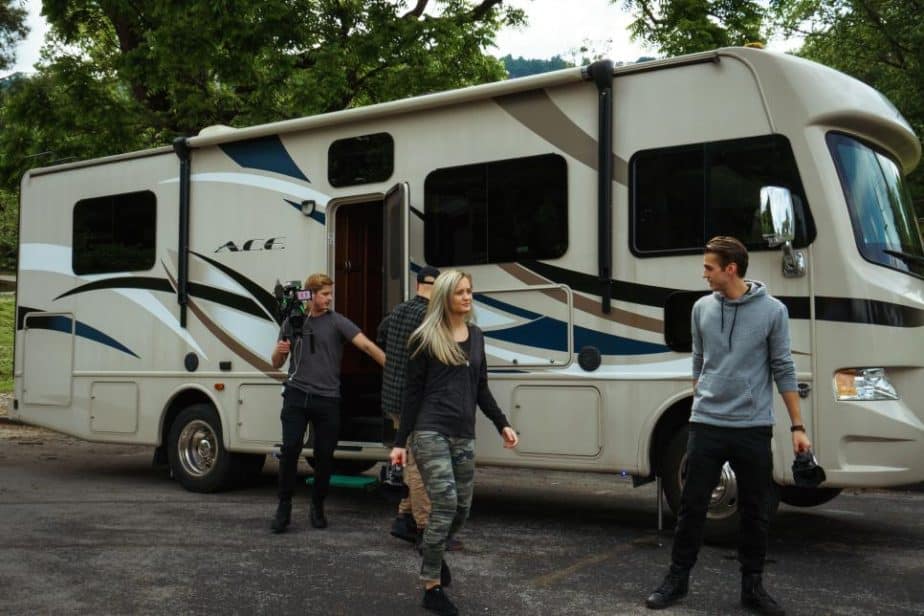 photo from Travel Channel
If access wasn't an issue, where would you most want to investigate?
Chelsea: I want to go to Europe. In a castle. That's all I've got. I want to go to Europe.
Dakota: in the country, in the US, there's a place called the Molly Stark hospital in Ohio. And they just don't let people in to do ghost stuff. All of the stories are from police officers who have been in there and it's haunted as hell and it seems terrifying. Abroad, there's an island called Poveglia Island in Italy where they would put people who had the Black Plague. I think it's off limits, but that one to me would be bucket list number 1.
Chelsea: that sounds terrifying.
Alex: for me, I would agree with Dakota on the Poveglia Island, that one scares the crap out of me. For domestic, I would say Hart Island in New York City. You can't get access to that one because isn't it still being used for some things?
Dakota: Yeah, it's a dumping ground. They've dumped a lot of — what do you call bodies that can't be identified?
Alex: unidentified
Dakota: right. There are over a million unidentified bodies buried on this island and its also an abandoned prison and part of a hospital on the island.
Alex: I would be very curious to see if that place was even haunted.
Chelsea: what is wrong with you guys?
Alex: if was my location, I would be like "we're going to hang out in New York, have some pizza. Chelsea, I'm going to need you to get on a ferry…"
Chelsea: that would not surprise me.
Dakota: Alex definitely has it out for Chelsea after this season.
What is everyone's favorite way to pass time while driving to the location?
Dakota: probably just annoy Chelsea.
Alex: and throw stuff at Chelsea.
Chelsea: and mine would be to put on my headphones and tune the guys out.
Alex: honestly, we listen to a lot of music. We joke around with each other and try to amuse ourselves, I guess.
Dakota: the biggest thing is laughter. There's so much darkness on these road trips that when we have a day of traveling with driving, we try to have fun in the RV and laugh. I'm sure it can be a bit annoying.
Chelsea: before my national boards exam, I actually had to study on the road and there was one time where Dakota had to hold up his cell phone light for like an hour while I was studying on the RV.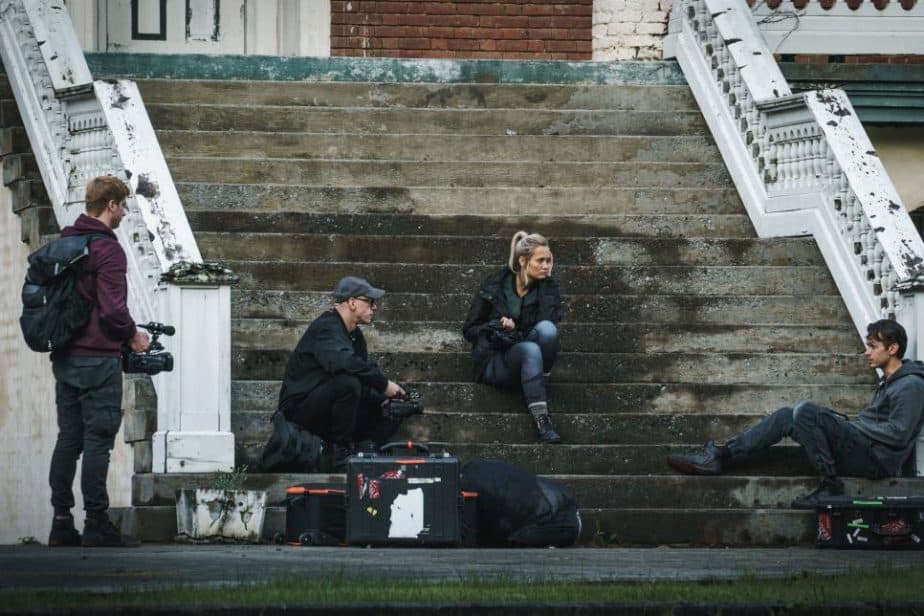 photo from Travel Channel
When it comes time for the show to end, what do you hope you've accomplished?
Dakota: oh, wow. That's a deep one.
Alex: for me, I hope our show inspires other younger people, younger groups of friends to go out on road trips similar to what we've done. It's just been a blast. It's been a bonding experience. We've grown together even more than I thought we could. We've really become family over the past few years.
Dakota: I would say that I grew up on these shows and I would hope that our show can do what these shows did for me growing up. I hope our show can bring people joy and entertainment for years and give them some sort of an escape.
Chelsea: Absolutely. Just the fact that, if you rewind to five years ago, I would have never ever ever imagined that I could have done anything like this and to be able to instill that inspiration into others to face the things that scare them. To keep pushing through. I think we have an awesome fan base and I think people are connecting through our show. I think it's awesome to find a community within a Destination Fear crazy road trip.
Well, I just want to say thanks again for taking the time to do this.  And happy comic con, even though it's at home and not here in san diego.
Chelsea: thank you! we're so excited to share that with everyone. And you'll get to see the new intro.
Dakota: I spent a little bit of time, actually a lot of time working on this new intro. We have a brand new intro and you'll get to see that at comic con. We have several different sneak peeks and we even edited a behind the scenes video of all of our iPhone videos that we've never put on the internet from this road trip. It's just a montage of the craziness and Chelsea might get annoyed with us maybe.

Huge thanks to the Travel Channel for this opportunity and to Chelsea, Dakota, and Alex for taking the time. Season 3 of Destination Fear starts tomorrow on the Travel Channel and the SDCC virtual panel is happening today at 5p PDT!
Have you watched this show? Do you like paranormal shows?