I've been a huge fan of the Written in the Stars books from the very first book and when I was offered the chance to interview Alexandria again for her upcoming release Count Your Lucky Stars, I jumped at the chance.  I've loved these books, but I've been waiting for Margot's story since the first time she walked onto the page.
Before we get to Alexandria's answers, let's check out the book!
Title: Count Your Lucky Stars
Author: Alexandria Bellefleur
Pages: 384
Publisher: Avon Books
Pub Date: February 1, 2022
Find it: HC | Indiebound | Bookshop | Goodreads

Margot Cooper doesn't do relationships. She tried and it blew up in her face, so she'll stick with casual hookups, thank you very much. But now her entire crew has found "the one" and she's beginning to feel like a fifth wheel. And then fate (the heartless bitch) intervenes. While touring a wedding venue with her engaged friends, Margot comes face-to-face with Olivia Grant—her childhood friend, her first love, her first… well, everything. It's been ten years, but the moment they lock eyes, Margot's cold, dead heart thumps in her chest.

Olivia must be hallucinating. In the decade since she last saw Margot, her life hasn't gone exactly as planned. At almost thirty, she's been married… and divorced. However, a wedding planner job in Seattle means a fresh start and a chance to follow her dreams. Never in a million years did she expect her important new client's Best Woman would be the one that got away.

When a series of unfortunate events leaves Olivia without a place to stay, Margot offers up her spare room because she's a Very Good Person. Obviously. It has nothing to do with the fact that Olivia is as beautiful as ever and the sparks between them still make Margot tingle. As they spend time in close quarters, Margot starts to question her no-strings stance. Olivia is everything she's ever wanted, but Margot let her in once and it ended in disaster. Will history repeat itself or should she count her lucky stars that she gets a second chance with her first love?
Sounds good, right?
1. Please give the elevator pitch for Count Your Lucky Stars.
COUNT YOUR LUCKY STARS is a sapphic, second chance, estranged friends-to-roommates-to-lovers rom-com about former best friends who get a second chance at first love with each other.
2. While setting up the story line for Margot, were there any plot points you immediately knew you wanted to include?
Since Margot and Olivia haven't spoken in over a decade and each have a lot of unresolved feelings and hurts about how their friendship ended, I knew I was going to need some sort of icebreaker moment to get them talking again. Roommates is such a great trope that forces proximity, so the cat-vibrator catastrophe (if you know, you know!) was a moment I knew I wanted to include pretty early on in the plotting process.
3. Why do you love Margot and Olivia and why should readers root for them?
I love Margot and Olivia because they bring out the best in each other. They care about each other, they want the best for each other, and they encourage the other to chase their dreams and pursue happiness. Readers should root for Margot and Olivia because Margot and Olivia root for each other. In addition to their off-the-charts chemistry, Margot and Olivia make really solid partners.
4. Were there any weird things you googled while researching?
Oh, definitely! Prior to writing the book, I wasn't super familiar with the wedding planning industry, so I spent some time on local Seattle event planner sites to get an understanding of their services and the most popular wedding venues in the Seattle area. Picking the perfect venue for Annie and Brendon's wedding was by far my favorite part of the wedding industry research I did. Early in the book, they tour an event space called The Ruins, which is a real venue located in Queen Anne, Seattle. It's quirky and lavish and I wanted the details to be fairly accurate, so I scoured Yelp for photos and even did an online tour. During my research, I saw that they have a life-size elephant in one of the dining rooms, so I made sure to include that in the book.
Without giving spoilers, there's a scene involving a gigantic truck, so I researched Ford F-650s since I've never been near a truck that large before. It has six doors, is street legal, and shockingly does not require a special license to operate. It's an absolute beast!
5. Without spoilers, which scene was your favorite to write?
By far, the cat-vibrator scene! I don't often make myself laugh when I'm writing or when I go back and read through scenes, but that one actually cracked me up during copy edits. I always enjoy putting my characters into awkward and embarrassing situations, not to be mean or torture them, but because I think it presents a great opportunity for the main character and their love interest to break the ice, bond, let down their guards, and laugh with each other.
Speed(ish) round:
1. What was your last five star read?
Mistakes Were Made by Meryl Wilsner
2. Do you have a favorite trope?
It's a tie between enemies-to-lovers and fauxmance (fake dating and marriage of convenience).
3. What is your favorite snack?
I've been on a popcorn kick, lately! That, and sriracha almonds. I love spicy snacks!
4. Have you watched anything amazing?
I've been rewatching all the previous seasons of Peaky Blinders in preparation the upcoming final season. I've also been binging the remake of Dynasty. The plotlines are absolutely bananas, but I love it so much.
~~~~~~~~~~~~~~~~~~~~~~~~~~~~~~~~~~~~~~~~~~~~~~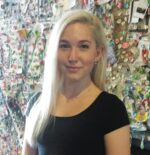 Alexandria Bellefleur is a Lambda Literary Award winner and national bestselling author of swoony contemporary romance often featuring loveable grumps and the sunshine characters who bring them to their knees. A Pacific Northwesterner at heart, Alexandria has a weakness for good coffee, Pike IPA, and Voodoo Doughnuts. Her special skills include finding the best Pad Thai in every city she visits, remembering faces but not names, falling asleep in movie theaters, and keeping cool while reading smutty books in public. She was a 2018 Romance Writers of America Golden Heart finalist.
~~~~~~~~~~~~~~~~~~~~~~~~~~~~~~~~~~~~~~~~~~~~~~
Huge thanks to Avon Books for the opportunity and to Alexandria for taking the time.  Count Your Lucky Stars is out today and buy links are above.
You can also read Alexandria's interview for Hang the Moon here.

Have you read these books? Do you plan to?