I missed seeing Lex Thomas when they had their launch party for Quarantine: The Loners at MGRB. I grabbed the book the next time I was at the store and into the TBR pile it went. Unfortunately, it sat in the TBR pile for a while. It wasn't until I got approved for The Saints on NetGalley that I picked it up.
And damn, I wish I would have read it sooner.
As soon as I saw that Lex and Thomas [yes, they're a duo] were signing at the Grove, I knew I was going. I wasn't about to let this opportunity to meet them slip me by.
We got up to LA in decent time. [You know you're in LA when you think a 2 hour drive from San Diego is making "decent time".] There's an awesome diner type place in the Farmer's Market that we always go to, so we killed time getting some food. After we got into the store, we chatted with Lita for a bit before settling into front row seats.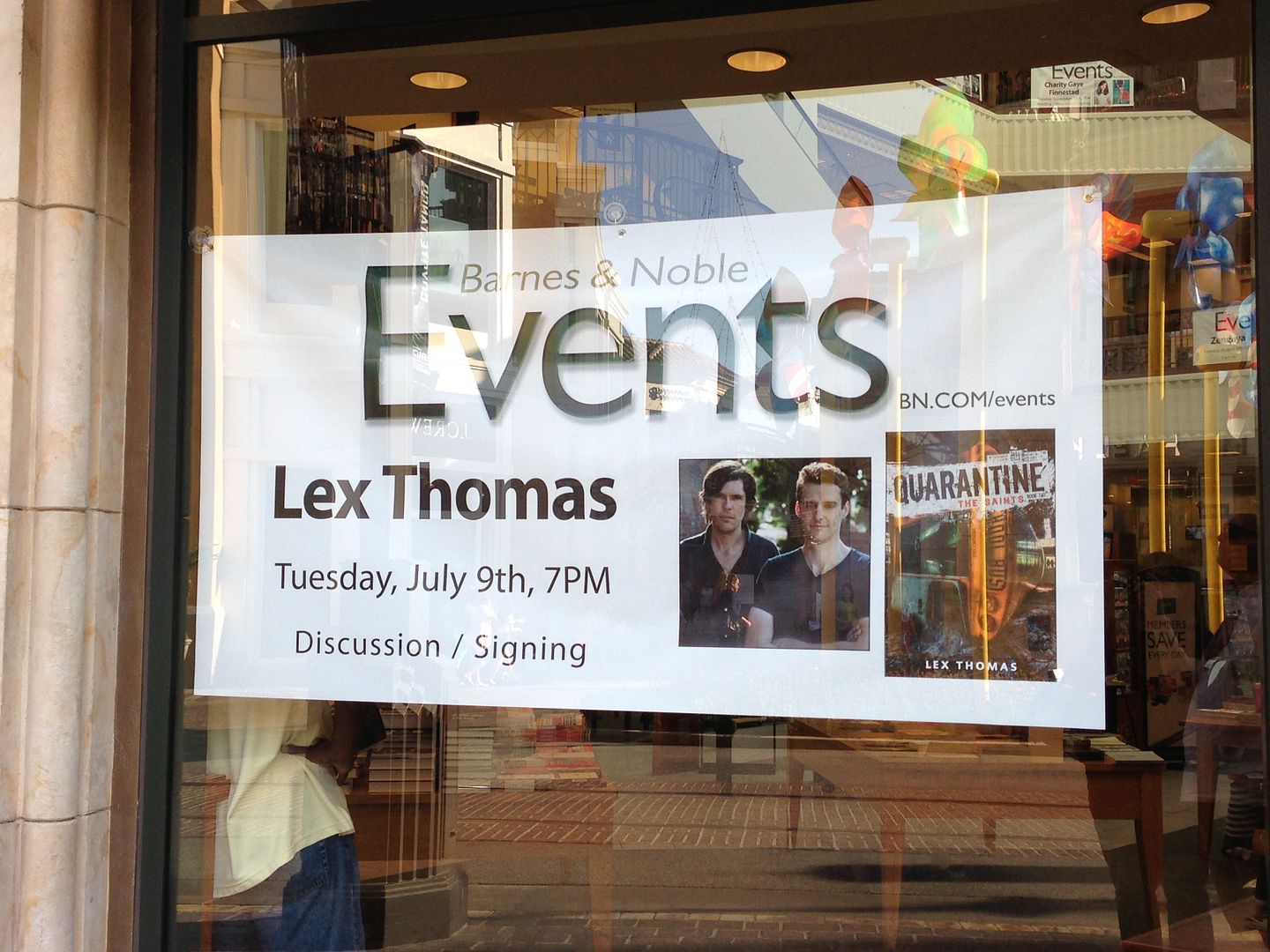 Lex and Thomas got there just after 7pm. [Lita pointed me out to them and told them I drove up.] They gave a brief synopsis of The Loners and then started talking about how they work together, since it's the question they get asked the most.
7 years of working on scripts, got a rhythm. Books are different. Plan together and split up. Tom will work first. Will do a full read when it's done and the take notes and draft again.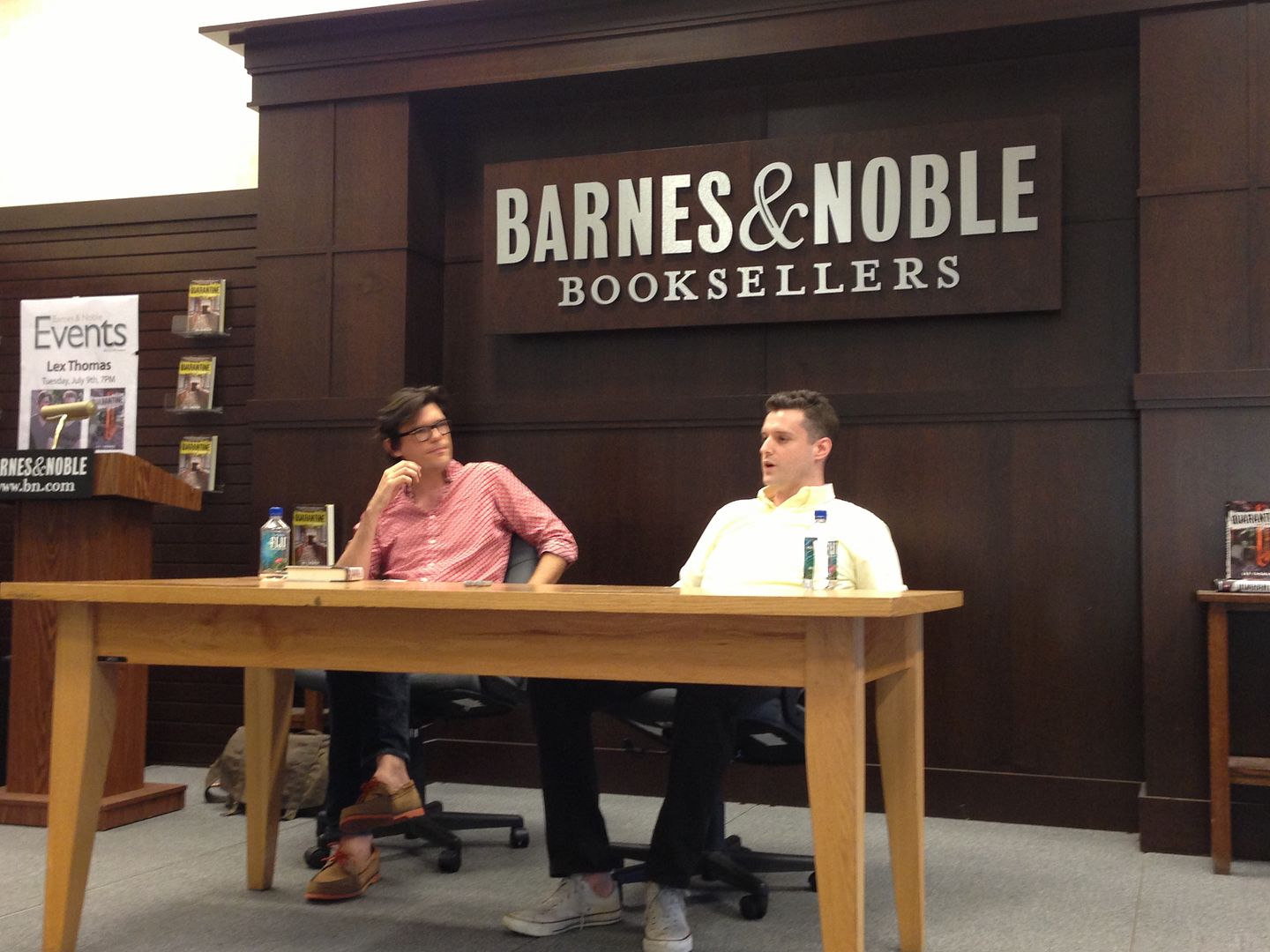 Then they asked if anyone had questions. When no one raised their hand, Lex pulled out a printed page of questions that they are most often asked.
Where did the idea come from?
L: T thought of the idea that high school is a nightmare, gangs and how going to your locker could be dangerous. The virus/quarantine became a secondary part of the book. Tried to focus on what was happening inside.
T: Really wanted them to fight. Basically wanted a story everyone understood: high school.
L: It was an idea that they could dive into. Not that their experience was that bad, but can amplify.
Where do you like to write?
T: In the dark, with a lantern or candles. Built some anti-distraction glasses. [L: I didn't see that. T: Obviously you don't pay attention to my Instagram.] Used to wear a towel and a baseball cap to keep the outside world out.
Does that mean it has to be quiet?
T: Sometimes needs loud music, uses a weird sound generator. Currently uses a coffee shop where there's clinking noises and conversations that you can hear, but can't actually make out.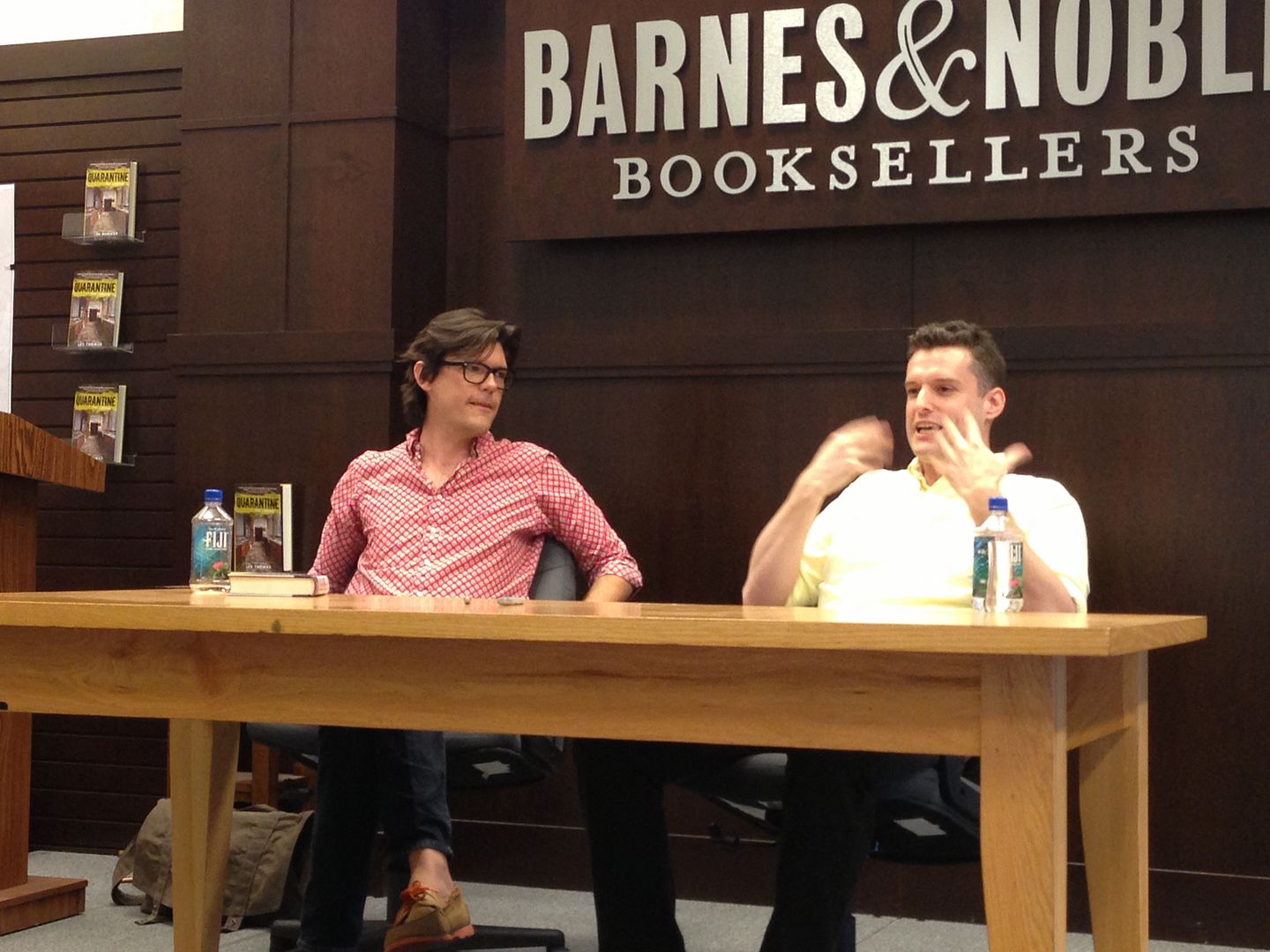 How do you plan out a trilogy?
T: Told the publisher that we knew it was a trilogy and we didn't. Only wrote the first 100 pages. Said the 2nd one would have mutants and supernatural elements and realized that couldn't do any of that. Went down lots of bad roads.
L: Hard to regret anything. Passed on an entire idea. Wrote an entire different second book and editor wasn't thrilled. You can outline a tad, but you can't predict what the characters are going to do emotionally.
If you were stuck in the high school, what gangs would you choose? 
T: The geeks
L: The geeks. Seems like they're having a lot of fun. I was a drama nerd.
T: In school it would have been the freaks. All trench coats and boots.
What are you reading?
T: The Monstrumologist. A YA book about a kid in the 1800s who is an apprentice to a guy who finds all sorts of monsters.
L: Unholy Night by Seth Grahame-Smith.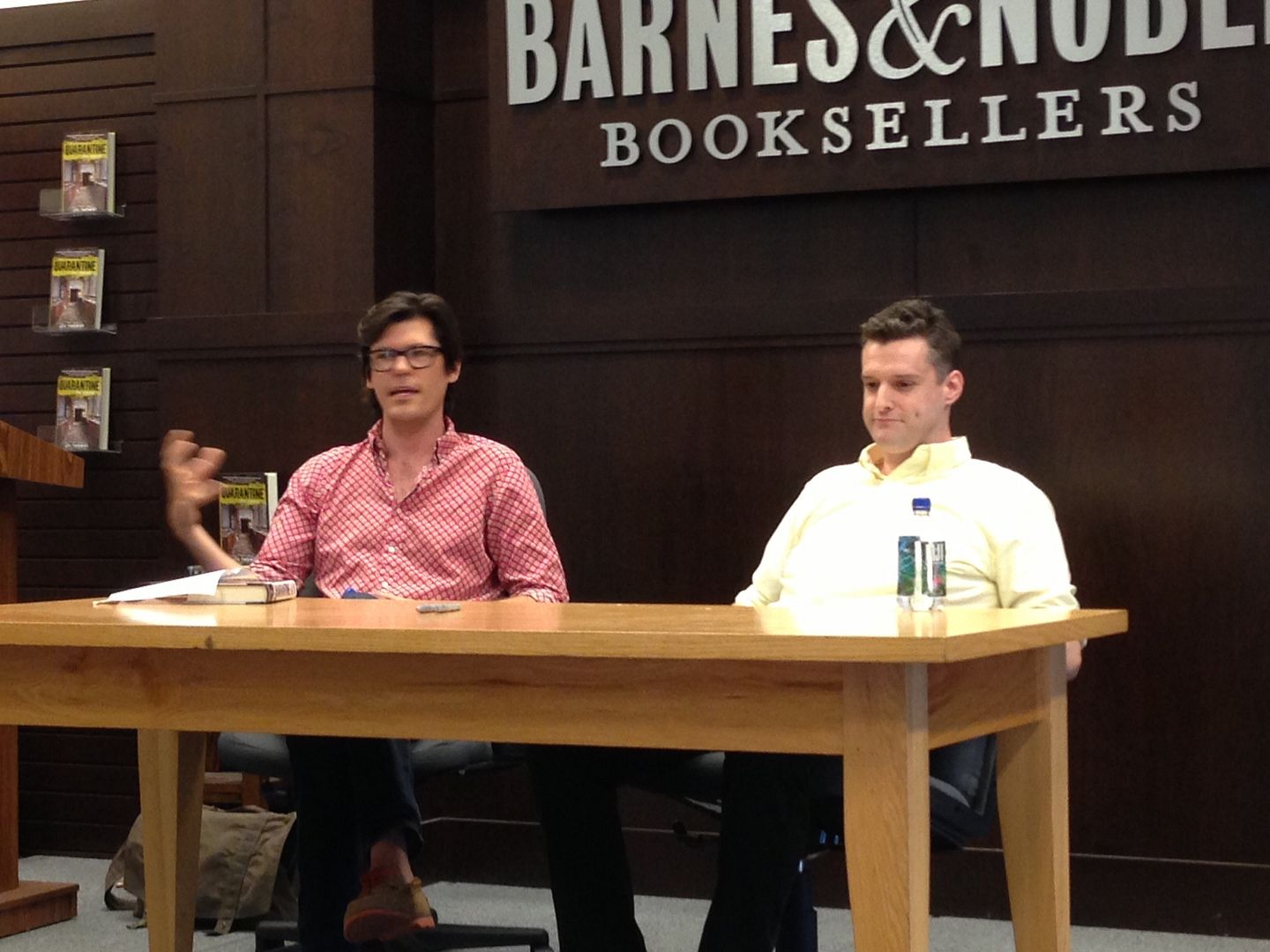 Did you read YA before writing?
T: No. Now I've started reading more.
L: I was only vaguely aware of the category.
What books did you like when you were a teen?
T: A lot of sci-fi. Dean Koontz in jr high.
L: A lot of survival stories. Deliverance, perhaps a bit wise for my years. Stephen King. Misery was one of the first.
When did you have the aha moment of knowing you wanted to write?
L: Movies had more of an impact. Books paved the way, was read high adventure books like Treasure Island and The Hobbit by dad.
T: I didn't know. I loved books, but didn't think I would write. Visual arts in school and then got back to writing in 20s. Wrote something in 4th grade about mind worms that pass from person to person with handshakes.
L: Was an acolyte in church, so wrote a Die Hard story that takes place in church.
What is the most surprising part of writing a novel?
T: Its much more satisfying. The end result is the product. Instead of: here's a blueprint to make a different medium. Publishing is respectful, but it's way more work. More freedom and more pride when done.
L: The way we broke down scripts made novel writing seem possible. Before it seemed massive. Came up with a story plan of how it'll work.
T: Super scary when it first sold.
L: 80 pages sold, then had 2 months to finish The Loners. It was horrifying.
T: Publisher had an open slot on the schedule and that's how the deadline worked.
L: The life or death of the writing made it easy to relate to the characters in the book.
Was there a minimum?
T: Needed a chapter every 2 days. We found we can do it, but it's not ideal. Days where there isn't any progress, you get to the end and find that you can't use any of it.
Is working as a team helpful? You can't lie, you have to be accountable.
T: Whoever is in front had to email the chapter. If it didn't happen, the second person didn't have something to work on. Also nice to have a partner when you get horrible news. Got the news that they needed 100 pages of the meat and they only had 2 days. 2 days of freaking out and then publisher comes back and say "we found you 10 more days"
How did you meet?
L: Met at a writers group.
T: Already an existing group of friends. Met and started partying together.
L: Not a lot of writing got done at first. Bonded over the same type of movies at first. I guess you could consider them bad movies.
T: We bonded over the idea that we didn't think they were bad.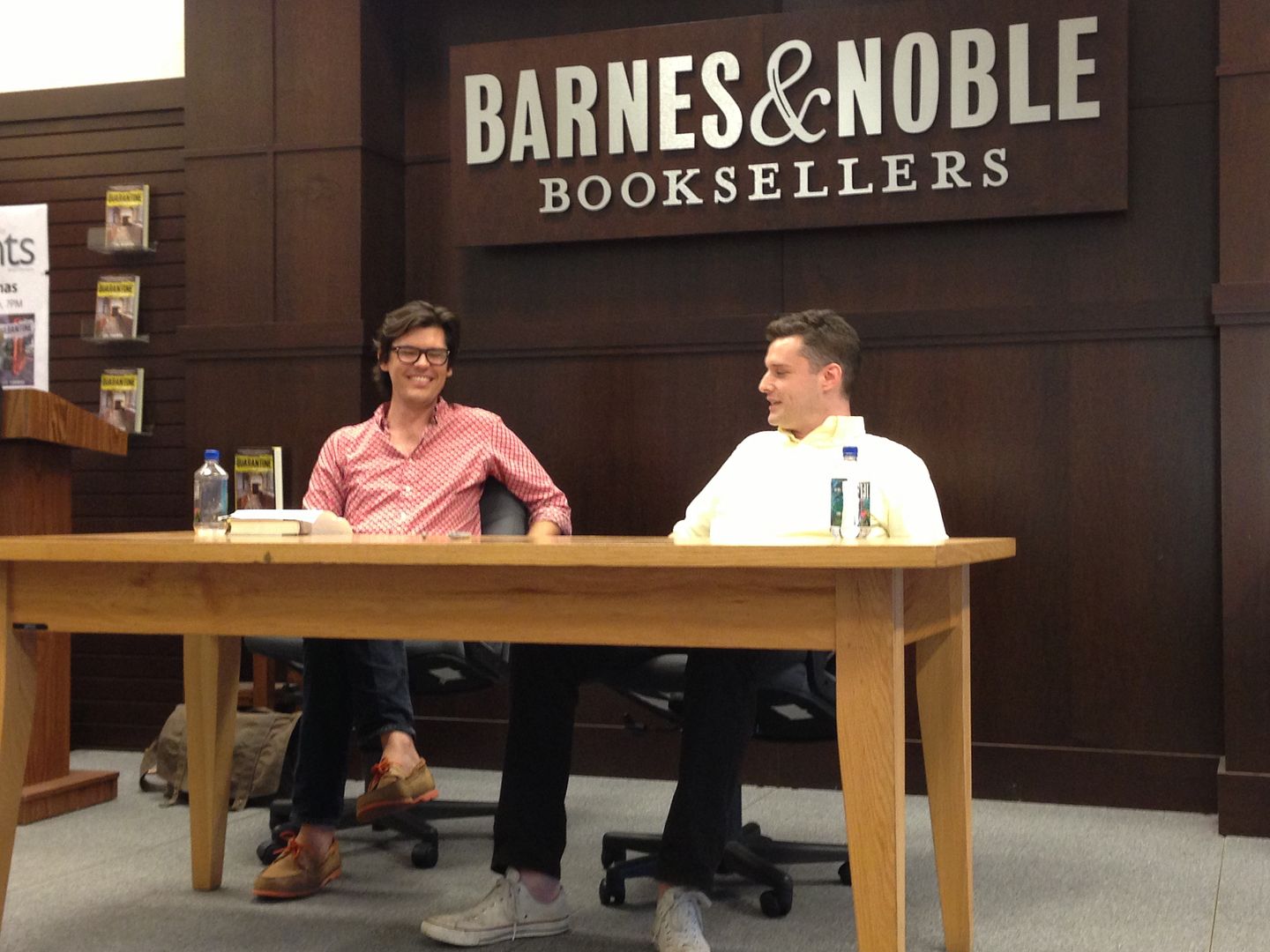 Are you planning on making it a movie?
L: We wrote a script.
T: There's interest, but that's all so far. [At this point, I accidentally hit "publish" instead of save in the app, so I was scrambling to figure out WTF to do instead of listening. I did hear something about casting Rihanna as Violent…]
The talk was over around 7:40 and I was the first to go up to the table. I gave them my copy of The Loners and asked if they could personalize it. I thanked them for coming up and then realized they were from the LA area, I amended my statement. Lex thanked me for driving up and Hubs said, "You're welcome".
They signed my book and then I got a picture with them.