Holly Black was an author who I watched for a while. I didn't start the Curse Workers series until they were all released. And then I devoured them.
As soon as I saw her pop up on the events page for Mysterious Galaxy, I knew I was going. Even though I had no idea wtf Clarion was. While at CC, I had even asked Ben if it was going to end up a ticketed event. I thought it would be a madhouse…
I got down to MG early. I had brought 7 books with me to get signed, but decided that I was only going to get my UK versions signed. When I tweeted about having eleventy billion books and feeling like a d-bag for having so many, Holly actually answered me back, telling me to bring them all.
I went into the store around 6. You know, when my phone was about to die and I had finished my book. There already were a good amount of people wandering around. After browsing [without buying anything], I noticed that there was a small cluster of chairs set up and some people sitting down.
These were chairs that weren't set up by the MG staff. I approached cautiously. These appeared to be serious sci-fi readers. And then I was sort of invited to sit down…
And as I watched people unpack their stacks of books, I decided to get my bagful. Even if I didn't actually have them all signed, at least I had them with me to be able to decide without leaving the signing line.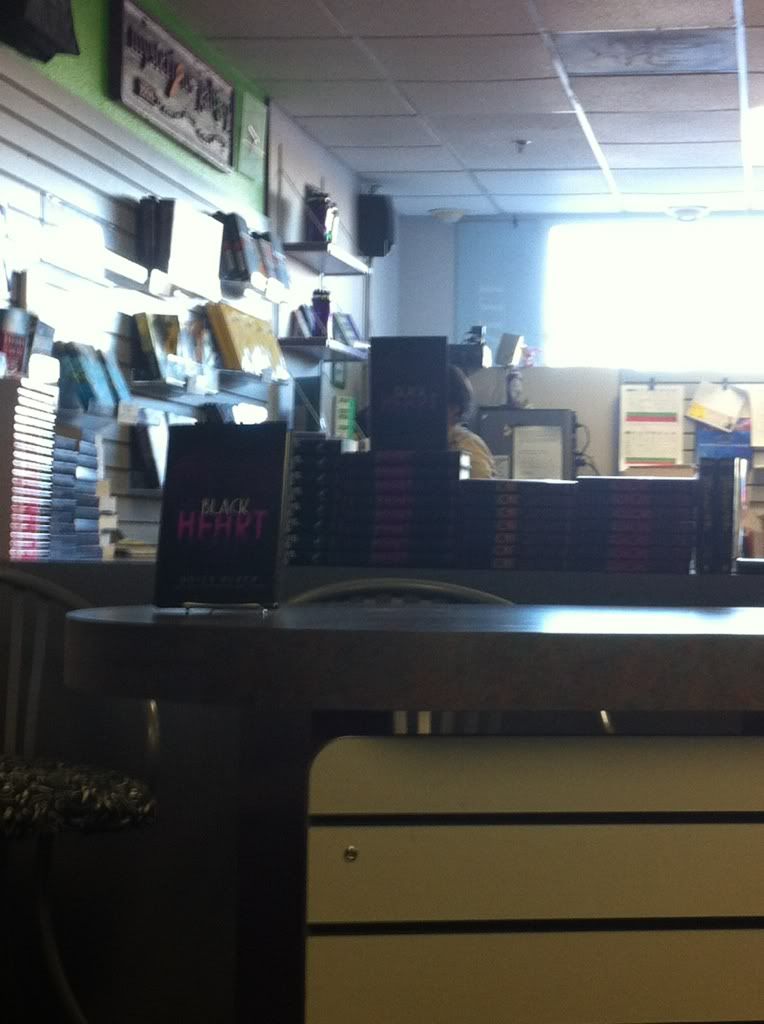 Holly got there right at 7pm.  And with her, Cassandra Clare, but we'll get to her later.
Holly started out with briefly talking about the Clarion writing workshop and teaching a class with Cassandra.  And then she shared the first chapter of her new book.  The draft for it is due on the 30th and she's got a little bit of tweaking to do to it before hand…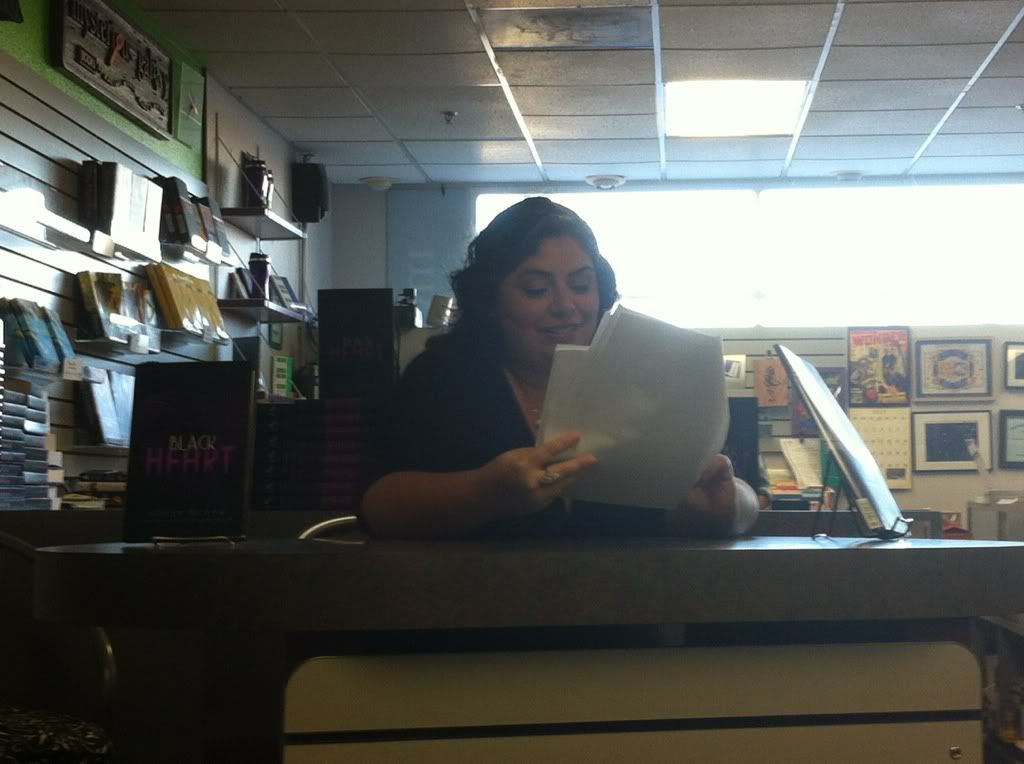 After reading the chapter [It was sooooo good], she opened it up to questions.  Admittedly, I don't know too much about Holly.  I'm aware of her other books, but I've only read White Cat and it's sequels.  I've never read any interviews with her, etc.
You guys.
She's hilarious.  Like, laugh out loud repeatedly hilarious.
She answers all of the questions like she's telling a story.  And she tells those stories like the audience is a big group of her best friends.  I sort of want to follow her around and just listen to her talk about anything. Or everything.
The best thing of the evening was someone asking her to retell the fairy tale that White Cat is loosely based on.  I should have recorded it so I could post it and everyone would be able to see how perfect the answer was because even though I feverishly typed notes into my phone, there is absolutely no way I can accurately get all of her added commentary.
I'm not even going to try.
After about 30 minutes of awesomeness, she started to sign.  I quickly ran over to one of the bookshelves to grab a paperback copy of City of Bones and [after asking Elizabeth to borrow a Sharpee], went over to Cassandra Clare and asked if she wouldn't mind signing it for me.
She was so so so nice and said of course.  I explained that while I really wanted to come back to MG for her signing next week, I've heard a lot of people talking about it and I'm not sure I would be able to get to the store early enough to procure a spot to see/hear her.  That made her gasp and say, "Really?"  I did tell her that I was going try, but that I really appreciated her signing for me then.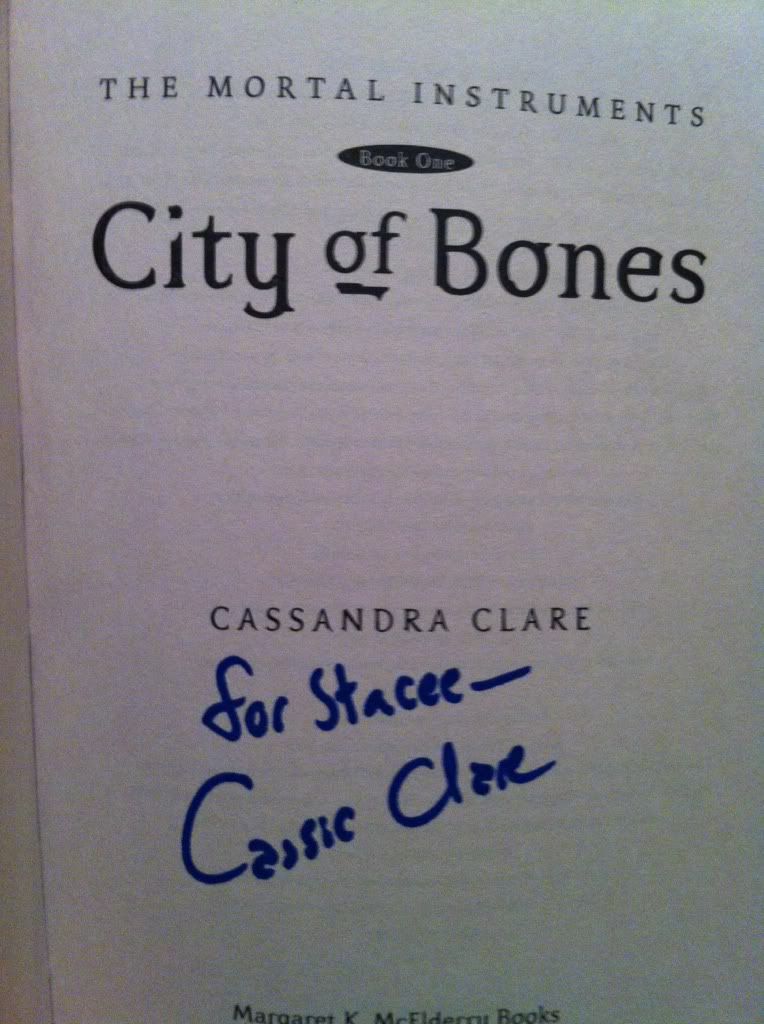 I got over to the line for Holly and was last.  Everyone towards the end had bagfuls of books.  I was planning on getting some picture of Cassandra [the one I do have is blurry], but by the time I was close enough to snap a few, she had moved from her chair and was in a conversation with two women.
When it was my turn to get up to Holly, I first thanked her for coming.  I was still unsure about having all of the books signed, but when I mentioned it to her, she said that she would sign them all.  I pulled out my UK covers first and we talked about how ginormous and gorgeous they were [because they really, really, really are].
From there, I pulled out my hardcover copies and a second UK version of White Cat [which will both probably be giveaways a some point] and she signed those as well.
Afterwards, I asked if I could get a picture with her.  Holly commented on my phone case [Doctor Who] and that launched a brief conversation about how awesome and enjoyable it is.  Which then led to an even briefer conversation about Sherlock before I thanked her again for coming and left.
If you ever get a chance to see Holly Black, I highly recommend it.  Even if you've never read her books, she is an amazing storyteller.