I think I got the arc of SYLO in the super secret back room at MGRB. I ended up reading it right away and l loved the fast pacing of the story. Thankfully, I was paying attention and actually caught a tweet from The Grove about DJ signing.
We got up to The Grove at a perfect time. We were able to grab something to eat before the event area opened at 6pm and still secure 2 row seats on the end.
From there we just waited.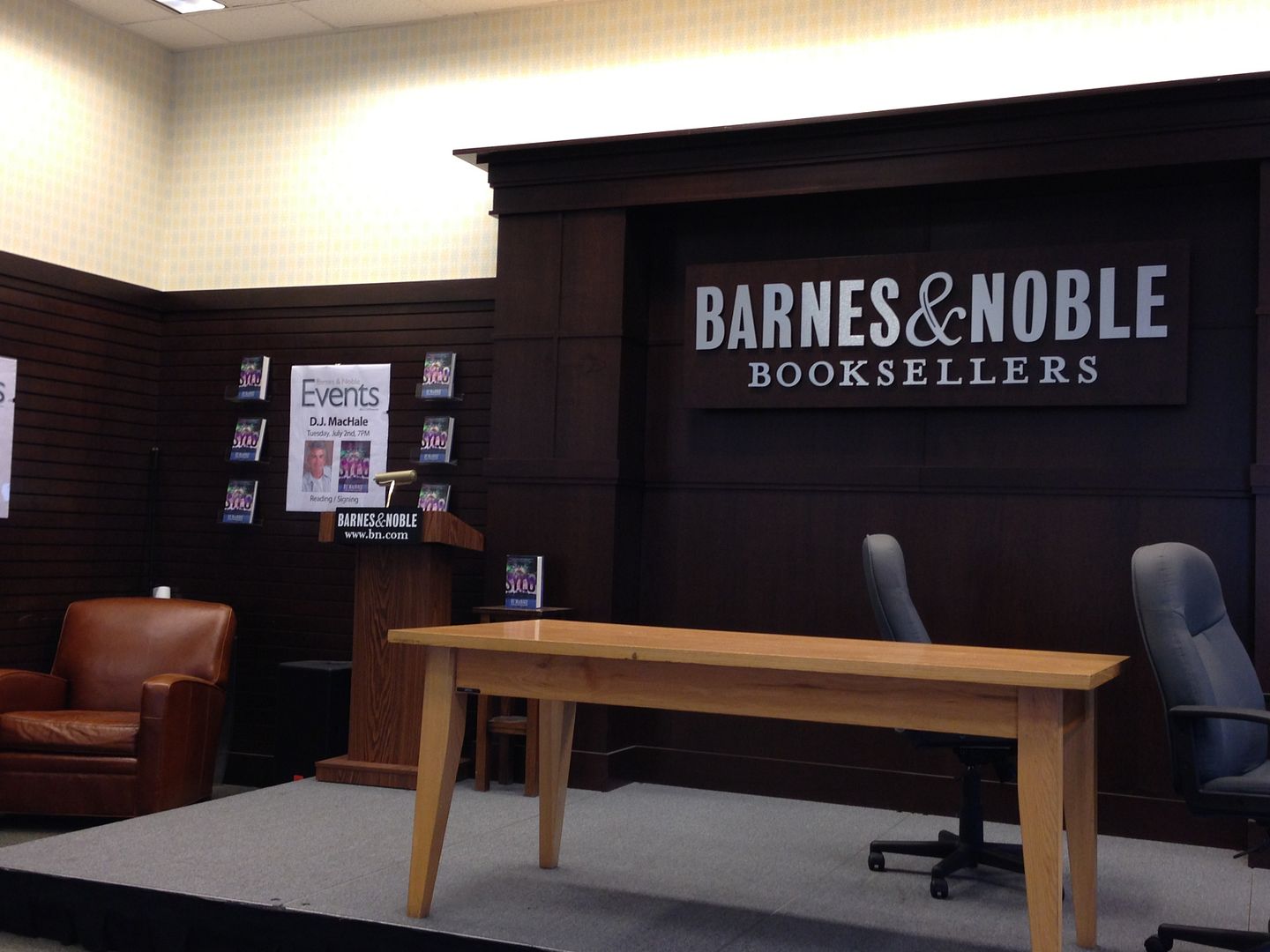 Right at 7pm, there was a huge influx of children who came running and screaming throughout the event area. And within 30 seconds, all of the seats were filled.
DJ came out just after 7. He talked about being a writer and how it was the best job ever. Was always a story teller, always wanted to get out of "real work". Instead of writing reports, would make films. Went to NYU for film school.
Day job was making movies, no one would buy the scripts. Made corporate videos, made the video that every employee at IBM got about the benefits getting cut. Learned how to take a volume of information and cut it to a particular audience, which helped writing for younger audience.
Traveled a lot, "filling up author hard drive". A friend asked if he ever thought about writing for kids. All of a sudden, there were a lot of ideas. Started writing tv shows for kids.
Wrote first tv show for Encyclopedia Brown, wrote the show Are You Afraid of the Dark, wrote the Tower of Terror movie based on the ride. The kids shows that were popular in the 70s, 80s and 90s aren't being made now. But it still exists in books.Had an idea. It was too long for a movie, too expensive for a tv show. Ended up being an outline for 10 books, went to pitch, was told it was horrible. Took it to another person, said it might work. Sent to NY and got it published. Turned out to be Pendragon and 5 million books later, learned never take no for an answer.
Will often base characters on people in real life. One character in the Pendragon series is Officer Wilson. The person who Officer Wilson is based on has a daughter. She works at the bookstore and was working the event.
Big series books for kids didn't exist when he was younger. When Harry Potter came out, it opened the door for many authors. Went from Dr Seuss as a reader to Dr No. Loves character driven adventure, that is what he'll always enjoy.
SYLO is the first of a trilogy. Main character is a version of his own personality, Tucker is based on his slacker persona. Based on Martha's Vineyard. Go watch Jaws before you read SYLO then half of his work is done. Loves to write for the reader who has seen it all to keep everyone guessing.
DJ talked about SYLO and then read the first chapter.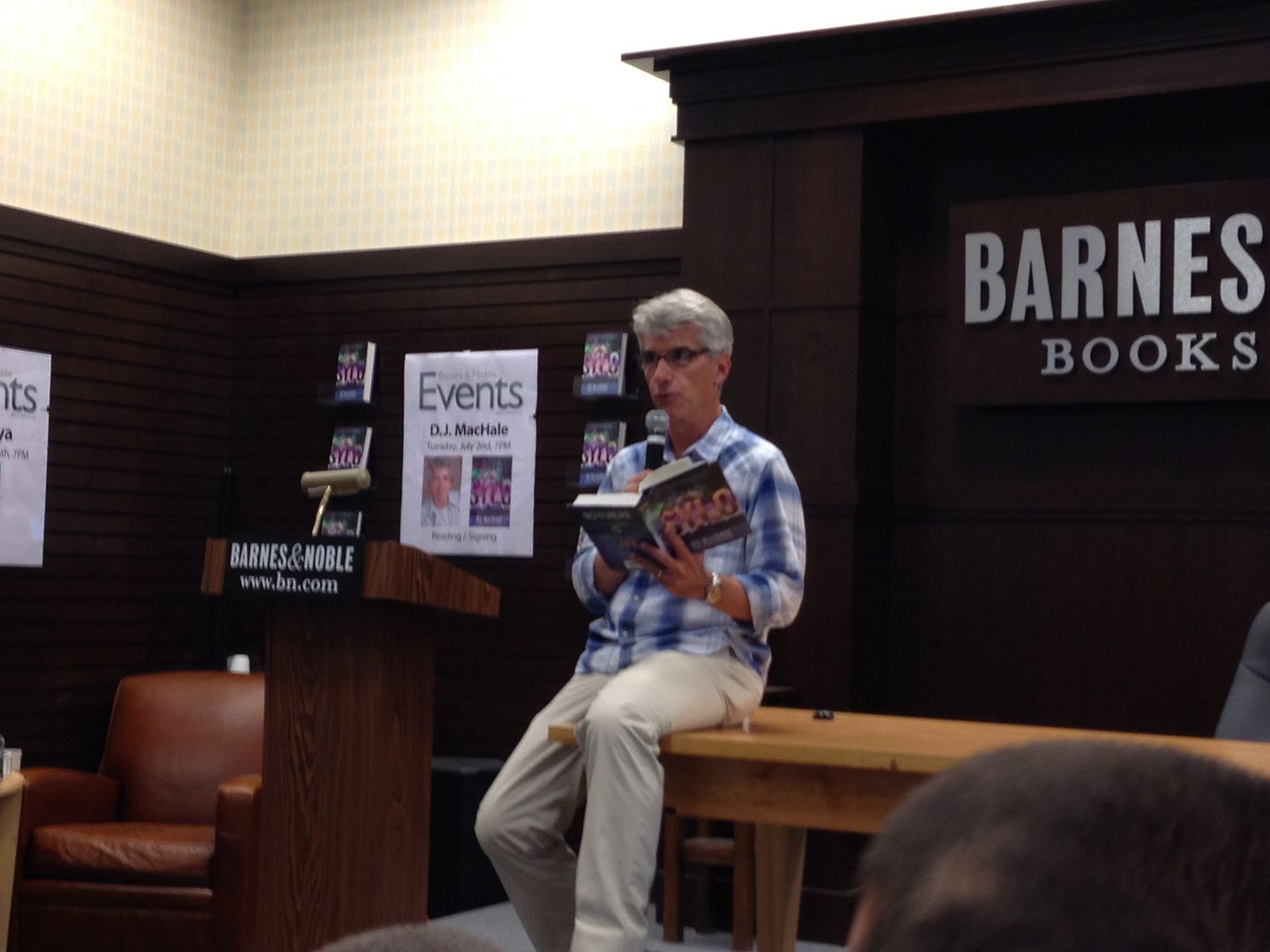 Second book has already been written and there is movie interest now.
He asked if anyone has read the book. When I raised my hand, he asked if I knew what was going to happen, if I had any speculation. I said that I didn't want to admit to anything. He admits that SYLO has a lot of clues in it, that every paragraph and every line has clues.
After about 30 minutes of talking, the Q&A started.
Would you consider a reunion of Are You Afraid of the Dark? 
Wouldn't be against it, but the reoccurring cast has a really small part in the show. Would do it, if everyone would come back to do it. Lots of big stars on it: Ryan Gosling, Eliza Dushku, Hayden Christiansen, Jay Baruchel. Talks about Are You Afraid of the Dark more now than ever before. Was at ALA recently and everyone wanted to talk about that.
Can you explain why you had to remove the parents from the story?
There's always the lament in Disney movies about the mom dying. Two reasons: want to have the adventures about the kids. If they have an adult to lean on, the adventure isn't about the kids. 91 episodes of Afraid, came up with 91 ways to get rid of the parents. If there is a recurring theme in all books, it's self empowerment. What's the first thing kids do if in trouble? Go to an adult, the police, an authority figure. Likes to shut those doors, there's only one person to help. You.
With SYLO, the parents may be part of the problem. At the end, you don't know who to trust, don't know who the bad guy is.
When you start the books, do you already know where it's going to end?
Absolutely. Because they're so intricate, has to have the big ticket items thought out. Outlined all 10  Pendragon books in a week. Get forced to think it all through and then throws away outline.
Is Garden Poultry Cafe real? 
The Pendragon books are based on his home town. You could take the book and walk through the town with it.
After that last question, the signing started. We so wisely remembered to sit on the right side of the seating area and were able to line up right away. When I got up to DJ, he asked how I liked the book and if I had any speculations. I said no, that I was a really shallow reader [he said he was too] and that even if it's spelled out two pages before the reveal, I don't always see it coming.
He told me that he was working on book 3 and when reading back on some of the scenes, he didn't realize how "pedal to the metal" they were. That he didn't set out to write it that way, but it works.
He signed my books and took a picture with me. I [hope I] said thank you before leaving.