Ellen Hopkins has been an elusive addition to Dear Bully. It seems that I continually miss her signing dates or appearances at ALA. Even after the date at Vroman's was announced, I wasn't sure I would be able to get there. But I did.
We got up to the store around 6:20, which is late by our standards. There was a small group of people already there; however front row was still available! I bought the new book, checked with the events person to see if they were passing out signing tickets [no, they weren't] and settled in to wait for Ellen.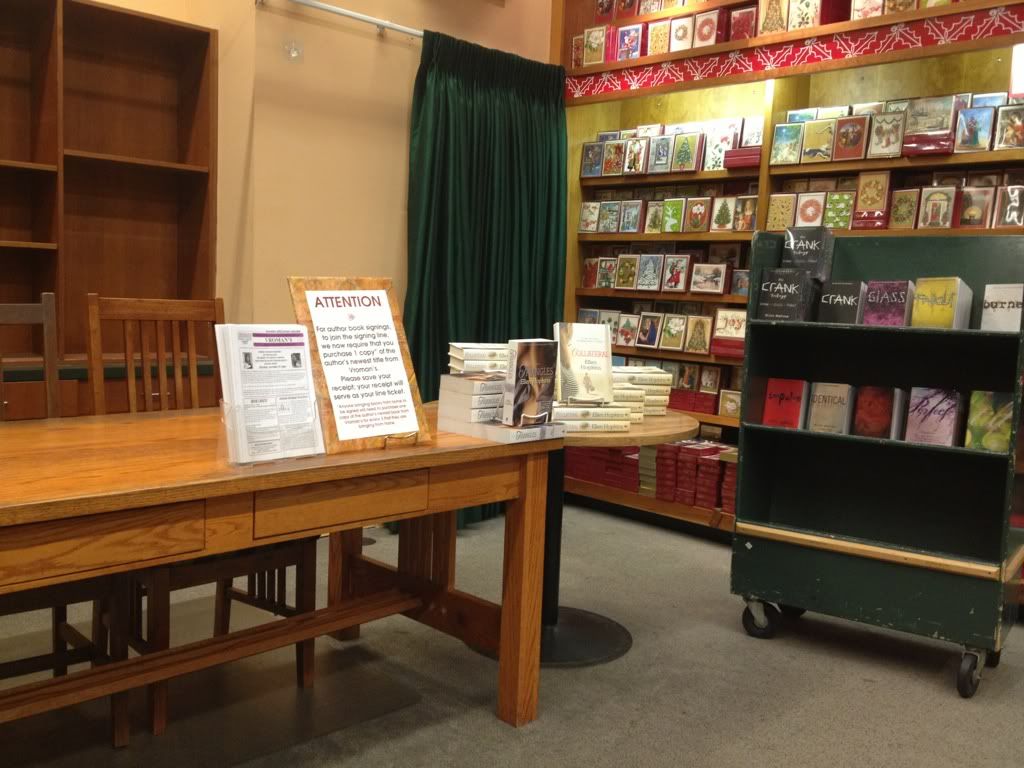 Just before 7, the events lady came in and told us that Ellen was stuck in traffic and would be at the store as soon as possible. To kill time, she went though the "housekeeping" items and even read Ellen's introduction.
Ellen got there around 7:30. She thanked us all for being there and waiting for her after she was late. She immediately started talking about Collateral.
While doing research for Collateral, she spent 100 hours interviewing military families. She also planned to launch something with a particular veterans program, however, after they saw the book, the veterans decided it wasn't a good fit. Ellen figured it was because she doesn't "pretty up" any of her topics.
She then read a poem from the book. The particular poem that is now part of a traveling Iraq photo exhibit. After reading, she shared that she followed a battalion through 2 deployments for authenticity as well as the fact that $1 from every sold copy of Collateral will be donated to a military charity.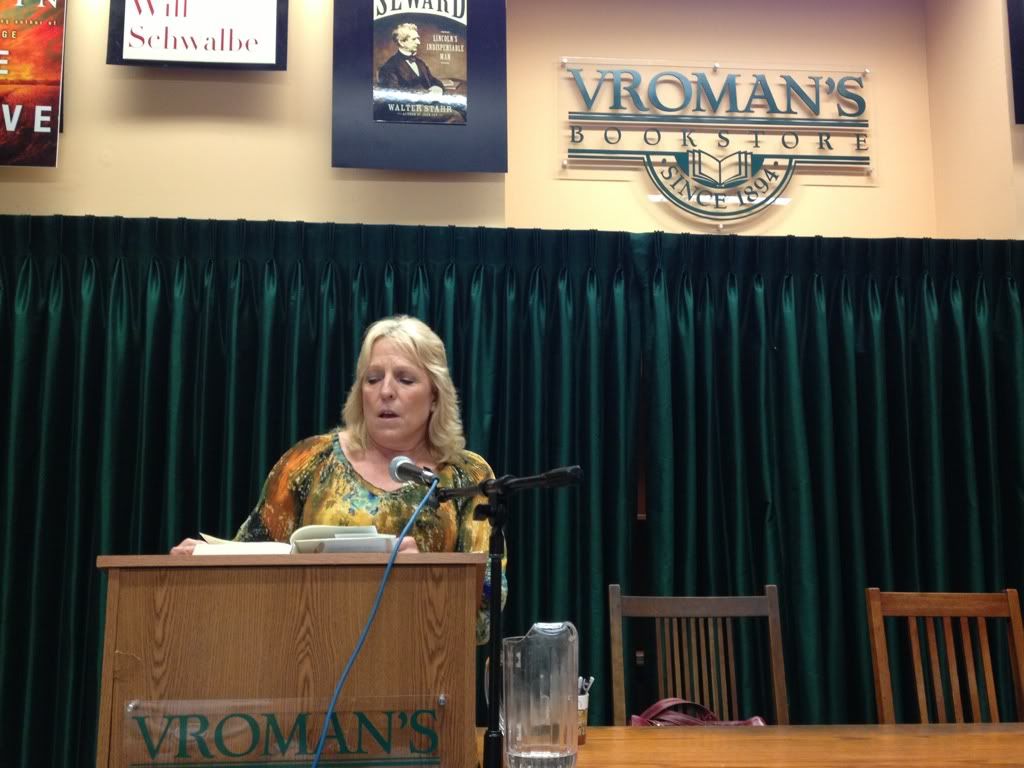 The Q&A started after that and many of the questions focused on Crank, which was a very personal story. Crank focuses on Kristina who becomes addicted to meth [and is based on Ellen's daughter]. It was 6 years of Ellen's life and she decided to write the story for herself. She quickly learned that it was a story that touched a lot of people. Ellen would sell the book without an agent and on only 75 pages.
Ellen's daughter, Kristina, has been supportive of the books and is quite proud of them. At first she was wary, but now shares them with her friends. A lot of the stories from the sequel, Glass, come straight from Kristina, who is doing well now.
Ellen's advice for writers is to be a voyeur: listen to conversations. She gets a lot of information while at airports. Always write every day and if a block happens, try going to a new place to write.
After about 40 minutes of talking, the signing started. When I got up to her, I thanked her for coming. Ellen looked up and me and commented that we've talked on twitter. I said yes, that I'm the one who drove from San Diego. She said it was a far distance. I then told her that we almost came to Vegas for her and Michelle Hodkin. Hubs asked why we had to go to Chicago if they were in Vegas. Sooo I clarified that we flew to Chicago for Michelle.
AND THEN ELLEN SAID THAT MICHELLE TOLD HER ABOUT ME.