When I saw that Shannon Messenger's launch party was going to be at MG, it was a no-brainer. Then I met her at an event with Kiersten White and Kasie West and she mentioned cupcakes and it was a definite thing.
I met Michelle at Starbucks for our regular pre-signing coffee date ritual.  And she spoiled me with arcs from Caitlin [an arc of Unbecoming? EEEEEEEEEEE!!!] and the first two Amy Plum books to complete my collection.
Michelle and I headed into Mysterious Galaxy around 6.  The guys who work there recognized us right away and started setting up the chairs so we would have somewhere to sit.
Shannon was there early and then left.  Her mom brought in the gorgeous bouquet of flowers, balloons and some very tasty treats.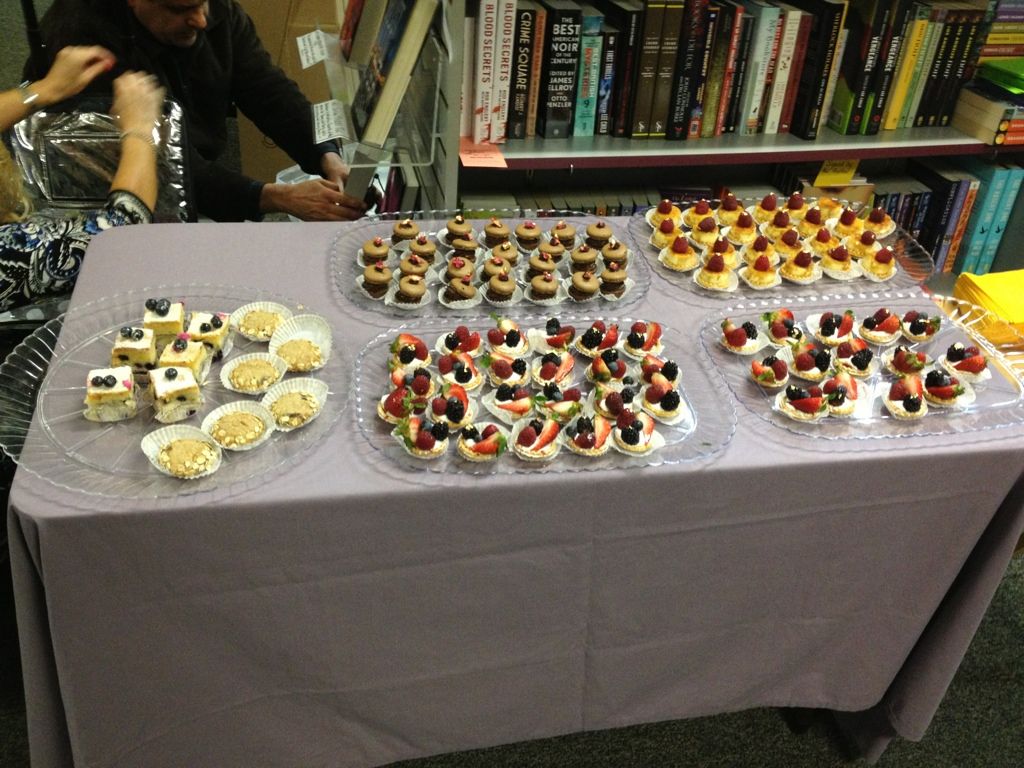 The event started right at 7pm.  Shannon started out talking about how Let the Sky Fall was her "just for fun" book.  She found it very liberating because it was something she worked on when she was trying to get away from working on her middle grade series.  She had been working on version 20 and started writing without the intent of it ever getting published.
The book has a lot of Shannon in it.  The setting is where she grew up, a lot of the jokes are from her childhood, the side characters are based on real life people and Vane's house was friends house.
Shannon admitted that she doesn't know where the voice for teenage boy came from. Thinks maybe from her husband since he's still into video games and Star Wars.
She mentioned again that she wasn't planning on having Let the Sky Fall published, but got confident about it and showed it to some friends. They all loved it. Then she didn't think it would sell because of her middle grade series had just been sold.
And then she sold 5 books in a month and a half.
Shannon read a section of Let the Sky Fall. She asked us if we wanted her to read from Vane's or Audra's point of view. Ava and I both said Vane.  She said that it would sound so much better if she read Audra's and that's why we decided to go with Vane.  She told us to pretend she was a hot teen boy with killer abs and muscles.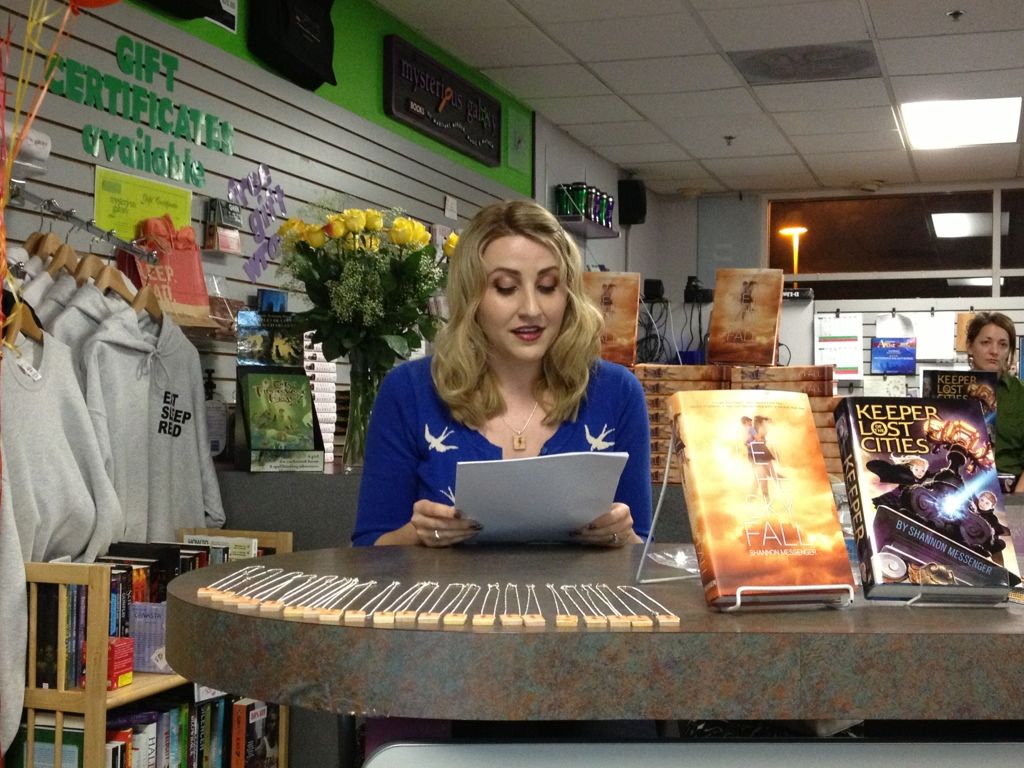 The questions started right after that.  Mostly because Shannon said that it wasn't a good idea to let her sit there and ramble away.
Was there a difference in writing middle grade and YA?
Yes. One series is written in 3rd person, past tense. The other is written in 1st person, duel POV.  When she's writing the middle grade, she really has to focus on kid voice. Can't read anything other than middle grade or something with "pretty prose" because she'll be working with something with glittery poop. She mostly thinks about how it felt when she was 12.
What is the hardest part about writing different series?
Hardest part is having two deadlines. There's no break. The world building is what takes her the most time. For Let the Sky Fall, it's a small world because Vane doesn't know anything about himself. For book 2, it needed to be more. And she likes to always have a why to anything she writes.
She wrote book 2 in 3 months, working 17 hours a day.  Let the Sky Fall will have 2 additional books.
Challenges in writing teenage boy?
It was strange how natural Vane's voice comes to her, it's always been very clear. She listened to what she thinks his music would be: whiny emo. And thinks there's a whiny 17 yo boy inside of her.
After about 20 minutes of questions, Shannon started the signing.  Somehow, I became the first in line [without shoving or slapping].  I got up to Shannon and thanked her for coming.  She signed my book and we talked about her awesome "Keep Calm and Let the Sky Fall" stickers.  As well as the awesome book cover Scrabble tile necklaces she was giving away.
After helping Michelle with her many books and then having the discussion about author involvement with covers, we moved to the corner where Michelle, Beverly, and I talked about all sorts of things revolving around books.
We were getting ready to leave when Shannon realized that she forgot about the In & Out Burger gift cards, so we did a quick raffle.  Alas, I didn't win one.  However, I did get to take home an entire tray of the delicious goodies.
Shannon is adorable and Let the Sky Fall is amazing.  I can't wait for book 2.  I suggest you all go buy it now.  Mysterious Galaxy even has signed copies….