Going to see Gayle Forman is always a given.  I have loved all of her books and after reading I Have Lost My Way, I couldn't wait to hear her talk about it.
As always, we got to the store early.  We got our books and then headed over to Starbucks and Target and to grab something to eat.  We went back to the store about a hour before it started and ran amok, as usual.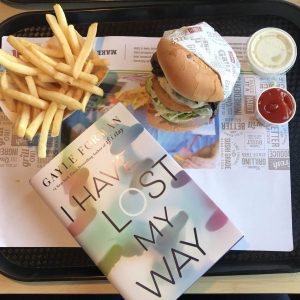 Gayle came out right at 5:30.  She thanked everyone for being at the event and that she wasn't sure what the turn out would be with the holiday. She talked about how she wrote 7 books before a new one and how she thought the ability to write was gone. The phrase that kept coming through was "I have lost my way" and then someone else was saying it.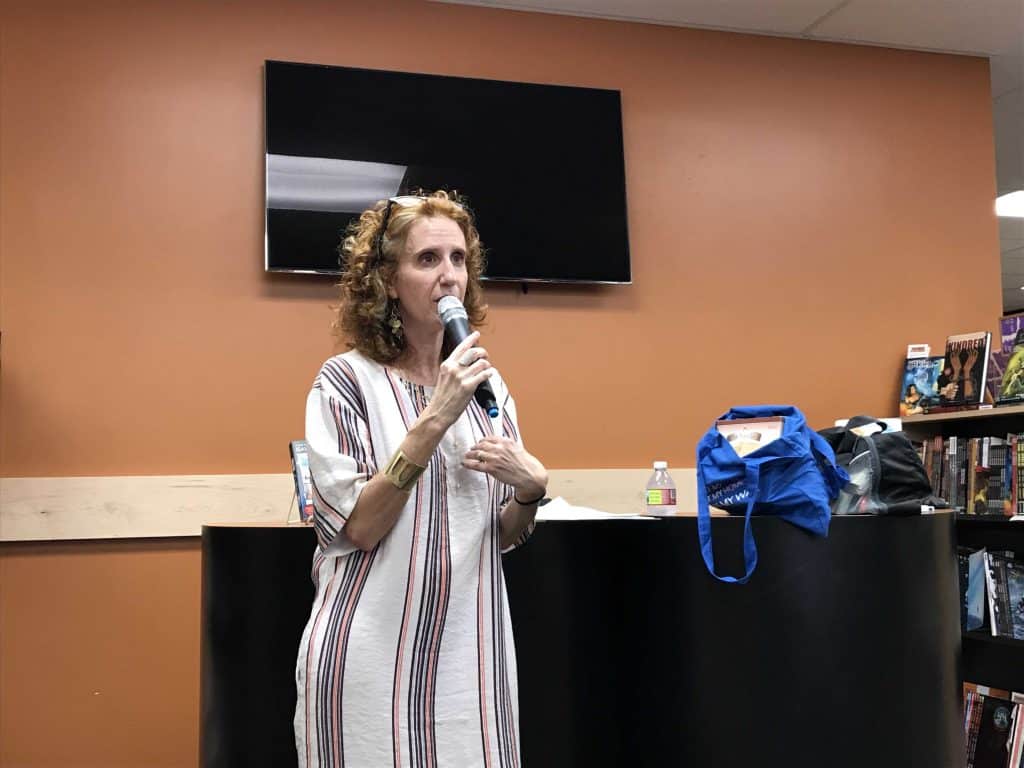 From Freya came Harun. I understood him immediately. I worked the least hard for his arc. They showed up the same way they did in the book: Freya, Harun, and Nathaniel. I thought it would be another crash and burn because they're so different. I got them on the page and they crashed into each other and they helped me find my way.
The idea of being lost, when it happens to you, or at least to me, it was so embarrassing. It was hard, especially in these days, you see everyone's lives. The way they curate online, it seems like everyone has a great life and maybe you feel like you're the only one.
Gayle then asked some of the audience members to come up and act out one of the scenes instead of her doing a reading.  Four people came up and she acted as the narrator.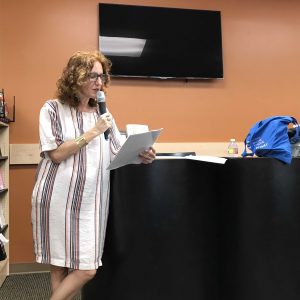 How do you come up with characters names?
G: Freya was immediately. It's an Americanized version of an Ethiopian name. Harun came from a guy I listen to on the radio, but it's different. Nathanial — for boys I like classic names that are traditional. Lately I've been auctioning off names at my kid's schools.
Why did you pick Central Park?
G: I know New York writers writing about New York is so cliche. I hate New York and I love it. One of the things I love that you're just shoved together with all sorts of people. And the city is so public and no one has space, so everyone is always out. You'll come into contact with people who are so different. There's something magical about the city and how they meet.
What made you chose the theme?
It really was what sparked the book. It was me saying the words. It brought me Freya. It's the first line of the book.  At first, people didn't like the title. I'm usually flexible, but on this one, it was important. It was what I was feeling. It was what the characters were feeling. My editor took it in and everyone loved it. And I got my favorite cover ever.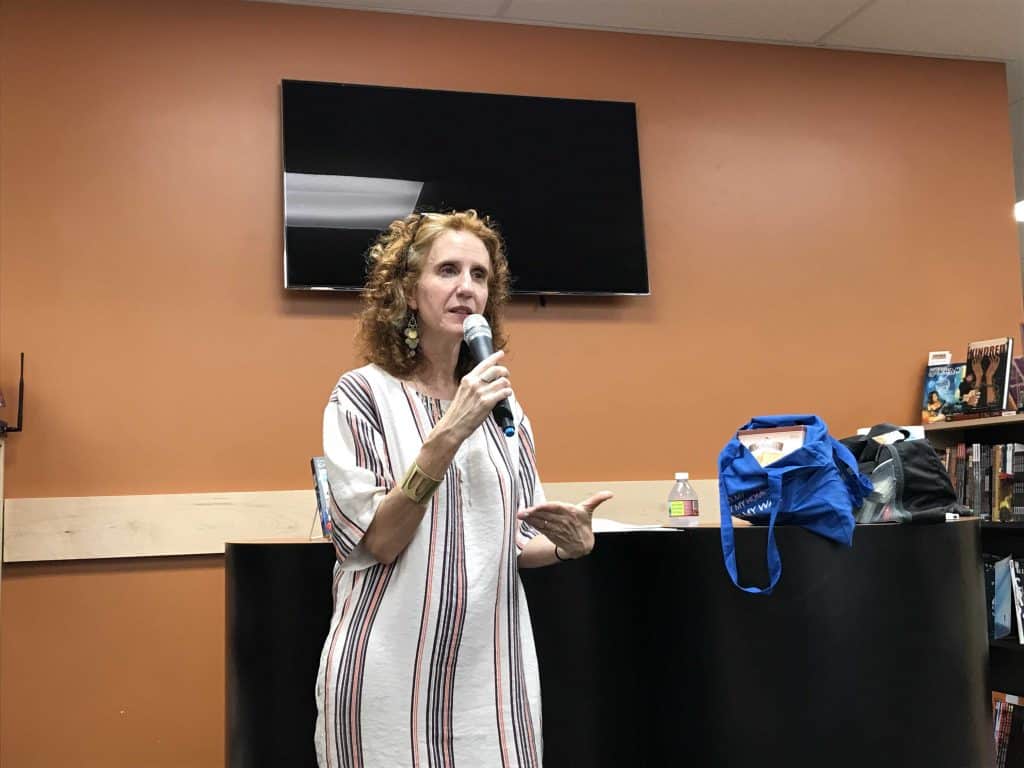 Where did you get inspiration for the lyrics?
Freya is half Ethiopian. I have two kids, one is adopted and one is biological. And when she came home, I was looking to find phrases I could say and lullabies I could sing her. The dress is symbolic in the story.
You have two daughters. Do they read your work before it's published?
The 13 year old has read a few things. When I told her that I couldn't write anything, she said "that's what you always say". So when I finished this one, she wouldn't read it. I try not to use words that teens are using now. It creepy, like an old man at a playground. But in this one, there's online talk about Freya and a guy and their relationship. I had to get the terms for the fans shipping them.
What are some of your recommended reads?
The new Emily Pan. Deb Caletti has a new book and it's so good. I'm late to reading Nicola Yoon and I loved it. I just read Educated. It's a memoir.
How did it feel to go from book to movie?
It was wonderful. There were so many ups and downs and then we finally landed the director and Chloe and they brought me in to work on the script. That was fun. I liked the puzzle of a script and how economical it had to be.
It was crazy surreal. It was my third book at that time. My agent and editor had both quit and I was starting from scratch. I didn't know if it was YA. It was so dark and not linear, but I was so compelled to write it. I loved seeing the musical scenes. It was amazing to see the trailers and cables and the actors and realizing that it's all because of a book I wrote in my living room.
How did you decide on the voices?
I knew it was going to be three voices. It was a sense that two wasn't enough. Nathaniel has been with his father for so long and it wasn't enough. I didn't want to have a huge cast, but I loved the idea that there's always someone there who will be there.
Ritual for writing?
Coffee. I think because I was a journalist before I was a novelist, I have kept the same hours. And my kids school days help too. Sometimes having all of the hours doesn't help. There's something to be said about getting things done in an hour a day.
There were a couple more questions and then Gayle had some audience members volunteer to come up and sing the song that was in the book.  After that, there were two more questions and the signing started.
I got up to Gayle and asked her to sign the huge poster that I got from MG.  I told her she could sign it or draw on it or whatever.  She said she wouldn't give herself devil horns and laughed.  She signed both of my books and I thanked her for coming to the signing.  She then offered me some matzah, which she brought for Passover.
After Gayle signed our books, we made the rounds and said goodbye to the lovelies at Mysterious Galaxy.  As always, Gayle Forman is charismatic and so much fun to hear.  Definitely read all of her books and if you get the chance, see her in person.