I didn't plan on going to Leigh's signing at MGRB once I knew that I was going to Vegas. I had arcs for Robin LaFevers and I wanted to get them signed, but I was more than happy just to drop them off. And then Michelle convinced me to go.
Michelle got to my apartment just before 3 and we left immediately. Traffic was bad, but not too bad for Friday. We got to MGRB around 5:30. Nicole was already there. We chatted for a minute, bought books, and then I took Michelle to the super secret back room.
We ended up hanging out by one of the side tables in the event area and chatting about all thing books. Kristin came over and said hi and also let me borrow her copy of These Broken Stars. Around 6, Carlos and Nicole informed the small crowd that they were moving the event area to the middle of the store.
I helped Carlos set up the rows and then asked if I could have priority seating. We ended up in the front row with Anasheh and Vivian.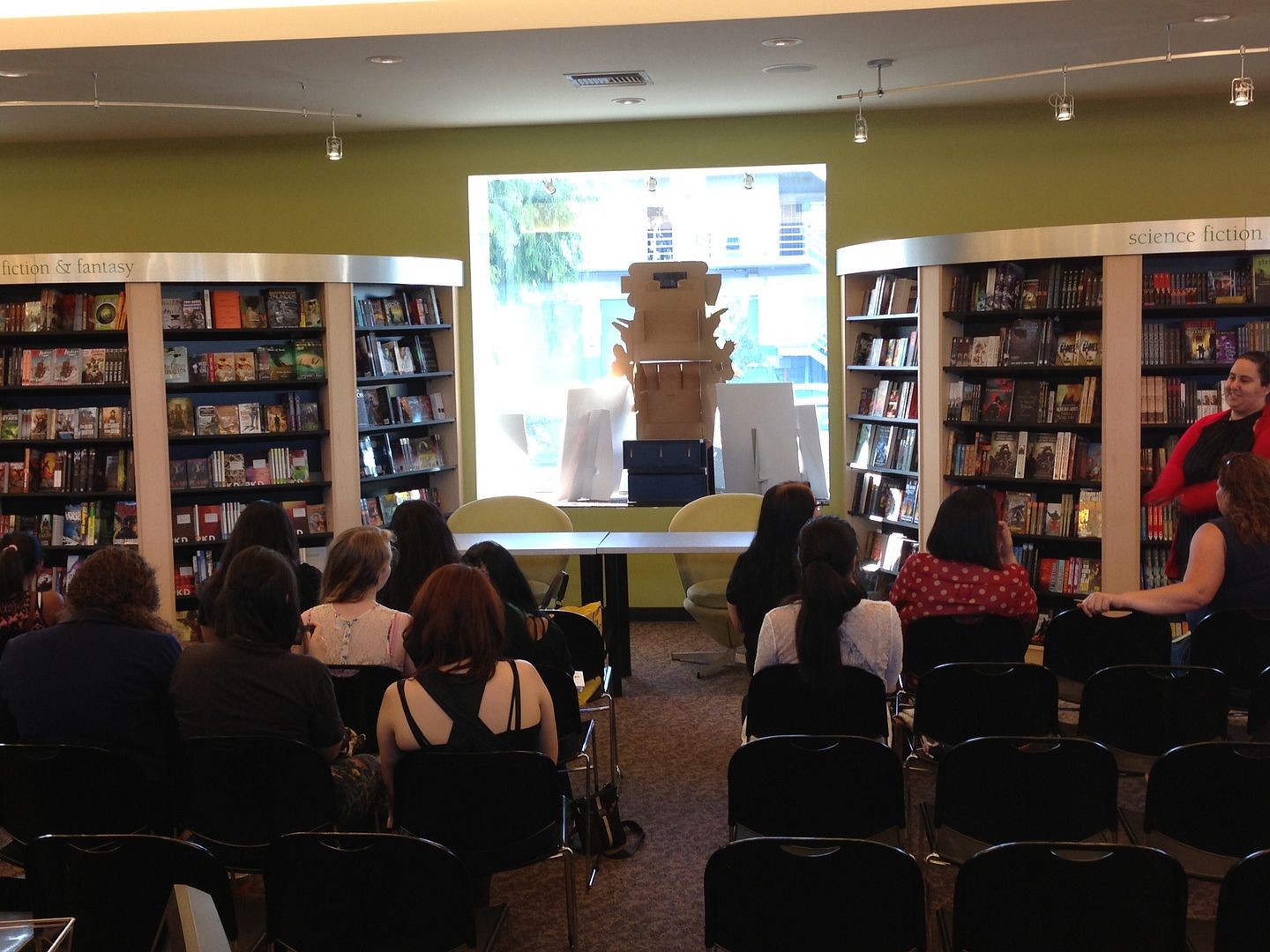 The ladies got to the store at 7:40 and launched into how they decided to do the event together. They talked on twitter about packing for tour, and Robin wanted to be involved. Then Leigh asked her to join her at the event.
Robin first asked the question about who in the audience was a reader and who in the audience wanted to learn about the writing process.
It started out as a conversation between Robin and Leigh. [And FYI: I didn't take down all of the questions. I thought there would be a lot of the same questions that were posted in the lengthy Vegas interview.]
Which your favorite character?
L: Sturmhond, he's a privateer, sort of the Han Solo character. He's actually the Lando character. Writing the second book was much scarier, no one was watching. He never struggles with "can I do this?" Spends less time worrying, not sure if power will corrupt him.
R: It's like asking which child is the favorite. Usually says whichever character is being written at the time.
R: Loves the subtext that Alina gets more beautiful as she uses her power. Was that intentional?
L: Magic is usually draining. Alina doesn't become stunning all of a sudden, she becomes the best version of herself. The message of the book that the scariest part of yourself is what makes you…[I didn't get this entire answer] Beauty is a trigger issue for YA. There is something in the water in towns. There are zombies, but they're hot. Vampires? Especially hot.
Worked in makeup in Hollywood, knows what it's like to be beautiful and what it's like to lose it and what people will do to get it back. Oblivious pretty? Come on. Standard of beauty in high school is very narrow. The tall girl with gorgeous skin and glossy hair that doesn't know it until the hero comes around and tells her? No.
R: Authors write half of the story. Readers fill in the other half. And writers have no control over what the readers will see.
The Q&A started then. Carlos raised his hand first and asked how Leigh had been since the last time they saw each other.
If you had to pick one song for your writing process what would it be?
L: Is there a song about getting punched in the face? "Blinding" by Florence + the Machine.
R: Is that question for both of us? "Roll away your stone" Mumford & Sons.  Every character has that process.
What character would you want to be in each others books?
L: I love her heroines, but they have to go through so much. Can I be the God of Death? I would want to be in the convent, working alone.
R: I want to be Sturmhond.
With the worlds that you both wrote, do you have an academic background in those fields?
R: I don't have an academic background. Wanted to be an author the entire time, time for graduation and all adults said to go to college. Lasted one year at school. Life long learner, passionate about the Middle Ages.
L: Was an English major with a lot of history classes. Big history reader. Knew there wanted to be guns. What happens when you bring a fun to a magic fight.
Do you ship the characters in your own books?
L: I ship everything. I'm team story. I can't get attached to anyone. And you shouldn't either…. I believe in every relationship and I have to serve the story more than the relationship.
R: That is the best part of having different heroines. I can always ship them in the next book.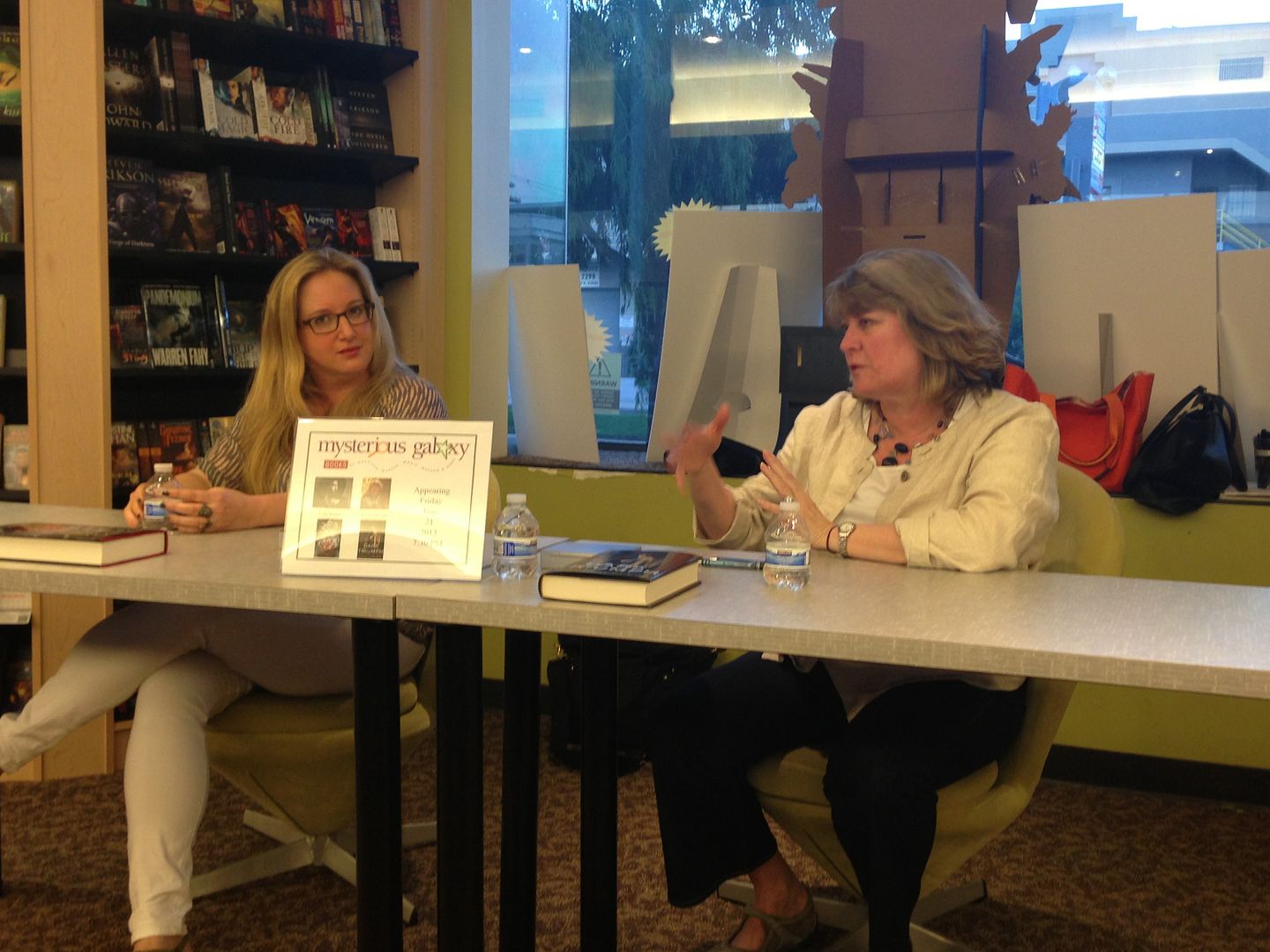 Would you ever consider writing from another POV?
L: The truth is that we could?
R: The abbesses POV.
L: Darkling POV. Has written some, may release it, but not until after the trilogy is over. Likes to write bonus content, but doesn't want to have puzzle pieces, wants the original book to be able to stand alone.
R: There are a lot of extra scenes on the website about the girls being trained. So happy that there are books to prove she needed the research just in case the government is watching.
When the Q&A came to the end, Nicole came out and offered books to anyone who asked a question. It could be anything. After another 30 minutes or so, Leigh said that she had swag for the first 10 people who showed up. So I got this awesome bag: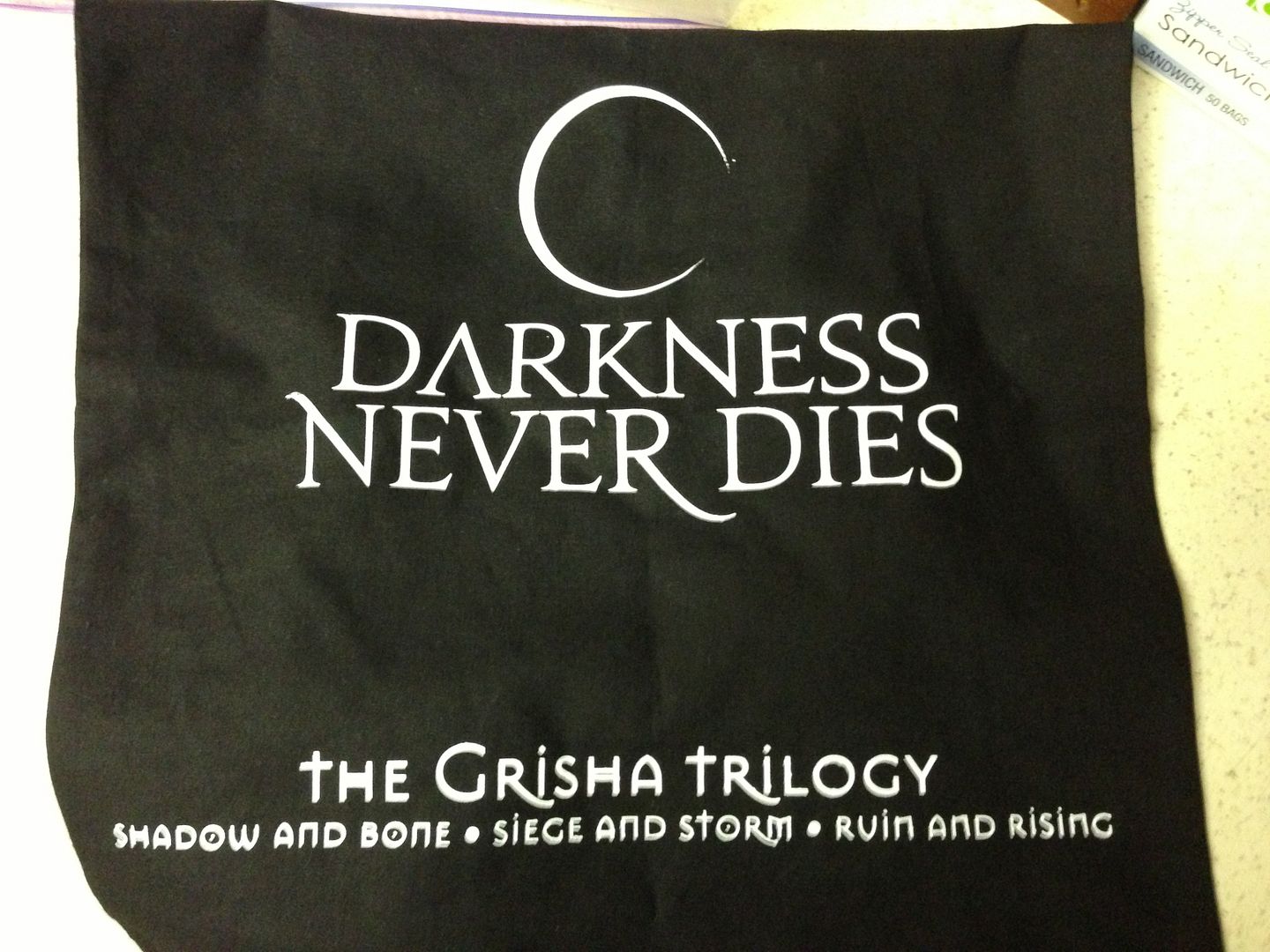 The signing started then and the people who didn't have seats got to line up first. We got to line up next.
Kelly was awesome and grabbed me some nail polish. She also took some of my books up with her, since we were asked to only take 3 at a time.
I got to Robin first. We talked about my arc for Grave Mercy and how it didn't have a title page. She laughed and said it was made wrong and then amended her statement to say it was special. I thanked her for driving down from Santa Barbara and she thanked me for coming up.
I got to Leigh and butted in on the conversation Michelle was having. We talked about her being at SDCC and how I would stalk her properly there. I told her that I had the giveaway book she signed in Vegas, but now I had the winner's name and just wanted to get it personalized.
She happily did that, then I thanked her and left.
We sort of made the rounds, saying goodbye and then made our way home. As always, Leigh and Robin are just absolutely amazing. I highly recommend seeing them as soon and as often as you can.Soooo.  I have a couple of books up for grabs.  I got signed paperback copies of Shadow & Bone and Grave Mercy…
Rules for the giveaway are listed under the "terms and conditions" on the Rafflecopter widget.