Going to WonderCon was an iffy thing. We couldn't decide if we were going or not. And then LeAnna asked if we could volunteer at the MGRB booth on Friday…
So we got passes for the weekend and figured why not.
Friday traffic was ridiculously light. We got to the convention center around 8am and got front row parking. We grabbed some breakfast and went to see about meeting everyone.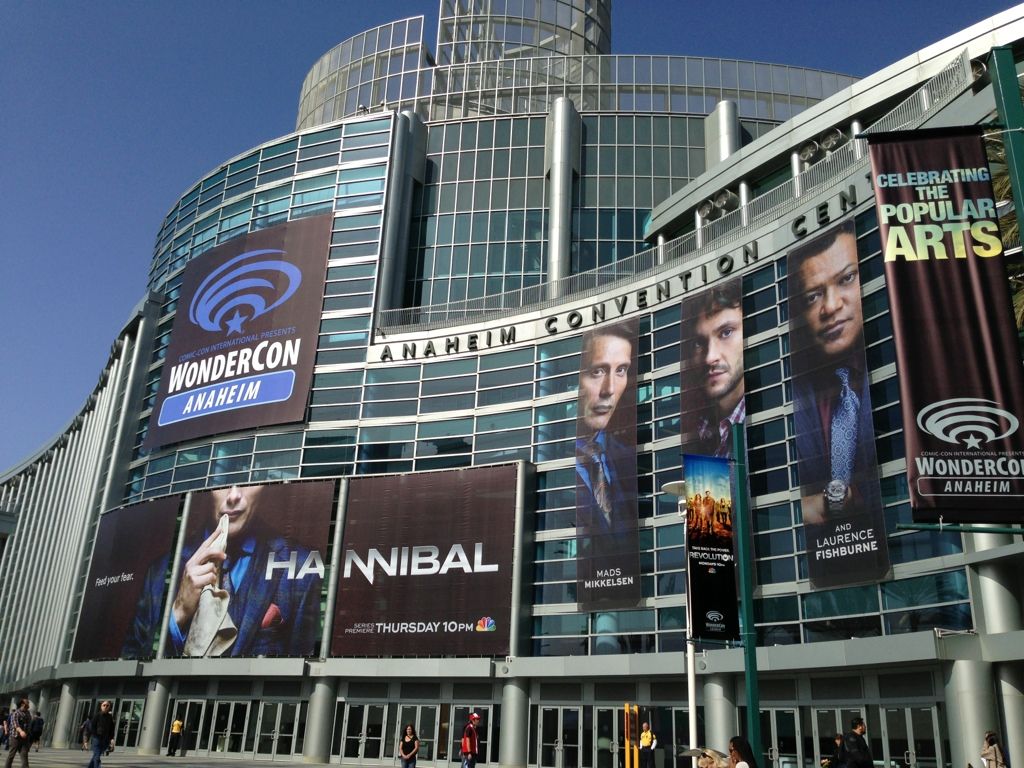 Since we had exhibitor badges, we were able to walk around before it opened to the public. We stopped at the booth and got pictures of LeAnna's awesome Tardis dress [that she made!!].
And then we went off in search of a bow tie and fez that I could wear.
Around 1:30, we went back to the MG booth to help with the line for Patrick Rothfuss. Patrick got there and was being awesome, taking themed photos with his fans. Hubs controlled the line and I flapped books and wrote out post-its for personalization.
Somehow the unicorn head came out and Emilio started dancing. Then Patrick put it on, making sure that his beard was sticking out.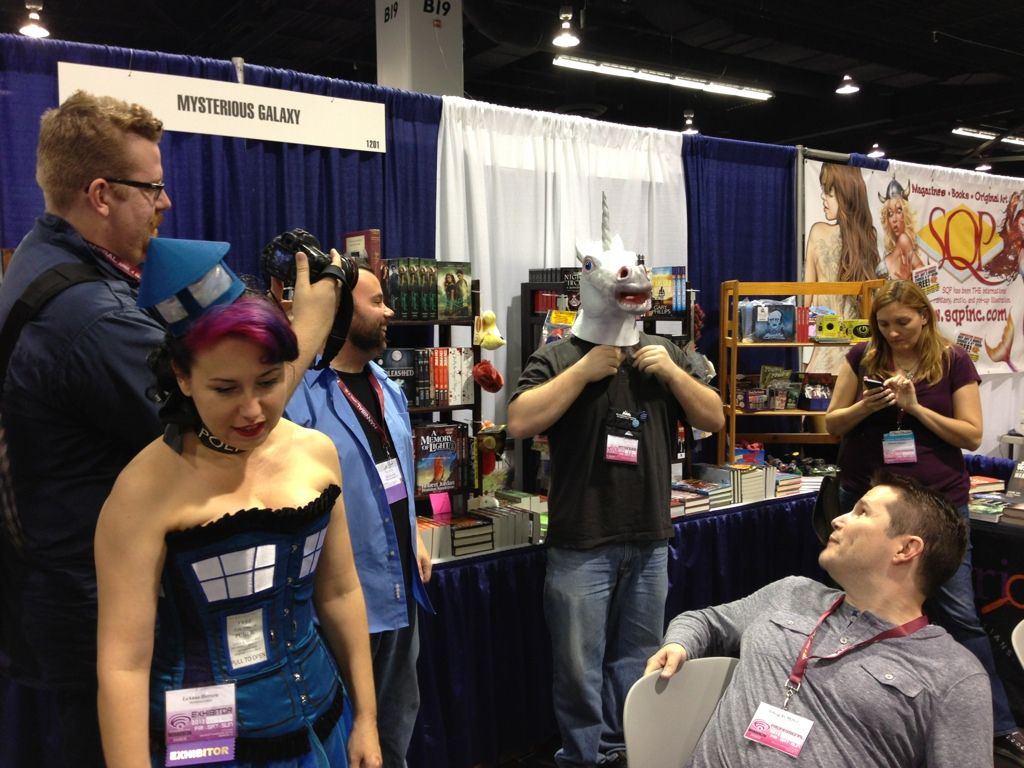 And then of course there were costumes…
And things like this…
At some point we saw Jordan Hembrough [AKA: the Toy Hunter] at a booth filming a segment.  We stopped for a few moments to watch them film.  It was amusing to see them bring the box out, talk about it and then take the box away.  Only to do it again 30 seconds later.
I found some awesome Doctor Who lanyards and handmade hair bows.
And the most amazing metal bookmarks with River Song [yaaaaay!!!] and David Tennant on them.
Around 3:30, we called it a day.  We made one more pass around the convention center and headed home so we could miss the traffic.  I was dying to stay to see the early screening of the new Doctor Who episode, but we were getting up early for the YAppiest Day at Disneyland on Saturday.
We woke up early Saturday morning to fight Disneyland traffic, which is an entirely different thing. We were off the freeway around 7:20 and started the battle for parking.
We made it to the front gate right before 8am and found the group. All of the authors had on YAppiest Day shirts in bright blue. Cat handed out stickers and pins to everyone. There were shirts left over so, she gave me one.
The authors were doing a book drop giveaway. Each person had a copy of their book and would sign it and leave it somewhere, so there was some markers passing around in preparation. After about 20 minutes of waiting for everyone to show up, the authors took a group photo and we went inside.
The groups split off between Matterhorn and Space Mountain. We were in the Matterhorn group with Lish McBride, Jennifer Bosworth, Gretchen McNeil, Kasie West, Jessica Brody, Chris Howard, Elise Allen and Shannon Messenger.
      picture from Kasie West's twitter
We fast passed Space Mountain and hit Star Tours. In the line for Star Tours, Gretchen handed me this, making her book drop complete. [I was standing with her when she signed it and I told her that I was going to be following her around all day until she set it down.]
Kasie and Chris both left their books in the ride. We found out later through the Twitter hash tag that someone had taken them from lost and found to hide them again. We also learned that some of the authors from the second group had been stopped by the Disney police for leaving things behind.
From Star Tours, we headed to Indiana Jones. Lish and Chris had both never ridden the ride, so it was fun to see their reactions.
After Indy [Shannon did a book drop by the castle], we hit Space Mountain [Jessica did a book drop] and our group almost took an entire car. And then we headed to California Adventure.
We got fast passes for Tower of Terror [Jennifer left her book by the entrance] and went to ride California Screamin'. Where Chris took the best photo.
We had just over an hour to kill before we could ride Tower of Terror, so we grabbed some food and relaxed a bit. And then ended up grabbing fast passes for Soarin' over California before riding Tower of Terror.
Yes, my face is completely covered by Shannon's hand!
From there, Hubs and I decided that we were going to call it a day. We had a quick photo shoot with everyone before leaving.
Huge thanks to all of the authors who participated in this event. It was so much fun and a really unique way to hang out.
Now. The only person who didn't do a book drop was Lish. She gave me her copy to take home and do a giveaway with it. You get the signed book and bookmark from Lish and I'm including a YAppiest sticker and pin.
Rules for the giveaway are on the "terms and conditions" on the Rafflecopter widget
Good luck!!