When it was announced that Gretchen, Debra and Shannon were doing a library event just a few minutes away from me, I knew I was going. What I didn't know was how difficult it would be to find books to bring.
I went to Barnes & Noble first because they're 30 seconds away from my apartment. I was told that none of the books were in stock because the paperback copies were being released in September. I asked for clarification as to why they would choose not to carry a book for over 5 months. The employee told me that it was too expensive to carry hard cover copies and once the first run of them sold, they wouldn't be carrying the title until the paperback was released.
Anyhoo.
I called Mysterious Galaxy and the awesome employee, Rob, nicely went through their entire stack of stock to get me unsigned copies. Unfortunately, they didn't have any unsigned Let the Sky Fall, so he picked out the nicest signed copy.
I got to the library early, as always. I had never been there, so I wasn't sure what to expect.
I found out that the event was being held in the community meeting room. There were two women who were setting things up and they let me take a peek inside. One of them said they were hoping for a big crowd and that they'd be opening the door around 4:15.
So, I found a lovely shaded table and settled in with a book. After looking around in the bookstore, of course.
Debra was the first to arrive, Gretchen shortly after that. I chatted with Gretchen for a minute and she gave me a 3:59 shirt.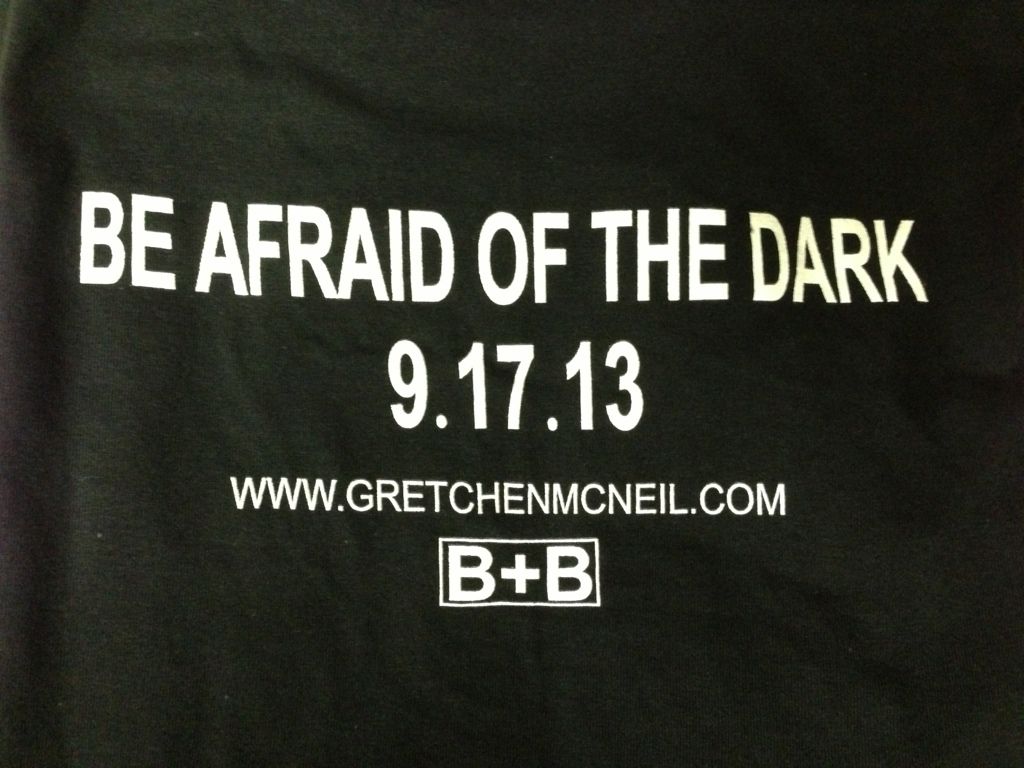 This is the back. The front has 3:59 in the same font as the book cover.
The door into the meeting room opened and one of the ladies I had talked to earlier said that I could come in. I briefly said hello to Debra and commented on her awesome blue hair before going in and claiming the front row.
The event started a bit later, so everyone was chatting amongst themselves.
Around 4:45, the teen librarian introduced herself and acted as the moderator.  The first question to each author was to tell the audience about themselves and their books
G: Book synopsis of all 3 books. Talked about how she was a trained opera singer, worked in tv production and did cartoon voice over work before becoming a writer.
D: Book synopsis. Professional grad student, worked as a physical therapist, had kids, and then became a writer.
S: Book synopsis. Always sells it with "Vane is very attractive with hot abs." Started college as an art major, switched to being a film major when she found that she didn't have the level of art talent she needed. Study screenwriting, then realized she was expected to make films. Left Hollywood to start writing.
Today is Support Teen Lit day, what is your favorite book?
G: Anne of Green Gables. Read a it lot, it was all about a redheaded girl who was smart and got into a lot of trouble. Really related to her, molded her more than she realized.
D: Dune. Didn't identify as liking sci-fi, but loved that book. Also read many Sidney Sheldon novels.
S: Loved to read as a kid. And in 7th grade, ran out of books. Got a list of the classics from a teacher and didn't care for them. Loved reading fantasy, but her 7th grade teacher wouldn't accept a book report on the 4th Indian in the Cupboard book. Didn't start reading a lot again until around 25.
What is your favorite YA novel?
S: Anna and the French Kiss by Stephanie Perkins. Very swoony romance, but don't let it fool you. There's a lot of meat.  It's brilliant.
D: Answers differently every time because there's just so many favorites. Saving Francesca by Melina Marchetta.
G: Eleanor & Park by Rainbow Rowell. Brilliantly narrated. [At this, I interjected that Rainbow was going to be in San Diego at some point soon and everyone was very excited about it.]
Tell us about your writing process.
G: Doesn't like desks. Writes in bed. Likes to have sports on tv, preferably baseball. Has a daily word count goal when on deadline.
D: Writes whenever there is time. Not good with schedules and easily distracted. Has a hard time writing at home, will go to Panera or Starbucks instead.
S: Writes in bed because office is still packed. They recently moved into a new house and there hasn't been time to unpack the boxes. Training herself to compartmentalize time between the two books. Routine is to wake up, address urgent emails, then turn off emails and internet. More creative at night after 9pm and on, sometimes will start getting emails from editor around 7am and she'll realize that she hasn't been to bed yet.
How do you select character names and locations for the books?
G: Possess set in San Francisco, which is her hometown. Wanted something creepy and thought of the fog in SF. Ten had to be set on a island and a storm, could only really choose Maine or Seattle. Since Seattle was closer, that's what she chose. Set in Maryland, went to grad school there and picked the specific area for the top secret military base. Settings tend to be utilitarian.
Names: Based on personality. Bridget was chosen because in 2nd grade, she learned that Bridget was a name that was up for consideration when she was born.  She went to school and told everyone that her name was now Bridget. Mom was called by the school and young Gretchen was told that she was Gretchen until she was 18.  Jo/Josie were chosen because they had to be names that were from the same.  Besides the main characters in Ten, used behindthename.com.
D: Mila is an acronym that would be a spoiler to explain, so it was a utilitarian choice. Looks at baby names, but in her urban fantasy, the character is named ironically.
S: Wanted them to be wind related. Didn't put vane/weather vane right away. For Keeper, the characters are not human and wanted names that didn't sound like kids that would be in a classroom. Picked up a New Age baby name book that has been helpful.
Settings: invented everything in Keeper. For LtSF: it's where she grew up.
How long did it take to get published?
G: Possess was the third book. First book was horrible, second book got an agent. 2 years total.
D: Wrote harlequin romances that were both bad, then wrote something that would now be considered NA, but without the sexytimes. Next was an urban fantasy that got an agent. About 4 years total.
S: Worked on Keeper for about 2 years, building the world. Published book is draft 20, got an agent with draft 13. 3 years total and LtSF was written in between.
What is the process for getting optioned for film or tv?
G: A film rights agent will take the book to studios. If purchased, the studio will own the rights for a while and if they do nothing, the rights go back to author.
S: Had a list of people she didn't want to work with. Waiting to explode like JK Rowling to have more clout about the decisions that would be made.
D: Harper owns rights. [There was a lot more to Debra's answer, but somehow I clicked out of where I was taking notes and didn't get all of it…]
Favorite place, can be fictional or real.
G: There's a prehistoric [something, maybe a castle? I didn't catch it] in Ireland that she's been to 3 times. It's the end of the world and it's amazing.
D: Yosemite and Laguna Beach
S: Disneyland or Hogwarts.
Chocolate or Vanilla?
All three: Chocolate!
Favorite fruit?
G: Pineapple
D: Watermelon
S: Cherries
Favorite literary character?
G. Batman
D: Bridget Jones
S: Legolas
Peeta or Gale? or Edward or Jacob?
G: Never read Twilight and never will. Loves Hunger Games, but because of Katniss. If had to choose, it would be Peeta.
D: Peeta. Loved the bread moment.
S: Team Peeta, he brought out the best in Katniss.
From there, it was opened up to Q&A. There were a few questions before the signing started.  I went to all three ladies, thanked them all for being there and took bookmarks and candy! Before I left, I also thanked the librarians who put everything together.  As I was walking out, one of the ladies asked if I would do a book drop for the Rock the Drop event.  I did take a book and ended up setting it up on a park bench near a busy local restaurant.
Now.  Haven't been able to get your hands on Gretchen's, Debra's or Shannon's books? Never fear, I've got them for you!!
Rules for the giveaway on "terms and conditions" on Rafflecopter widget.

Good luck!!