As soon as I posted that I was going to the Dark Days tour with Tahereh Mafi, Cynthia Hand, Veronica Rossi and Brodi Ashton, friends started asking if I could pick up books for them.  At first count, I was going to have 36 books for the four ladies.  It ended up being 19 to bring, with 11 to pick up.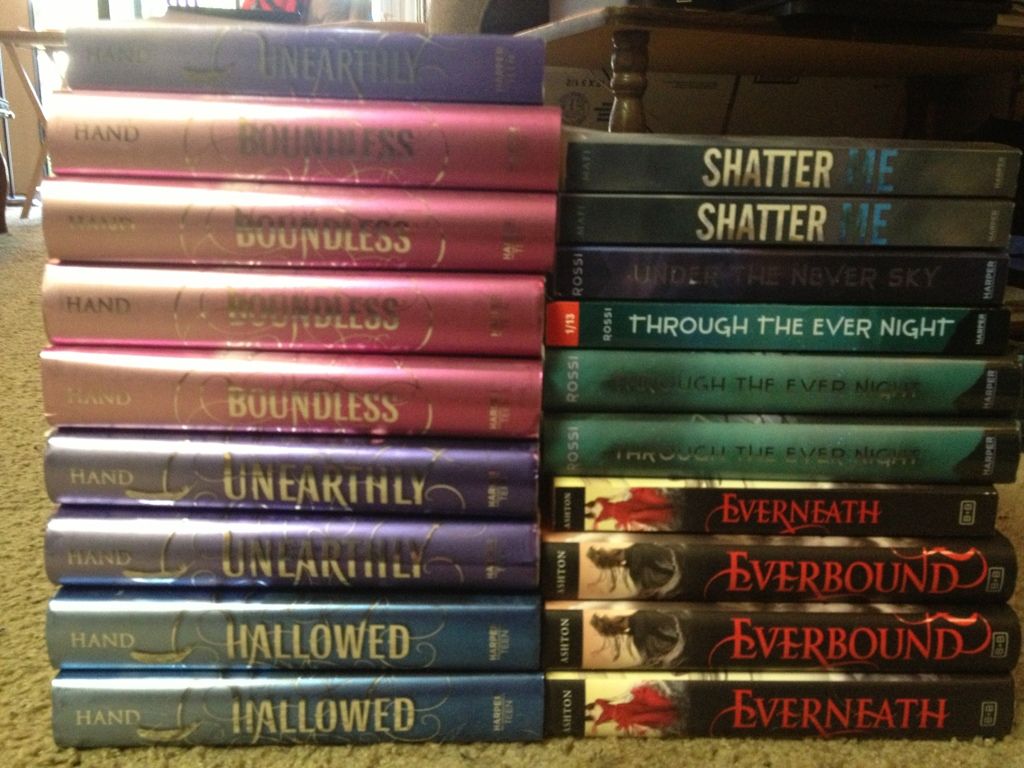 We started up to Huntington Beach early, hitting the store around 4. We had front row AND Jeanne was super awesome and set aside the books we needed to purchase day off.
We went to buy the books we needed and headed back upstairs to flap everything. While we waited, we met up with Kristin and chatted about everything and anything book related. It was also good to see Crystal and finally meet Beverly.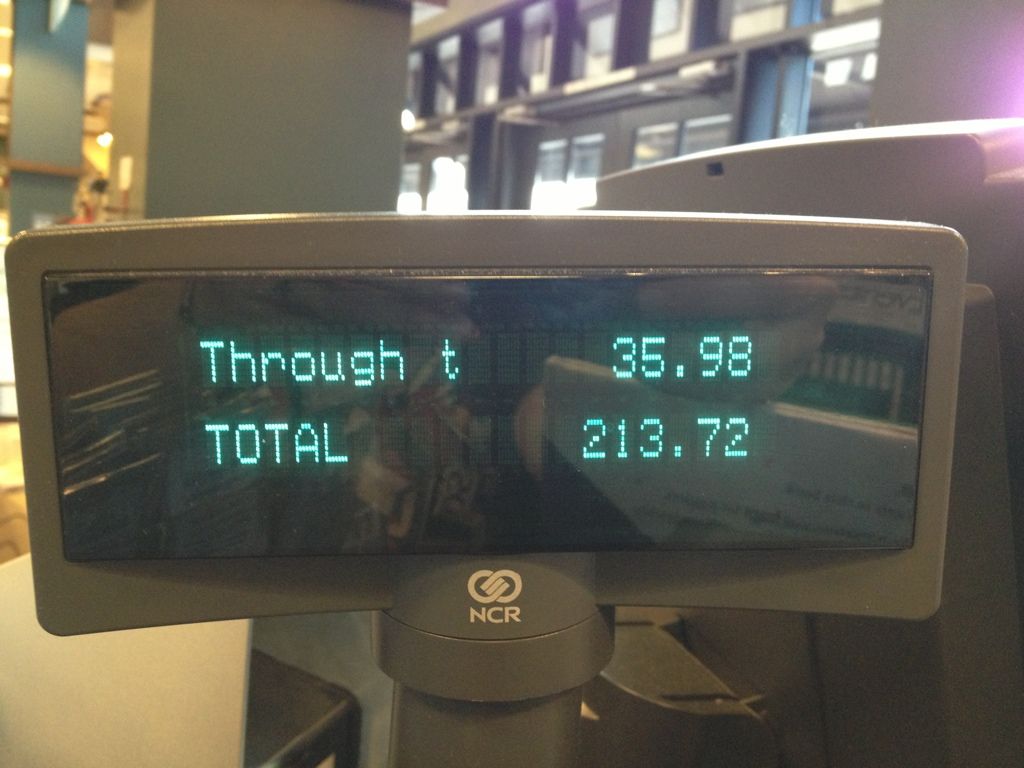 The authors got there just after 7. There was a moderator from Harper Collins and a designated blogger who would also have questions.
The first question of the night had the authors explaining their books as if they were texting their best friends. So there were some BRBs, a LOL and an OMFG.
During questions, Brodi said that she "didn't like reading", but actually meant that she didn't like reading educational materials. She then implored everyone to NOT tweet that she hated reading.
Tahereh fell over in her very tall shoes when she learned that she could have a "pants optional" job.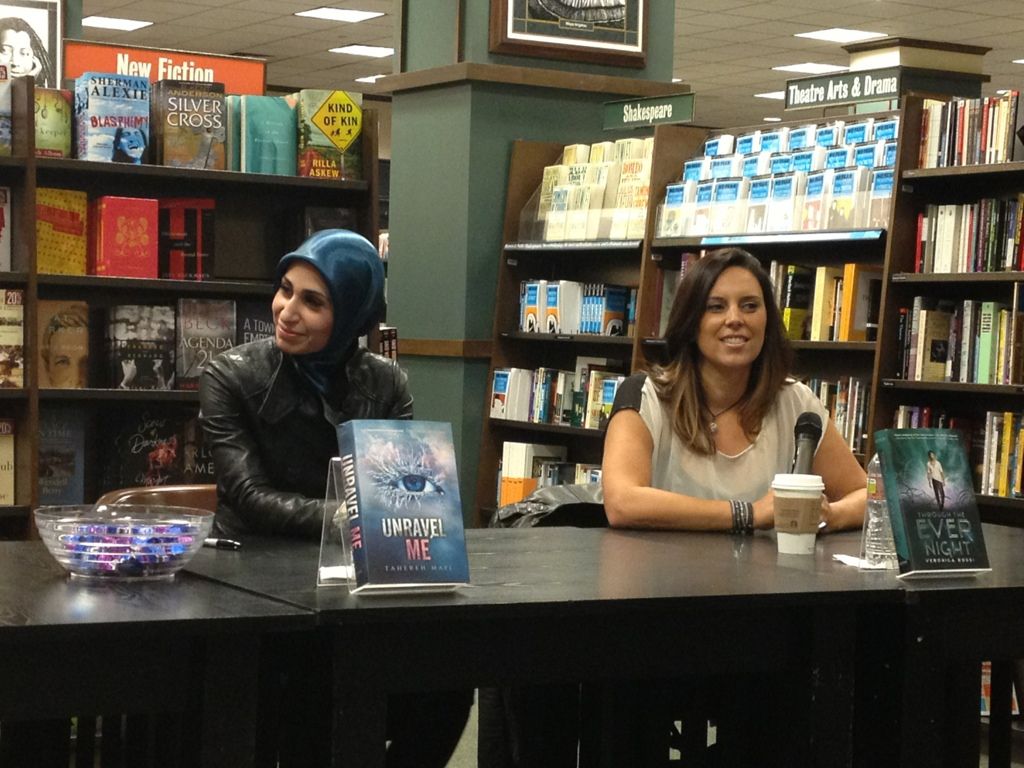 And now the questions:
Explain the most exciting part of your book:
V: that she got to play with opposites. Two protagonists, two societies, and an Amazing Race of two worlds, who will survive.
T: Chapter 62
C: the question of destiny versus free How Clara has to face that over and over and decide what she believes in.
B: Nikki and Cole both so certain in their reasons and so morally upright. She loves exploring their relationship.
What kept you going from book 1 to book 2?
B: Candy
C: Deadlines
V: Wine
T: Coffee
How did you come up with your villain?
C: Didn't do a lot of research until the end. Knew she wanted a complicated villain and while reading the Book of Enoch, found the name Samjeeza.
T: Thinks its important to create someone who isn't easy to hate. She wants to ask "wait. What are your motivations".
B: At first Cole was the love interest. And that's it.
V: Would second everything already said and then added that she thinks Kelly Slater [the professional surfer] is Sable.
After publishing, is there anything you would want to change?
V: The opposite. Finds that it's exciting to go back and the story inspires itself.
T: Exactly what Veronica said
C: Loves revising. She sees that things should have changed [mostly the language]. Sometimes a reader will point something out that will make her imagination go.
B: Once the story is in book form, it's over. But it still lives in her head. There's a specific scene that she hates and when she relives it, Nikki says and does the right thing and its frustrating.
After about 30 minutes, the signing started. I stood off to the side to be last since we had so many books to get signed.
As the lines started dwindling, the handler came over to me and said that I could head over to Brodi to start.
First off, Brodi is adorable and absolutely hilarious. She asked if I was a blogger. When I said yes, she asked if I had included the comment about her reading. I said that I did, but would gladly take it out if she wanted me to. She laughed and said no.
Cynthia was next. I had the most books for her — 11. I didn't have them organized very well, so it took a minute for me to realize that it would be easier for Cynthia to sign the same books together, since different colored markers were used.
After that was figured out, it ran smoothly and I was able to get them all taken care of.
Up next was Tahereh. I had asked if she was ready and she opened her arms and said "My body is ready!" I had quite a few for Tahereh as well. When she got to my copy, I asked if she would deface it. She said because it was for me, of course.
I had a book for my HBIC and asked for a special inscription. Not only did Christina get the special inscription, but Tahereh also used my phone to text Christina.
We took pictures and hugged many times. And she told me that she expects to see me at every LA event that she does. I happily said that I would be her stalker if she was okay with it.
And last but not least was Veronica. We also hugged many times. We started out with the books and then it morphed into a serious discussion about Kelly Slater and Snarkles who was there with the HC woman [and I didn't catch her name].
She mentioned how many books I had and asked if someone had recorded how many it had because it had to be a record.
We were the absolute last people there and said goodbye to all four ladies a few times as we left the store. Huge thanks to Brodi, Cynthia, Tahereh and Veronica for making the trip out. And extra special thanks to Jeanne at BN for being so amazing.
Now.
Want a signed copy of the first book from each author? I've got 'em. Just enter below to win!!
Rules are listed on the "terms and conditions" section of the Rafflecopter widget!  Good luck!