Mrs. Nelson's always puts together an excellent event.  I feel like they always go above and beyond to do something special for the authors, as well as the people who attend.  And the staff are consistently some of the nicest I've ever encountered.
The Breathless Reads tour was no exception.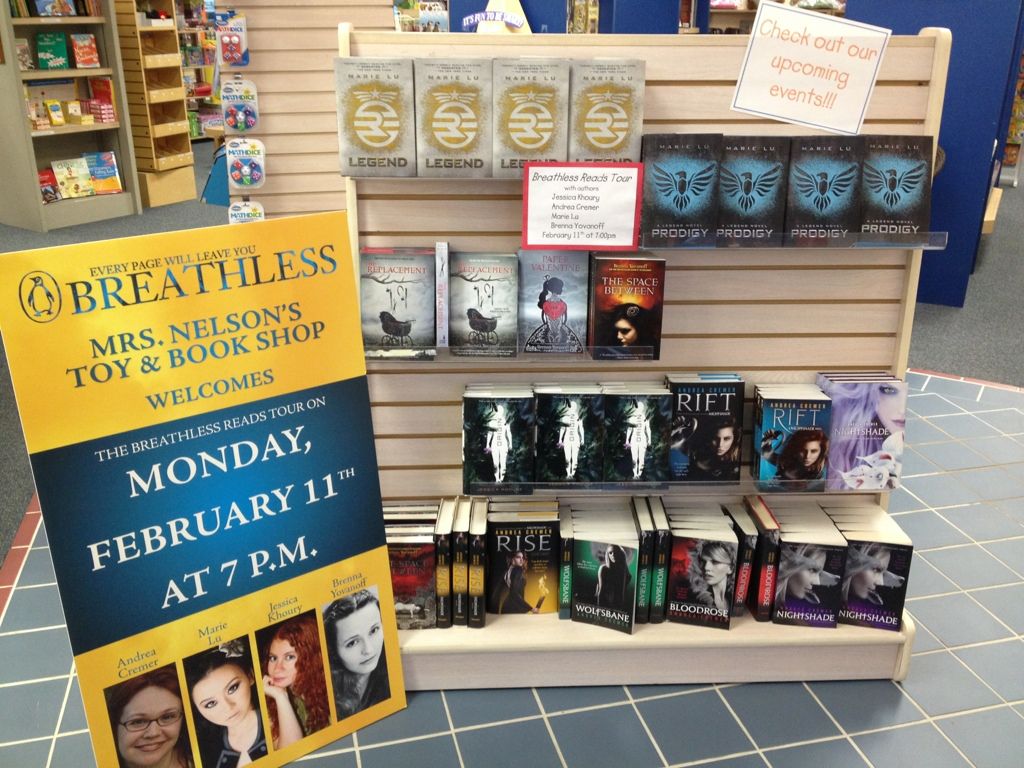 They had a trivia game with a giveaway as well as a "survival kit" that was full of candy.  As well as some pretty awesome Breathless Reads posters that were of the "if you liked this, read that" variety.
The authors got to the store early and came out with the moderator right at 7pm.
Normally, I would go into as much detail as I could remember [or if I actually took notes]. This time, I'm not going to recap at all. There were several bloggers there [so many, one of the ladies from Mrs. Nelson's actually introduced some of them].  I believe there is going to be a recap post at Read Now, Sleep Later, so go check it out.
Instead of my recap, I'm going to brag a little about the books I got signed.  Because really, when you get right down to it, that's what this blog is about.  :D
I got to meet the lovely Brenna Yovanoff and get The Space Between and Paper Valentine signed.
And I got to meet Andrea Cremer [again], but this time I had my arc of Invisibility and we flailed over it together.
Jessica Khoury and Marie Lu were also there, but I already have signed copies of their books.  Both of them are amazingly sweet.
So…. yah.  That's all.
Even though I am was disappointed that the tour was broken up into two coasts, I'm so thrilled Penguin chose not to go back to the Bookstore-Which-Will-Not-Be-Named.