Going to SDCC is always a given and we were instantly intrigued when it was announced that there was going to be a "special edition" over thanksgiving weekend.  Of course, we tried for badges and were successful without even knowing what was going to be happening.
The schedule was finally released and it was reminiscent of the cons from a million years ago: no big publishers, no big networks, no big Hollywood.  We were equal parts excited and trepidatious.
photo from San Diego Convention Center Instagram
Friday
We left late (for us) and got down to the convention center around noon.  We needed to show our vaccination status to get a wristband.  We were told there were stations at two different ends of the convention center, so we headed to the line.  It was set up outside, near Hall H.
We were lined up on the grass, four rows deep.  It took an hour and we went from Hall H, to C and back before we were actually in front of the people who were checking status. One person looked at my license and my proof of vaccination and then another gave me a wristband.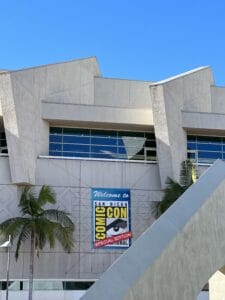 It worked in theory, but I believe they weren't ready for this part of it.  We saw a person in front of us show his child's vaccine record.  The child only had one shot, so the SDCC person told the man that the child needed to get a covid test because he wasn't fully vaccinated. The man said okay and took the child over to another SDCC person who said "one shot is good enough" and gave the child the wristband.  It made me wonder how many other times it happened.
Once we were wristbanded, we were able to get into the building to pick up our badges.  That took minutes. Included in the bag was the program and some hand sanitizer, which I appreciated.
While we were still in line for the wristbands, we had friends sending photos of the queue to get onto the hall floor, so we were expecting to have to wait.
Thankfully, we were able to get in right away.  We headed over to Mysterious Galaxy to see Michelle and say hi to other bookseller friends. The floor was fairly packed and we made a few loops before heading out, agreeing to see things the next day.
Saturday
We left the house around noon again and after getting Starbucks, headed downtown.  We went straight to the Sails Pavilion to checkout the autograph sessions.  We were interested in the Destination Fear signing and wanted to make sure we didn't need a ticket or early line up.
After confirming that neither was needed, we grabbed a snack and sat at a table to kill time and people watch. We ended up seeing Chelsea, Dakota, Alex, and Tanner walking in with their handlers and heading over to another table.  It was interesting to see that they were able to walk through the people without getting noticed.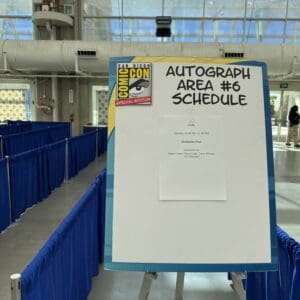 We got in line at 1:30 for the 2p signing and watched the four of them walk over from the table to the signing area right before 2p. We were pretty close up to the front, so it didn't take long before we were in front of them.
They were giving out and signing lobby cards, but I asked if they would sign my badge. We chatted about the new episode and how we loved it.  Dakota told us about a few things that had happened to Chelsea that didn't make the airing. Hubs asked Tanner to sign his badge with an inscription from the episode.  Tanner laughed and did it.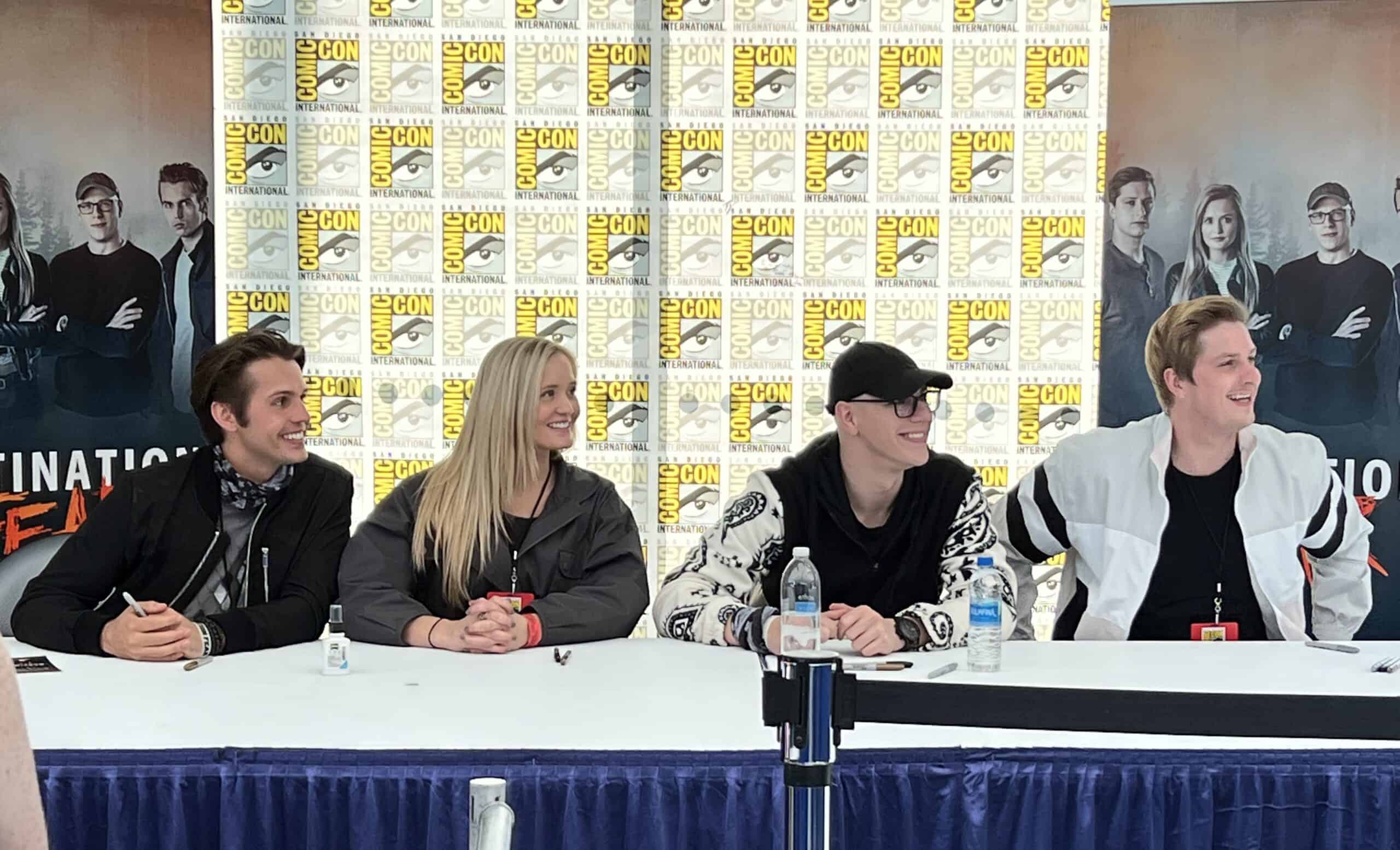 From there, we wandered around on the top floor, looking into rooms and checking out the scheduling. Michelle was going to be moderating a panel and of course I needed to be there for that.
There was a bit of a snafu with the schedule.  The official schedule had Michelle's panel in another room, but thankfully, I was able to get the right info and get over to her before the panel started. I was able to chat with her for a minute or two, squeeze Mary Pearson, and then head into the room.
The panel was all about BookTok and it was fun hearing Adalyn Grace, Mary Pearson, and Liz Huerta talk about their favorite ships, TikTok accounts, and writing things.
From there, I ran over to another room to the Destination Fear panel.  The four of them talked about their upcoming episodes where they went international for the first time, the location in Ireland, the scariest moments they've had, where they'd choose to live from the locations they've been to, and more. We also got to see some sneak peaks of some unaired episodes.
One of the audience questions asked what they thought made them different from the other ghost shows and I really liked their answers:
Dakota: the friendship. We're not afraid to tell each other things.
Tanner: yes. You're watching this with friends and family and that's what we are. We try to be relatable and unapologetically us.
Chelsea: we don't consider ourselves professionals. We're just kids who like to explore.
After the panel was over, there was a pretty awesome t-shirt giveaway and they even gave away a code for a free month of Discovery+. Dakota announced that they were going to be out in the hallway hanging out if anyone wanted to say hi.
He came out right away and I asked him to sign my shirt.  Within a few minutes, the other three came out and an orderly line started.  We got in line and I had the rest of the cast sign my shirt and Hubs got a photo.  These four are so lovely and nice and we thanked them profusely for taking the time, etc.
Once we got through the line, we decided to leave.  It wasn't until after we were driving away that we realized that we really didn't go on the floor or see any booths besides Mysterious Galaxy.  It seems weird to think that this was a SDCC, but it was definitely an interesting way to spend a weekend!