When I got the invitation to take part in the blog tour for Stephanie Garber's upcoming release Once Upon a Broken Heart, I couldn't reply fast enough.  As in, I literally replied without any formalities and or thanks or anything other than "YES PLEASE".  Of course, I did remedy that as soon as I got a reply…thank goodness for publicists who understand flailing.
Anyhoo, I was able to secure an interview with Stephanie, but since there were several other people requesting the same, the publicist thought it would be fun for everyone to submit one question and then share all of the Qs and Stephanie's As.
Before we get to all of that, let's check out the book.
Title: Once Upon a Broken Heart
Author: Stephanie Garber
Pages: 416
Publisher: Flatiron Books
Pub Date: September 28, 2021
Find it: Macmillan | Indiebound | Bookshop | Goodreads

Once Upon a Broken Heart marks the launch of a new series about love, curses, and the lengths that people will go to for happily ever after from Stephanie Garber, the #1 New York Times bestselling author of Caraval

For as long as she can remember, Evangeline Fox has believed in true love and happy endings…until she learns that the love of her life will marry another.

Desperate to stop the wedding and to heal her wounded heart, Evangeline strikes a deal with the charismatic, but wicked, Prince of Hearts. In exchange for his help, he asks for three kisses, to be given at the time and place of his choosing.

But after Evangeline's first promised kiss, she learns that bargaining with an immortal is a dangerous game — and that the Prince of Hearts wants far more from her than she'd pledged. He has plans for Evangeline, plans that will either end in the greatest happily ever after, or the most exquisite tragedy…
Sounds good, right?
1. We know the Prince of Hearts, Jacks, plays a leading role in Once Upon A Broken Heart. Can readers expect any other familiar faces from the Caraval series? –  Treat Yo Shelf
I usually try not to answer this question—I like it when people don't know what to expect. So, I won't say if there will be any other familiar faces in Once Upon A Broken Heart. But I will say that readers might meet one or two characters who were mentioned in the Caraval series but didn't actually get any page time.
2. Why do you love Evangeline and the Prince of Hearts and why should readers root for them? –  eleven thirteen pm (me!)
This is such a funny question, and I feel as if I shouldn't confess the answer to this because I actually wrote Once Upon A Broken Heart with the hope that readers would feel as if Evangeline should run far away from Jacks, but at the same time really want them to kiss each other.
I love Jacks because he's pretty much the worst. He says terrible things and he does terrible things—which is why Evangeline should stay away from him. However, I love Evangeline because she's such an optimist—I love that she believes in love at first sight and happily ever after, and even though she should probably run away from Jacks, I think she's just the type of girl he needs in his life.
3. Your books always read like fairytales (at least for me)! What are your favorite fairytales? –  alexa loves books
Thank you so much! I love fairytales and I have so many favorites. My very favorite is anything that's Beauty and the Beast inspired. I love stories that involve truly unlikeable beast-like characters changing as they fall in love, and I'm always sucker for the kidnapped/captive girl trope.
4. If you could be transported into the world of ONCE UPON A BROKEN HEART, what kind of character do you think you would be and would you be easily swayed to make a deal with a Fate? –  A Court of Coffee and Books
Ooh, this is such a fun question. I want to say that I'd make a deal with a Fate because I think it would be interesting and exciting. But, I probably wouldn't actually make a deal with a Fate because I know it never ends well. I'd most likely stay away from all things Fate and spend time seeing the wonders of the Magnificent North. I'd eat dragon roasted apples, hunt for enchanted books, look for mermaids in the ocean, and hopefully get in a little magical trouble, but not the kind that involves Fates.
5. Which one of your characters do you relate to the most and why? Are there pieces of yourself in both Evangeline and Jacks? –  mermaid reads book blog
Three are always pieces of me in my heroines. I think Evangeline has a lot of my positivity and my optimism. I'm hopefully not like Jacks, but I will admit that I do relate to his character. I tend to hold onto things from the past, especially heartbreak, which is something that I have in common with the Prince of Hearts.
~~~~~~~~~~~~~~~~~~~~~~~~~~~~~~~~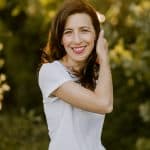 Stephanie Garber is the #1  New York Times and Sunday Times bestselling author of the Caraval Series, which has been translated in over 25 languages. Her newest book, Once Upon A Broken Heart, releases September 28, 2021.
When she's not writing, she's usually reading or watching television shows with vampires. Now that her dream of becoming a published author has come true, her new dream is to visit Club 33 at Disneyland.  website | instagram
~~~~~~~~~~~~~~~~~~~~~~~~~~~~~~~~
Huge thanks to Flatiron Books for the invite and to Stephanie for taking the time.  Once Upon a Broken Heart releases 9/28 and the pre-order links are above.


Have you read the Caraval books? Are you excited for this one?