When I got the invite to watch the premiere of Moxie, I couldn't respond fast enough.  I read the book when it came out (my top five reasons to read it are here) and loved it.  And I'm so so so excited to see what Amy Poehler is going to do with it. (Spoiler alert: I loved it.)
Title: Moxie
Director: Amy Poehler
Novel by: Jennifer Mathieu
Screenplay by: Tamara Chestna
Format: Digital
Platform: Netflix
Time: 111 minutes
Release Date: March 3, 2021

Synopsis: Fed up with the sexist and toxic status quo at her high school, a shy 16-year-old finds inspiration from her mother's rebellious past and anonymously publishes a zine that sparks a school-wide, coming-of-rage revolution.

Cast: Hadley Robinson, Lauren Tsai, Patrick Schwarzenegger, Alycia Pascual-Peña, Nico Hiraga, Sabrina Haskett, Sydney Park, Anjelika Washington, Josie Totah, Amy Poehler, Ike Barinholtz, Marcia Gay Harden, Josephine Langford
Before we get to my top 5 reasons to watch, let's check out the trailer:
Top 5 reasons to watch Moxie:

the characters — it was awesome and so refreshing seeing girls truly support and believe each other
the topics — everything they said in the movie rings true and is relevant as ever
the music — I've listening to Bikini Kill all day and The Linda Linda's are a new favorite of mine
the movement — I definitely got caught up in what the girls were doing to make waves and create action
the empowerment — much like I said after reading the book, I felt like I could move mountains after watching this.  Sure, I'm more like Amy Poehler's character (minus the teenage daughter), but I was rooting for all of them them to succeed
Moxie was a great book and movie.  I highly suggest reading and watching both…I know I'll be rereading and rewatching soon soon soon.
And extra thanks to Amy Poehler, Hadley Robinson, and The Linda Linda's for a special intro and outro of the movie!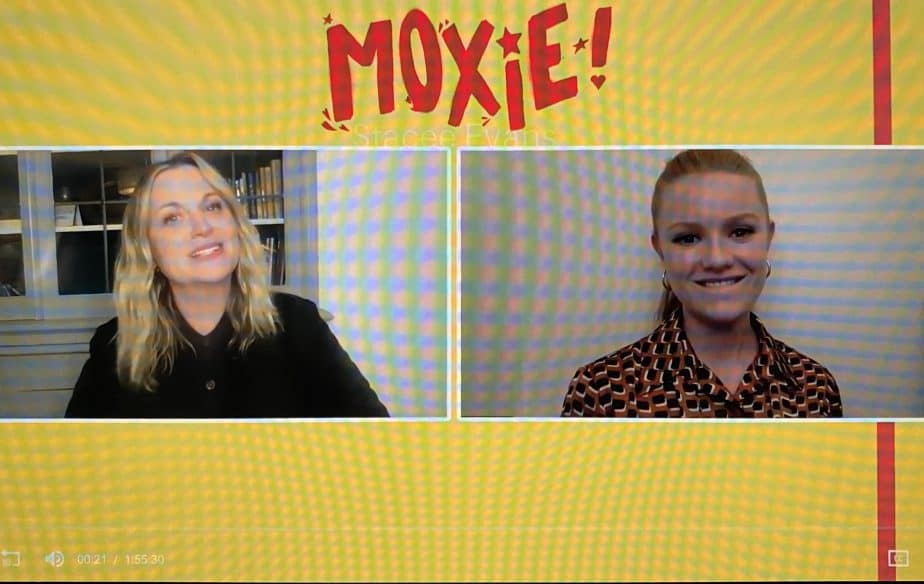 Huge thanks to Netflix for the promo box! Moxie is streaming on Netflix now.

Have you watched Moxie or read the book? Do you plan to?