I absolutely adore Mary Pearson.  I loved the Remnant Chronicles, so of course I was going to read Dance of Thieves and the sequel.  I recently saw Mary at the launch party for Vow of Thieves and for the first time in a while, I decided to sit back and enjoy the presentation instead of recapping it.
When Macmillan invited me to be part of the blog tour, I replied with a huge yes.  Before I share my top 5 reasons to read Vow of Thieves, let's check out the book!
Title: Vow of Thieves (Dance of Thieves #2)
Author: Mary Pearson
Pages: 480
Publisher: Henry Holt
Pub Date: August 6, 2019
Find it: Macmillan | Indiebound | B&N | Amazon | Goodreads

Kazi and Jase have survived, stronger and more in love than ever. Their new life now lies before them―the Ballengers will be outlaws no longer, Tor's Watch will be a kingdom, and the two of them will meet all challenges side by side, together at last.

But an ominous warning mars their journey back, and in their rush to return to Tor's Watch, just outside the fortress walls, they are violently attacked and torn apart―and each is thrust into their own new hell.

Unsure whether the other is alive or dead, Kazi and Jase must keep their wits among their greatest enemies and unlikeliest allies. And all the while, Death watches and waits.
Sounds good, right?
Top five reasons to read Vow of Thieves

the characters — I've loved Kazi and Jase since they first got onto the page and they're especially fantastic in this installment
the world building — The intricacies Mary has created are like nothing I've read and I'm always eager to get back to her words
the deception — I mean, obviously I can't go into this one in detail
the kissing — This one I could go into detail with, but do I really need to?
red ribbons and orange slices — this will make sense when you read it
~~~~~~~~~~~~~~~~~~~~~~~~~~~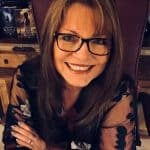 Mary E. Pearson is the NYT bestselling and award-winning author of eleven YA novels and one novella. Her works include the completed trilogy, The Remnant Chronicles, which in a starred review, Publisher's Weekly called "masterfully crafted."
Her favorite activities as a child were climbing tall trees imagining she was a hero in some fantastical world, or running along fence tops and roofs pretending she was a spy with a bagful of amazing gadgets. She was rarely herself. Amazingly, she never broke a bone until she caught a basketball in gym class. Catching real balls was not her forte. These days she continues to live in make-believe worlds she creates in her books.
Her latest 2-book series, Dance of Thieves, allows her do all kinds of dangerous things without breaking any bones. So far.    Website | Twitter | Facebook | Instagram | Goodreads
~~~~~~~~~~~~~~~~~~~~~~~~~~~
Thanks for Macmillan for the invite to participate!
Vow of Thieves is out now and I highly highly highly recommend it!