I love Ashley Elston and all of her words.  I was spoiled with being able to beta read her upcoming release, 10 Blind Dates, in December and I'm absolutely ready to keep shouting about this story.
When I got the invite to be involved in a fun blog tour, I responded with all shouty caps.  Before we get to one of my family traditions, let's check out the book!
Title: 10 Blind Dates
Author: Ashley Elston
Pages: 336
Pub Date: October 1, 2019
Publisher: Disney-Hyperion
Find it: Disney Books | Indiebound | B&N | Amazon | Goodreads

Sophie wants one thing for Christmas-a little freedom from her overprotective parents. So when they decide to spend Christmas in South Louisiana with her very pregnant older sister, Sophie is looking forward to some much needed private (read: make-out) time with her long-term boyfriend, Griffin. Except it turns out that Griffin wants a little freedom from their relationship. Cue devastation.

Heartbroken, Sophie flees to her grandparents' house, where the rest of her boisterous extended family is gathered for the holiday. That's when her nonna devises a (not so) brilliant plan: Over the next ten days, Sophie will be set up on ten different blind dates by different family members. Like her sweet cousin Sara, who sets her up with a hot guy at an exclusive underground party. Or her crazy aunt Patrice, who signs Sophie up for a lead role in a living nativity. With a boy who barely reaches her shoulder. And a screaming baby.

When Griffin turns up unexpectedly and begs for a second chance, Sophie feels more confused than ever. Because maybe, just maybe, she's started to have feelings for someone else . . . Someone who is definitely not available.

This is going to be the worst Christmas break ever… or is it?
Sounds good, right?
So, my husband is part of a huge family.  He's the baby of 5 and there are loads of cousins and 2nd cousins and so on.  I feel like it goes without saying that holidays are a huge thing and a small gathering is about 45 people.
Every Easter, the family gets together for food and togetherness. After we're all stuffed with ham and other goodies, the competition begins: it's time for the egg spinning contest.  And yes, it's exactly what it sounds like.
Each person who is participating picks a dyed, hard boiled egg.  We all sit around the huge table and at the count of 3, you spin your egg.  The first egg that stops spinning is out.  This continues until one egg is left and that person wins the coveted porcelain rabbit.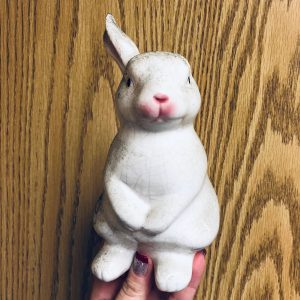 The winner of every year from gets their name on the trophy and gets to keep it for the year, until the next Easter.  This particular trophy lasted from 2004-2011 and he's a little faded.  As he got moved around from house to house, he lost an ear.  And we don't wash him any longer because the names started coming off.
We've retained ownership of the rabbit because Hubs was the last winner whose name fit on the rabbit. The trophy proudly sits in our kitchen on top of the microwave so we see him every day.
Yes, it is sort of ridiculous and the amount of trash talk that happens is absurd; however, it's a lot of fun and a tradition that I love taking part in.
~~~~~~~~~~~~~~~~~~~~~~~~~~
Ashley Elston lives is North Louisiana with her husband, three sons and two cats. She worked as a wedding and portrait photographer for ten years until she decided to pursue writing full time.  Ashley is also a certified landscape horticulturist and loves digging in the dirt.
Her books THE RULES FOR DISAPPEARING, THE RULES FOR BREAKING, THIS IS OUR STORY, THE LYING WOODS, and the upcoming 10 BLIND DATES have all been published by Disney Hyperion.
website | twitter | instagram | goodreads
~~~~~~~~~~~~~~~~~~~~~~~~~~
Huge thanks to Hyperion for the invite to participate!
10 Blind Dates releases 10/1/19 and there's a giveaway for two arcs on my Instagram.