I saw that Chuck D was signing at The Grove the day before the event. Hubs was insanely excited, so we took a chance and headed up to LA as soon as we could.
We hit horrid traffic and didn't get to the bookstore until 1:30. The event started at 2, so we had just enough time to get our wristbands and get in line.  I saw Lita and said hi. We were planning to go to Starbucks, but Lita said that things were starting early, so we stayed in line.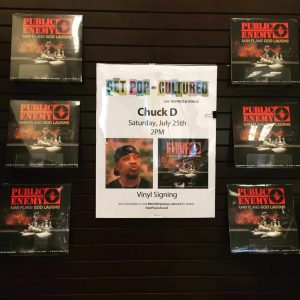 We heard someone in line say that Chuck D was already in the store. And then he started walking through the line, shaking hands and asking people's names.
He was beyond cool. He took photos and told stories, deciding to sign his way through the line. He said he didn't want to sit at the table. Someone said that he was supposed to use the table and he said, "maybe you didn't know this, but I don't like to do things the conventional way."
When Chuck got to us, Hubs asked for a photo and he said no problem.
He thanked us for coming and shook our hands again. Chuck walked away before I could get a photo, but Hubs asked him, and Chuck came right back.
The whole thing took maybe 10 minutes. At one point, Lita went over to him to ask about getting photos for the press who were there. I didn't catch his full answer, but did hear him say that he needed to talk with his crew first.  Turns out there were people from Def Jam Records and they all worked together.
We stayed for bit, watching Chuck socialize.  After a few minutes, we decided to leave right before they got him to go up to the table.
Chuck D was amazingly personable and grateful.  He is definitely all about his fans and it was delightful to watch him interact with people. Even though the entire thing was short and sweet, it will leave a lasting impression.