There are so many trilogies ending this year!  I know how it feels as a reader to have the excitement of finding out what the final outcome to the story will be while simultaneously weeping inside because it's over. I thought it would be fun to see how authors think and feel about ending their trilogies.  So, I've contacted some writers about doing guest posts to talk about the other side of trilogies…
Today's guest is Rachel Harris! But, before we get to her post, let's check out the last book in her My Super Sweet Sixteenth Century trilogy!
Cat Crawford just wants to be normal—or at least as normal as a daughter of Hollywood royalty can be. And it looks like fate is granting her wish: she's got an amazing boyfriend, Lucas; her fabulous cousin, Alessandra, living with her; and her dad planning his second marriage to a great future stepmom. That is, until her prodigal mother reveals on national television that she has something important to tell her daughter…causing a media frenzy.

Lucas Capelli knows his fate is to be with Cat, and he's worked hard to win her over once and for all. Unfortunately, Lucas has his own issues to deal with, including a scandal that could take him away from the first place he's truly belonged.

As secrets are revealed, rumors explode, and the world watches, Cat and Lucas discover it's not fate they have to fight if they want to stay together…this time, it's their own insecurities.

Well, and the stalkerazzi.
Sounds good, right?  And now let's welcome Rachel to the blog!!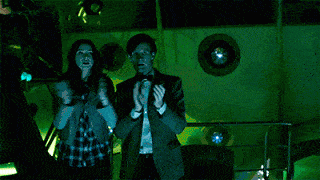 Three Times the Charm
First, a shout out to Stacee for having me here. I adore that chick. But I admit, when she asked me to stop by to chat about trilogies, I was a little nervous.
See, even though book three in my young adult series, My Not So Super Sweet Life, releases this month, I never really thought of this series as a trilogy. I wrote book one with a fun ending that definitely hinted at a continued story, but to be honest, I never planned to write it. And book three wasn't even a consideration until last year, after fans asked for more. Had I known it would've become a trilogy, I probably would've done a few things differently…
My Super Sweet Sixteenth Century was a total blast for me to write. It required a ton a research, sure, but I giggled and swooned my way through it. I love fish out of water stories, and that was certainly what Cat Crawford was when gypsy magic thrust her into Renaissance Florance. One way I kept that "out of her element" feel constantly on the page was by making the main characters super snarky and use a lot of slang and the secondary characters very formal. I love the way it turned out…until it came to book two.
A Tale of Two Centuries is the flip-flop of the first. A sixteenth century girl time travels to modern day Beverly Hills and enjoys the wonders of high school hallways and flushing toilets. But there's one problem. I write in first person. Alessandra's character was established in book one as very formal, her language didn't use any contradictions, and now she was my narrator. Contractions weren't my only issue. I also couldn't use any words that hadn't been in existence in her own time, at least until she had time to learn and be exposed to them here. The result is a book that I actually love to pieces, a character that truly grows and changes on page–but it didn't make the writing process easy, that's for sure.
And when it came to book three, I came up with the entire plot after book two was published. This book goes back to the narrator from book one, as well as adding a second narrator (her boyfriend Lucas). And this time, there is zero time travel. It's a straight up contemporary romance with hints of magic throughout. The plot ideas I had, the story elements I felt I wanted to tie up, didn't involved anyone leaving, but dealing with everyday life, and the lessons they'd learned during the journey up to that point. As a result, I also ended up adding a couple new characters and coming up with at least two more book ideas (tee hee).
So my tale of a trilogy probably isn't that common. My narrators change back and forth. Heck, the genre even changed. And I didn't know I was writing one until each book was contracted. But it definitely made it exciting and challenging. You know, the more I think about it, I wouldn't change a thing. Knowing in advance wouldn't made it easier, but the ride was a total blast. And who knows? This series may not be over yet. ;)
~~~~~~~~~~~~~~~~~~~~~~~~~~~~~~~
Huge thanks to Rachel for taking the time! Make sure you're subscribing to her blog, following her on Twitter, liking her Facebook page, and adding all of her books on Goodreads.
She also included an excerpt, but I'm not posting it because I want you to find all of the awesome on your own.  And trust me, it is awesome.
Pick up My Not So Super Sweet Life as an e-book on 4/21.  Pre-order it now from Amazon or Barnes & Noble.