Heather Brewer is amazing.  If you follow me on Twitter or have been with me here since the beginning, you know that I'm all about fangirling. And I looooooove to fangirl over Auntie Heather.  So when her Slayer chronicles were about to end, I asked if she would be available to do a guest post to talk about the differences between writing Vlad and Joss.
But, before we get to her words, let's check out the book, yes?
Heather Brewer, the New York Times bestselling author of THE CHRONICLES OF VLADIMIR TOD, brings this spin-off series to a thrilling conclusion.

All secrets will be revealed as Slayer Joss McMillan tracks a murderous vampire terrorizing his hometown of Santa Clara. During his investigation, Joss comes head to head with old enemies seeking revenge and faces the truth about his sister Cecile's murder. Joss must use all of his skill to protect his loved ones, even if it means paying the ultimate price.
And now, let's welcome Auntie Heather to the blog!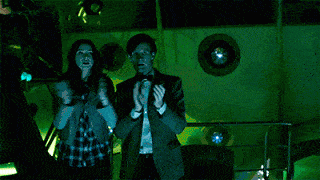 It's a strange thing to come to the end of a series, but it's a stranger thing to come to the end of an entire world. When I started The Chronicles of Vladimir Tod years ago, I knew what I wanted the story to be, how many books it would take to get me from the beginning I envisioned to the ending I imagined, and how it all would end. Along the way, I'd played with the notion of exploring Joss's side of the story – largely because I quickly realized that this wasn't just a story about a half-vampire boy…it was a story about two boys. One half-vampire, one a vampire slayer, and how they fit into the world when the world was at odds with them.
Telling Vlad's story was easy for me, as writing goes. I knew the world, because it's the world I want very much to exist. It was blood and belonging and secret hideouts and best friends. It was fangs and bullies and overcoming All The Bad Things. It was easy. Mostly, because Vlad was a big part of who I am.
The truth is…there was a point when the good folks at Penguin had asked me for more Vlad, to continue that series on, but I declined. Vlad's story was complete at five books. Yes, I ended the series with a question, but I wanted my readers to go find the answers for themselves, to keep living in that world, to claim it and make it their own. But I said no to more Vlad books for a reason. (I can feel you shaking your collective fist at me now for saying no, Minions – but know that I did so because Auntie Heather always trusts her gut and her gut said STOP) When exploring other ways to expand on this world and give readers more of this world, the idea of telling Joss's story came up, and I said yes. Only I had no idea what a challenge I would be in for.
Slayers make nothing easy. They are stubborn and feisty. They are smart and challenging. And writing from the point of view of a slayer…well, it was difficult. Joss is a very solitary boy. Whereas Vlad had Henry and Nelly and Otis, Joss had…Joss. He was a loner. In his family. In his circle. Joss was alone. And what's more, he had these huge burdens on his shoulders—placed there by himself. He blamed himself for the demise of his sister. He blamed himself for the subsequent destruction of close familial relationships. He kept secrets because the Society pounded into him that he had to, and those secrets ate away at his insides like acid. It hurt to write from Joss's POV. It made me hurt. But I'm glad I did it. Especially because of the final book in this world, THIRD STRIKE.
In this book, the biggest question that Joss has ever asked is answered: Who killed Cecile? It's a question that we first encountered back in NINTH GRADE SLAYS, even if only in shadowy whispers. It's a question we've all been waiting too long to have answered. THIRD STRIKE has been by far the most enjoyable of the Slayer books for me to write, and I am over the moon excited that you'll soon get to read it. Many Minions have asked/pleaded with/begged me to write more about Vlad, about Joss. And I may some day. But not now. And not because someone else thinks I should. If I ever return to that world, it will be because it's time to do so. It's not time now. It's just not. I'm doing new things. I've written an amazing book called THE CEMETERY BOYS (out early 2015 from HarperTeen). I'm working on something even better now. I'm ready to move forward.
But it's weird…standing here at the end of one world and the beginning of another. It's scary and thrilling and I have so many places I want to take you, so many people I want to introduce you to. So go on, Minion, grab my hand. Let's do this thing. Like we always do.
~~~~~~~~~~~~~~~~~~~~~~~~~~~~~~~~
Huge thanks and undying love and devotion to Auntie Heather for taking the time to do this. Make sure you're following her on Twitter, liking her Facebook page, subscribing to her blog and adding all of her books to your GoodReads shelves.
Now.  Haven't had a chance to pre-order your copy of Third Strike? Well, I've got one for you. Book will be coming from The Book Depository and is international, as long as it ships to you for free. Additional giveaway rules can be found here.