There are so many trilogies ending this year!  I know how it feels as a reader to have the excitement of finding out what the final outcome to the story will be while simultaneously weeping inside because it's over. I thought it would be fun to see how authors think and feel about ending their trilogies.  So, I've contacted some writers about doing guest posts to talk about the other side of trilogies…
Today's guest is Fiona Paul.  But, before we get to her post, let's check out Starling, the last book in her Secrets of the Eternal Rose trilogy.
In the stunning conclusion to the Secrets of the Eternal Rose trilogy, there is nothing more dangerous that a secret closely kept…

Cass and Luca are fugitives, on the run from the law and the deadly Order of the Eternal Rose. As they separate to pursue the only evidence that could save them, their worlds—and their romance—are torn apart by spiteful friends and murderous enemies.

When Cass finds herself ensnared in the Order's twisted plot, Falco emerges once again as her only hope for freedom. But it turns out Luca has a shocking scheme of his own.

From ancient mercenaries to sly magicians, from clever courtesans to vengeful killers, no one can be trusted. In the breathtaking conclusion to the Secrets of the Eternal Rose trilogy, Cass must confront the Order and once and for all decide her destiny. Who will fly beside her when she finally finds her wings?
Sounds fantastic, right? [Hint: it was my favorite of the series.] Let's welcome Fiona to the blog!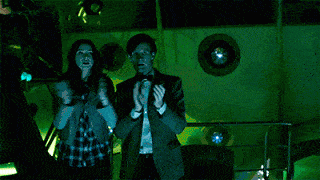 Hi peeps. Fiona Paul here, psyched to be hanging out with my favorite book junkee and talking about the end of the Secrets of the Eternal Rose trilogy.
Oh trilogies. I am so over you. If I had known back in 2010 what I know now, I probably would have been like "You want me to write three books? Are you nuts?" You can read more about why I am now firmly #TeamStandalone here.
Otherwise, here are the highlights of my book #3 writing process
THE GOALS:
Resolve the mystery of the Order of the Eternal Rose. Who are they? What are they doing? Why do they want Cass? The pieces come together in a variety of ways–overheard conversations, witnessed atrocities, and passages from the Book of the Eternal Rose.
Make sure the bad guys get what's coming to them. This series had a lot of bad guys (and bad ladies) and it was challenging to deal with each of them and not get repetitive.
Resolve the love triangle in a believable way. Most readers felt very passionately one way or the other and I'm super happy to announce that so far people from both Team Falco and Team Luca have been pleased with the way things turned out. (And no, she doesn't pick both of them).
Make sure Cass, Falco, and Luca all have character growth over the single book and the whole series. This is one of the hardest things about trilogies. So many arcs to manage. It's like trigonometry class all over again.
Tie up loose ends. I know a lot of authors prefer to let readers wonder about certain things. I wanted to address as much as possible because I like to read stories where the ending is clear. One of my proudest moments was remembering during copy-edits that I hadn't ever addressed the body of Mariabella (the dead courtesan from Venom) and writing her a fitting burial.
THE RANDOM:
Originally I made up Maximus, the quirky conjurer from Venom, just to add to the suspect pool. (And I am a dork who loooooves magic). I was totally surprised when he decided to pop back into the story and play an important role. (Though I probably shouldn't have been surprised, because I am a dork who loooooves magic!)
THE TITLE:
My Penguin editor pitched the title STARLING, along with a couple of other titles that I don't even remember because STARLING immediately felt like such a perfect fit. Many readers took the title to mean that Cass and Falco end up together, since that was his nickname for her. Really, the title is more about Cass learning to fly. It does not play into the resolution of the love triangle whatsoever.
FAVE LUCA MOMENT:
When he bails on Cassandra after catching her talking to Falco, telling her she needs to figure out what she wants once and for all.
FAVE FALCO MOMENT:
When he confides in Cassandra about his first love, Ghita, and why he is so anti-Church.
FAVE CASSANDRA MOMENT:
When she goes all Three Musketeers on Piero, and then later when she demands to be allowed to fight instead of just being a pretty face or a distraction. And then again, when she quits waffling, makes her choice, and doesn't doubt herself.
FINAL VERDICT:
I'm pretty proud of how Starling turned out. Each book in the trilogy feels a little more like the writer I want to be and all of the main characters grew and changed throughout the series. If you were bogged down by Venom's slow pace, know that Starling moves at an almost frantic speed as Cass goes from one dangerous situation to the next, all in the name of finding the Book of the Eternal Rose. I'm also really happy with the romantic resolution, even though it wasn't how I originally envisioned the ending.
NEXT FOR ME:
A couple of contemporary standalone novels. A lot of my author friends were bittersweet when they finished their trilogies, wanting to write prequel or spinoff trilogies. Not me. It was a moment of celebration–I felt like I lost about 50 pounds. Although I'll miss Cass, Falco, and Luca, I've got about 200 more ideas bouncing around in my head and I'm eager to meet some new characters. What can I say? I have commitment issues. :-)
BIO:
From this point forward, Fiona will be writing contemporary YA under her real name Paula Stokes. Her next novel, THE ART OF LAINEY, releases on May 20, 2014. If you like heart, humor, hot boys, or happy endings, you should definitely check it out. (But don't get attached–Micah belongs to Stacee).
~~~~~~~~~~~~~~~~~~~~~~~~~~~~~~~~~
Huge thanks to Fiona for being so awesome and always taking the time! Oh, and for the record, I didn't add that bit about owning Micah, but it's true, so back off.
Make sure you're following Fiona/Paula on Twitter, liking her Facebook page, subscribing to her blog and adding all of Fiona's books and Paula's books to your GoodReads shelf.
Now, to celebrate the trilogy being complete, I'm giving away a hardcover copy of Starling. The book will be coming from The Book Depository, so this contest is international as long as they ship to your country for free.  Additional contest rules are here.
**Good Luck!!**