I "met" Bethany through A.G. Howard.  After meeting up with Anita in Vegas, she introduced Bethany and I on Twitter and suggested we should be friends since we both lived in San Diego.   From that, we became sister wives in the ownership in Jeb from Splintered [I have proof], may or may not have plans to get matching tattoos and possible some jail time in matching orange jumpsuits.
So, of course, it goes without saying that when Bethany's debut book was up for a blog tour, I had to sign up. Actually, I signed up with Rockstar blog tours specifically to try and get on this tour.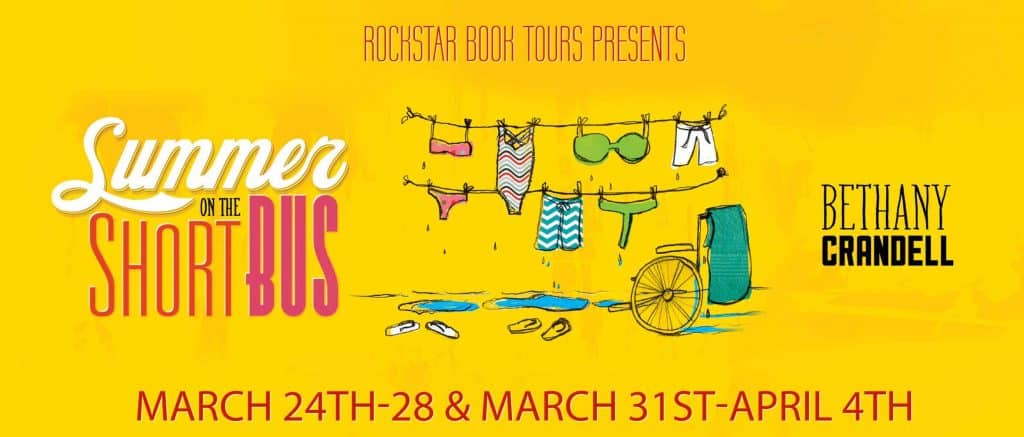 But, before we get to my interview with Bethany, let's check out her book, shall we?
Spoiled, Versace-clad Cricket Montgomery has seventeen years of pampering under her belt. So when her father decides to ship her off to a summer camp for disabled teens to help her learn some accountability, Cricket resigns herself to three weeks of handicapped hell.

Her sentence takes a bearable turn as she discovers the humor and likeability of the campers and grows close to fellow counselors. Now, if she can just convince a certain Zac Efron look-alike with amazing blue eyes that she finally realizes there's life after Gucci, this summer could turn out to be the best she's ever had.

Summer on the Short Bus is a very non-P.C., contemporary YA with a lot of attitude, tons of laughs, and a little life lesson along the way.
Sounds good, right? [Hint: It totally is.  Read my review here.]
1. Where did the idea for Summer on the Short Bus come from?
I tend to get a title in my head first and the story builds around it. Probably not the most logical way of crafting a story but it's the way I roll. Anyway, I came up with this title I really loved, THE SHORT BUS FOLLIES, and went from there. Once I determined that I was going to have disabled teenagers as the supporting cast, and that my m/c was going to be a reluctant participant in their adventures, the summer camp aspect just sort of evolved.
2. Why do you love Cricket and Quinn and why should we root for them?
It's easy to love and root for Quinn. He's sweet, sensitive, and just the right amount of wounded that you want to hug him rather than punch him. Cricket, on the other hand, isn't so easy to love. She's rude, crude and in need of a good bitch slap. Thing is, she's also very honest. And by honest I don't mean that she says whatever's on her mind, I mean that she's authentic and very true to human nature. Yes, she's selfish, mean and judgmental, but come on guys…aren't we all sometimes? Cricket embodies all the things we hate most about our own behavior. Readers will root for her because they see a glimpse of themselves in her.
3. What was your favorite part about writing this book?
I wrote SUMMER ON THE SHORT BUS before I had a publishing contract, an agent, or even steady beta readers. I had no audience, certainly no fans (other than my mother), and no critics telling me that my book sucked. It was just me, the page, and my opinion.
Writing is different now. There are contractual obligations, editors and critics who have no shame in ripping my words to shreds. While I still honor the stories told by the voices in my head, it's a lot more work to ignore the other ones.
Short answer long, the best part of writing this book was that I didn't write it for anybody but me.
4. What was the weirdest thing you googled while researching?
If my Google history could talk I would be serving multiple sentences by now. (My new WIP is demanding a lot of interesting research. Heh). As far as The Short Bus, I remember searching 'Gwen Stefani Abs' one day, and thinking, "Dude, I've got issues."
5. Describe Summer on the Short Bus in 5 words.
Irreverent. Funny. Heartwarming. Honest. Unapologetic.
Speed [ish] round:
1. You get the call/email/letter that says you're being published for the first time. What happens next?
"Are you sh*tting me?" Bethany to her agent.
2. What three things would you take to a desert island?
Sunscreen, a hammock, Jared Leto.
3. You can only read one book for the rest of your life. What is it?
Bread and Jam for Frances
4. Who are your favorite swoony boys?
Hollywood, J.R. Ward's BLACK DAGGER BROTHERHOOD series
Jeb, A.G. Howard's SPLINTERED series
Thad, Lynne Matson's NIL
Jonas, (my own creation) A.I.T (Angel in Training)
5. Are there any authors that you fangirl over?
Rebekah Crane and Jennifer Doktorski. I'm friends with both of them, which makes my swoonery even more pathetic, but their writing voices are so up-my-alley I can't help but squeal whenever I read their work.
~~~~~~~~~~~~~~~~~~~~~~~~~~~~~~~~~~
I wish I had some mysterious secret to reveal about myself in hopes that you'd find me interesting…but I don't.  When it comes to me, what you see is what you get. And what you get is an irreverent, sarcastic and emotional girl who writes stories about characters with these same traits.
I live in San Diego with my husband, two kiddos, and a chocolate lab who has no regard for personal space. I'm slightly obsessed with John Hughes and the wonderful collection of films he left behind, and I'm confident that Jake Ryan will be showing up on my doorstep any day now…
I firmly believe that prayer solves problems, and that laughter is the best medicine. Along with avocados. Avocados make the world a better place.
I'm represented by Rachael Dugas of Talcott Notch Literary Agency.
~~~~~~~~~~~~~~~~~~~~~~~~~~~~~~~~~~
Huge thanks to Bethany for taking the time and giving me Quinn [I have proof]. Make sure you're subscribing to her blog, liking her Facebook page, following her on Twitter and adding her books to your Goodreads shelves. You can also order the book here: Amazon, Barnes & Noble.
And be sure to click here to check out all of the other tour stops for extra Bethany goodness.
There is an awesome giveaway pack up for grabs: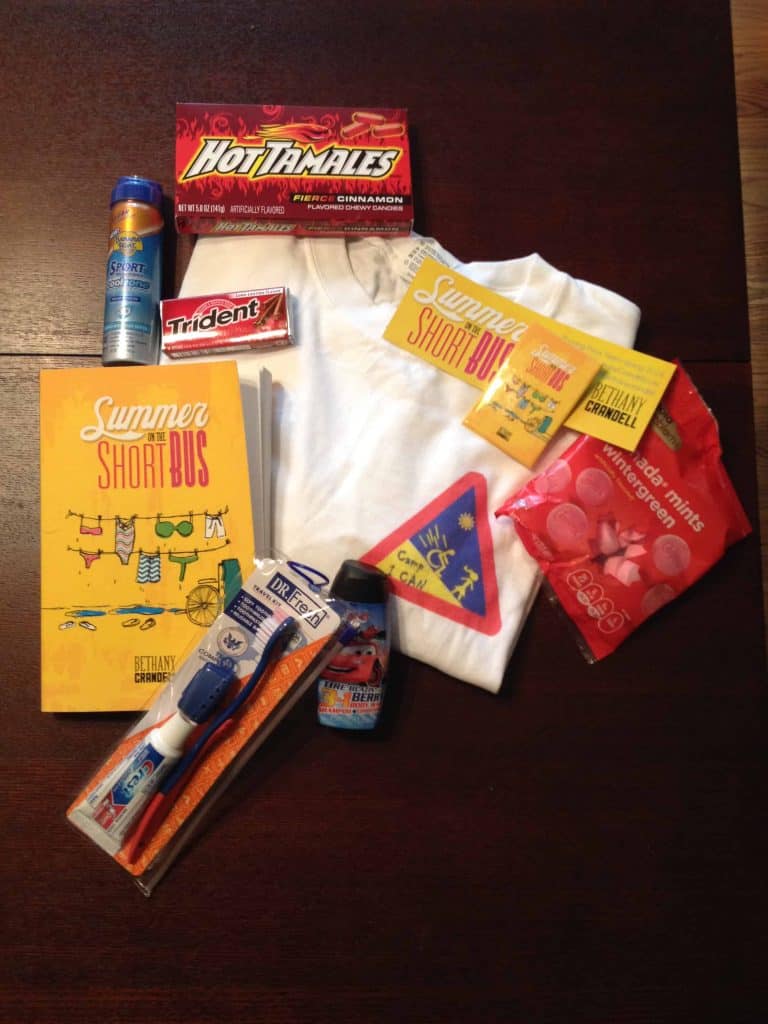 **Good Luck!!**