Hello, my pretties! Welcome to another edition of the mutiny.
What's the mutiny you ask? Well, I have always said that I wasn't going to become a review blog and yet, I've had this itch in the back of my head… so here we are. I'm waging a mutiny against myself and I'm going to do some mini reviews + feature upcoming reads I'm excited about.
It's been a hot minute since I've posted one of these (seriously, it was August 2022), so instead of backtracking, I'm going to share some of my favorite reads from January-February, so settle in!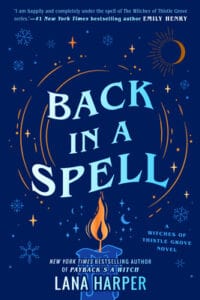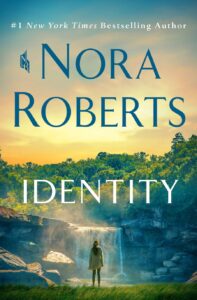 Back in a Spell by Lana Harper  — 5★ — Well, this is definitely my favorite of the series. I love love loved Nina. She's a squishy marshmallow underneath her crunchy exterior and I looooooved reading her relax and truly become the strong person she is. Morty has been an enigma in the background and I was legit thrilled to see he was the MC. Oh, and he's a damn delight, just as I expected. I loved the magic and magical bond aspect and (of course) the romance. Reading the difference between Nina and Morty's families was fun as was Jessa, Nina's BFF (I'll just be over here hoping she gets a story). I feel like I don't have the right words for this review, but it was like getting a hug. I really hope there's a million more books to this series because I'm going to read all of them.
Identity by Nora Roberts  — 5★ — I'm a sucker for a good romantic suspense and while I love the JD Robb books, it's been a bit hit or miss with the Nora books…this one captivated me from the start. I love love loved Morgan. She's loyal and loving and looking for roots. Her mom and grandma (or "her ladies") were some of the best parts of this story and I couldn't get to their scenes fast enough. Miles is all crunchy all the time, so of course that was awesome seeing him soften just a bit. And the Jamesons are an amazing family. I loved all of them.  This was the slowest of slow burns (on both the romance and the suspense) that kept ratcheting up the tension. I loved getting all of the POVs we did, especially as the story started skyrocketing to the finale. And yes, even that was perfect — but not as perfect as the epilogue. This book was everything I could have wanted in a rom/sus and there's clearly a reason that Nora is the master.
A Wicked Game by Kate Bateman  — 5★ — I've loved this series from the beginning and this is my favorite of the group. I love love loved Harriet and Morgan. They both good, loyal and loving people who absolutely thrive while antagonizing the other. These two and their history, their button pushing, their flirting disguised as barbs was some of the best. Of course, it was fun to see the other family members too. Harriet and Morgan are together nearly the entire book (which I loved) and when they're not, they were thinking about each other. The so-called tension was there, but it occurred outside of the relationship and wasn't just Morgan saving Harriet (because she definitely knows how to save herself.) The grand gesture (not due to a breakup) was amazing and the epilogue was damn near perfection.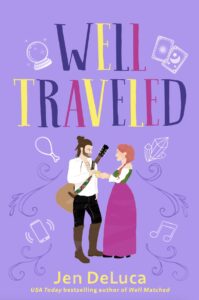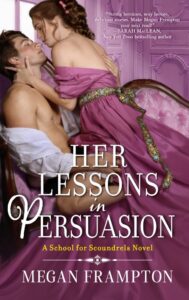 Not Your Ex's Hexes by April Asher  — 5★ — This was a damn delight. I love love loved Rose and Damian. She's sunny, he's crunchy, they're both stubborn and sarcastic and I adored reading them fight and resist the chemistry. Until they didn't. Of course, this cast of characters is so much fun and I loved seeing everyone again. Plot wise, it was good. The animal aspect was a great way to show that Damian wasn't always so crunchy and who doesn't love snuggling puppies. The conflict didn't last long and the grand gesture was glorious…all things I always want. It was a fun read with characters I love. I can't wait to read Olive's book and I'm secretly hoping we get even more.
Well Traveled by Jen DeLuca — 5★ — I've been interested in Dex's story since he first sauntered onto the page and I knew it was going to be a more-than-meets-the-eye sort of thing…I just wasn't ready for Lulu. I loved these two so much. She's smart and works hard and needs a break. He's loyal and loving and has much more substance than anyone gives him credit for. Together they're all soft conversations and mindful boundaries and so much chemistry. I loved that she saw him and he didn't assume anything. I was sort of expecting the Faire tour to get a bit repetitive, but there was no such thing. Different events, different characters, different scenes made it lighthearted and kept me captivated. I know I'll be reading this one again.

Her Lessons in Persuasion by Megan Frampton — 5★ — I love the start of a new series to settle into and this one is fantastic. I love love loved Wilhelmina and Bram. They're both smart, ambitious people who love to argue. There was loads of chemistry from the start and I truly enjoyed reading their fake relationship turn into something more. And hello, Bram's friends. I can't wait to see more of all of you. It was sort of weird that we didn't get any sort of information about why Althea was doing what she was, but she did (eventually) grow on me a bit. The friend group was delightful and I relished the scenes with all of them together. The last few chapters were so good (Aunt Flora, I'm looking at you) and I can't wait to read more.
Surprising no one, I'm still very behind on review books because it appears that I've turned into somewhat of a mood reader.
I can't seem to share upcoming excitement because there's so many review books that I can't wait to read and even though I'm trying to catch up, I still keep going back into the "In Death" series by JD Robb because they're just so satisfying.


What about you? Have you read any of these books or do you want to?