I've loved Robin's words right from the beginning.  We all know how picky I am about contemps and Robin's are some of my favorites.  So when she contacted me to see if I wanted to help celebrate her second book, The Secrets of Attraction, of course I said yes!
Before we get to the fun quiz and giveaway, let's check out the book, shall we?
Set in the same world as The Promise of Amazing, this smart, surprising, and romantic follow-up to Robin Constantine's debut novel follows two New Jersey teens as they become friends and fall in love. Perfect for fans of Sarah Mlynowski, Jenny Han, and Morgan Matson.

Madison Pryce thinks she's got everything figured out—she's working on a portfolio for a summer art program and hanging with her friends. Plus she has her hot boyfriend, Zach. But then a visit from a family friend turns Maddie's life upside down.

Jesse McMann is still reeling from a breakup that shattered his heart and his band. Then pride (and some goading from his bass player and fellow barista) forces him to find a new drummer—and the inspiration to write music again.

Kismet arrives in the unlikely form of Grayson Barrett, who tries out for Jesse's band, and whose girlfriend is BFFs with the cute girl who orders a chai latte after yoga every Thursday: Maddie. What Jesse and Maddie thought they knew about the secrets of attraction and the rules of romance changes once they start falling for each other.
Sounds good, right? Now let's welcome Robin to the blog!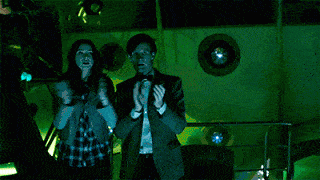 February is an awesome month! Why? It's the shortest, it has a holiday that practically begs you to eat chocolate and you know SPRING is right around the corner when it's over! It also happens to be the month that The Secrets of Attraction begins in, so in honor of that and of the e-book being on sale for $1.99, I thought it would be fun to do a giveaway! But first – here's a short quiz to figure out who your The Secrets of Attraction book boyfriend would be!
Who is your Secrets of Attraction book boyfriend?
1. Pick an article of clothing
A. Vintage leather jacket
B. Well worn jeans
C. Woolen toboggan hat
2. The physical attribute you notice first
A. Eyes
B. Hair
C. Height
3. You're in the mood for some comfort food – you turn to
A. Hot chocolate with a mountain of whipped cream
B. Boston Cream pie
C. French Fries
4. When listening to a song, your favorite part is usually
A. A sexy guitar riff
B. An addictive, catchy drum beat
C. A sick bass line
5. What kind of date do you prefer?
A. An epic adventure that sweeps me off my feet.
B. Something cute with potential to hold hands – like ice-skating.
C. The place doesn't matter, as long as we're together – we can figure it out as we go along.
6. What type of qualities do you look for in a partner?
A. Passion and intensity.
B. A wicked sense of humor and a hint of danger.
C. Sincerity and hidden depths.
7. You and your crush are headed to a semi-formal occasion, you wear…
A. Something bold and daring – I take chances.
B. Something classic – LBD all the way!
C. Something unexpected – I like the element of surprise.
8. How do you feel about public displays of affection?
A. Hell to the no.
B. Public? When I'm with my crush everything else melts away.
C. I'm game.
Mostly A's – Jesse
Don't let his confidence as front man trick you into thinking he's got it all figured out. This singer/songwriter holds his cards close to his chest when it comes to love, but once he warms up to you enough to let his sensitive side show, you realize he's the kind of guy who would do anything for his girl.
Mostly Bs – Grayson
Grayson is your parent's worst nightmare but behind that wicked glint in his eye, is someone truly looking for a lasting connection. His charm will make you feel like you're the only person in the room, but with his quirky sense of humor, he'll also remind you not to take life too seriously.
Mostly Cs – Tanner
Tanner's best described as a Great Dane puppy, not quite grown into his paws yet. He often speaks without thinking, but underneath it all he's got a proverbial heart of gold. Everything is not what it seems with Tanner, take a chance on this diamond in the rough and you'll be surprised by his warmth and sincerity.
~~~~~~~~~~~~~~~~~~~~~~~~
Robin Constantine is the author of The Promise of Amazing and The Secrets of Attraction.
A born-and-raised Jersey girl, Robin likes to spend her days dreaming up stories where love conquers all, eventually, but not without a lot of peril, angst, and the occasional kissing scene.
She loves swoony books, flip-flops, dark chocolate and the full moon.
~~~~~~~~~~~~~~~~~~~~~~~~
Huge thanks to Robin for letting me host this.  Make sure you're checking out her website, following her on Twitter and Instagram, liking her Facebook page, and adding all of her books to your Goodreads TBR.
Now.  Haven't had a chance to read Secrets? Robin is so awesomely offering up a "Get Cozy and Read" prize pack that includes: a signed hardcover of The Secrets of Attraction, chocolate, socks, hot cocoa & mug, and Starbucks gift card! Giveaway is US only and additional rules are here.
**Good Luck!!**