Going to Vegas Valley Book Festival was pretty much a given. I heard about it from Crystal when we went to her B&N for the Fierce Reads tour in June. She had said something about it in passing and when I looked it up and saw the glorious list of authors, my head almost exploded.
I slowly accumulated my books and made stacks around my office. The stacks fluctuated as authors were added and canceled….eventually, my total number of books was 47.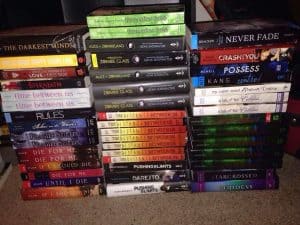 We had plans to get to Vegas on Friday, the 1st, which was also Hubs's birthday. When I heard that AG Howard was doing an offsite signing at Crystal's B&N, I forced persuaded Hubs to go there first.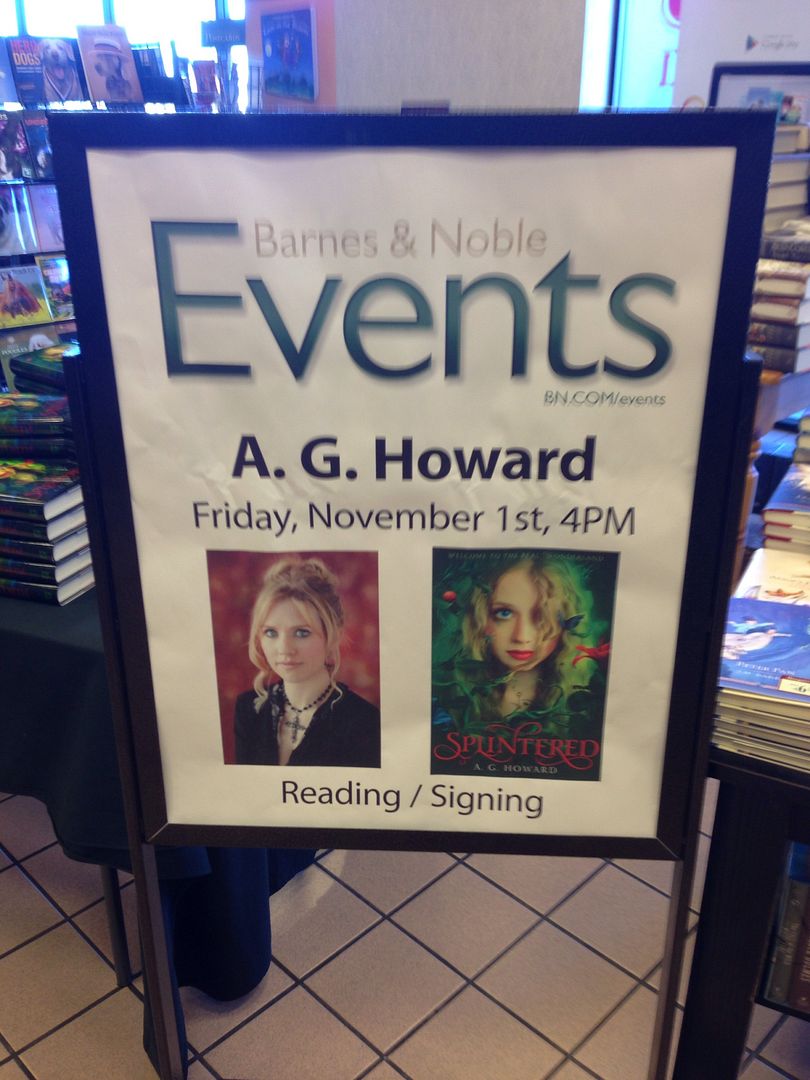 We got there around 3:30 and sat in the cafe until Anita got there. And just after 4pm, I went over to the table armed with Godiva truffles, a couple of bottles of wine and some other prizes. Anita jumped up and we hugged and gushed and hugged some more.
I ended up sitting at the signing table with her and in between her talking with other readers, we chatted about all sorts of things.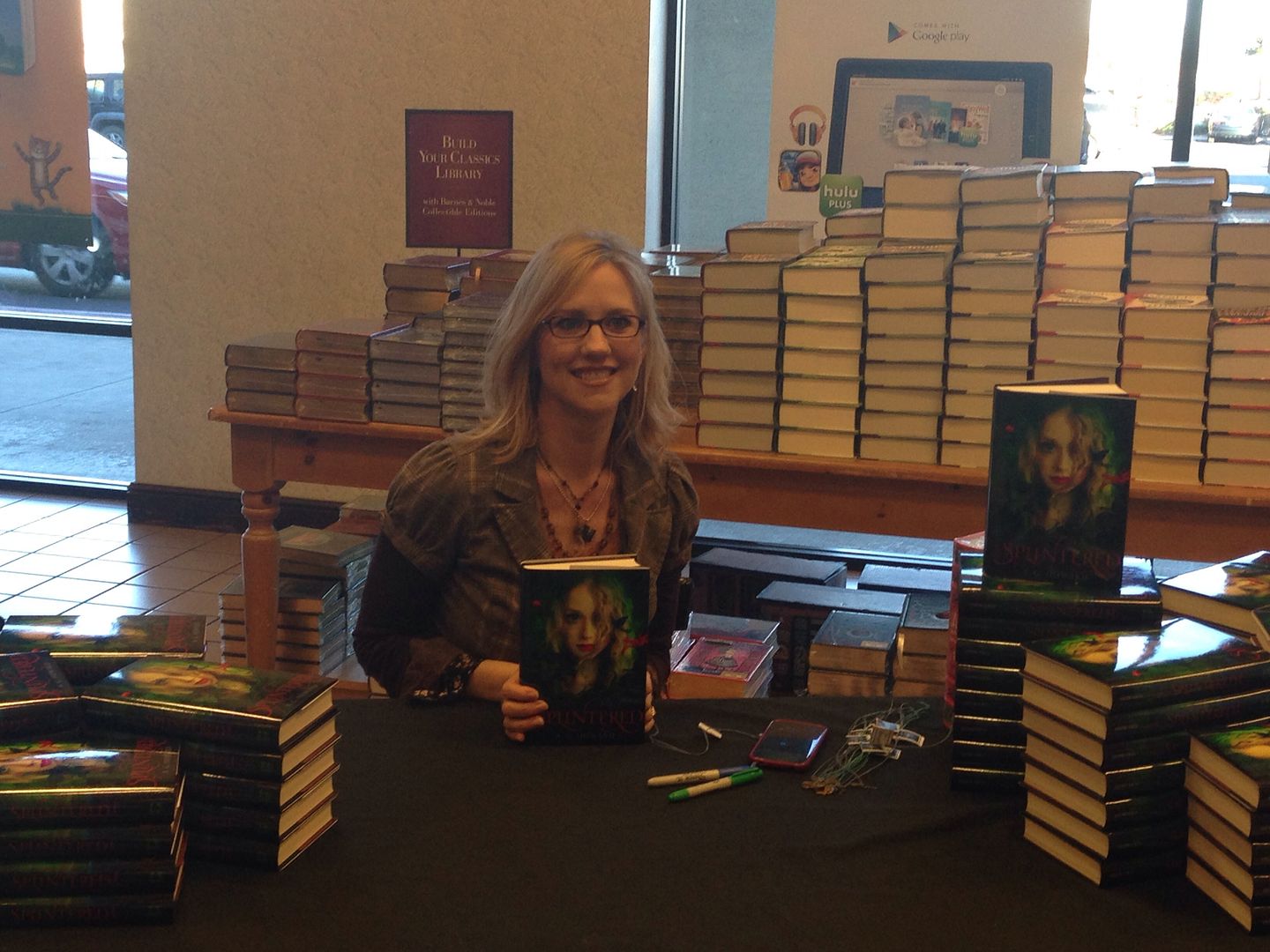 She signed all eleventy billion copies I had for her and gave me some super cool Unhinged swag. Once the signing time was over, I fed Anita the books for her to sign and I may or may not have put some on the "YA Bestsellers shelf".
We hugged and took photos with a promise to see each other tomorrow….and then started talking on twitter. From there, Hubs and I checked into our hotel and then headed to Gordon Ramsay's BurGR.
The maître d' offered us a seat at the bar that faced the kitchens and by accepting it, we got to skip the 45 minute wait in line. While he was talking to us, he learned it was Hubs's birthday and gave him a free shot of Jameson.
And the food? Gah. It was beyond amazing.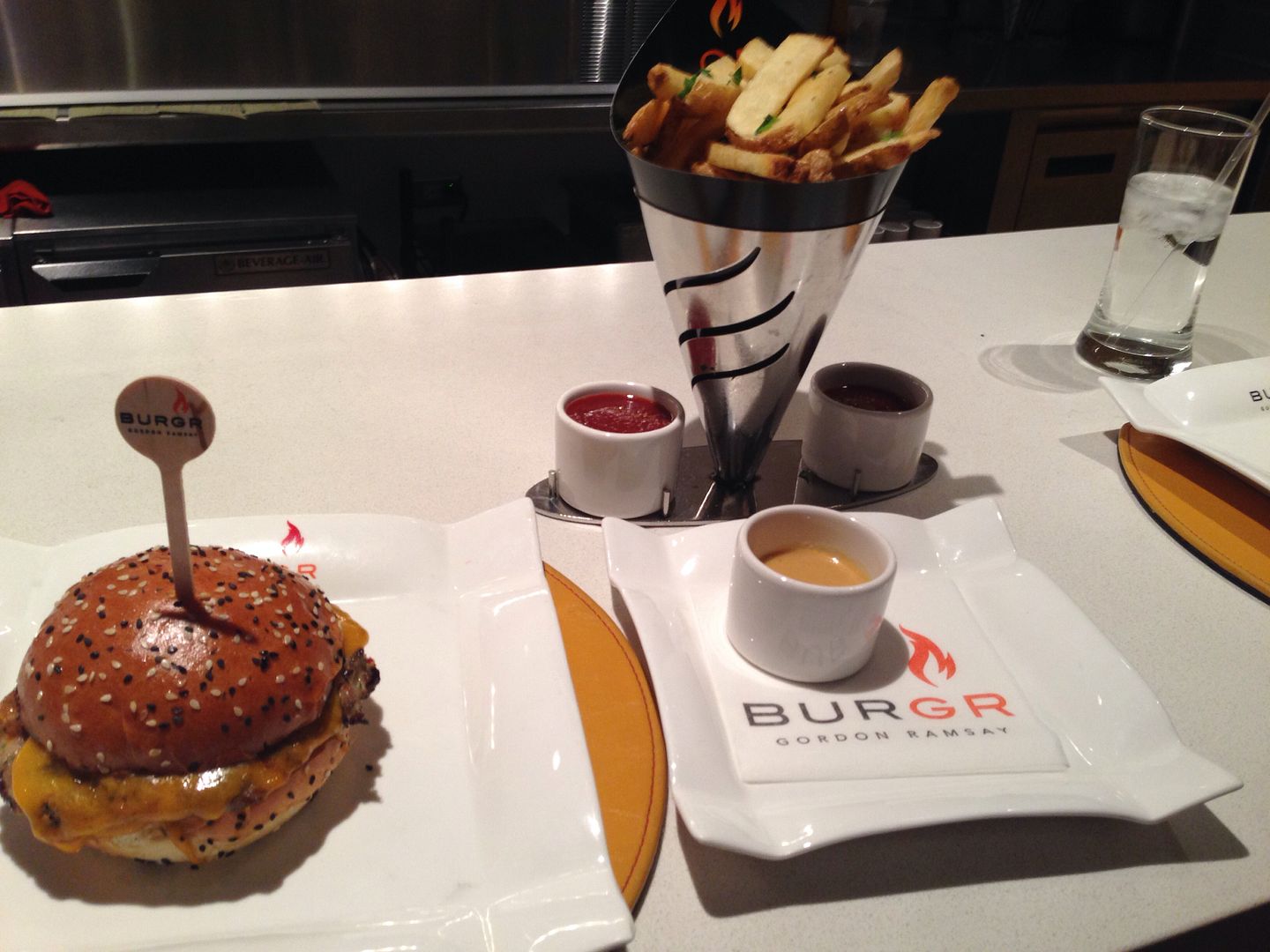 After stuffing ourselves, we wandered the strip for a while before heading back to our hotel for some much needed sleep.
Saturday morning found us heading down to the event area early. We found excellent parking and headed in around 10am. Mostly so I could make sure to get a finished copy of Crash into You.  We grabbed some food and wandered back to the tents to see some panels.
We caught the last ten minutes of the Serial Killers and Surprise Endings panel. At the end of the panel, Kasie West turned around and saw me and shouted "STACEEEEEE". I went into the tent and hugged her and said hello. Natalie Whipple came over and said hi and then Michelle Gagnon came over and we chatted a bit.
We got to the Classical Remix panel just in time for it to start. It had AG Howard, Vivi Barnes, Gena Showalter, Mary Lindsey, Claire LaZebnik, Eileen Cook and Stacey Jay. [I wanted to take notes, but my phone just wouldn't let me.  I did do some live tweeting, so check out #vvbf for tweets during the event]
When Anita introduced herself, she saw me and said hi. [This woman is so damn adorable. Are you reading her books yet?] After watching most of this panel, we snuck over to the other tent. We ended up watching the last 15 minutes of the Then and Back Again panel with Tamara Ireland Stone, Rachel Harris, Alexandra Monir and others.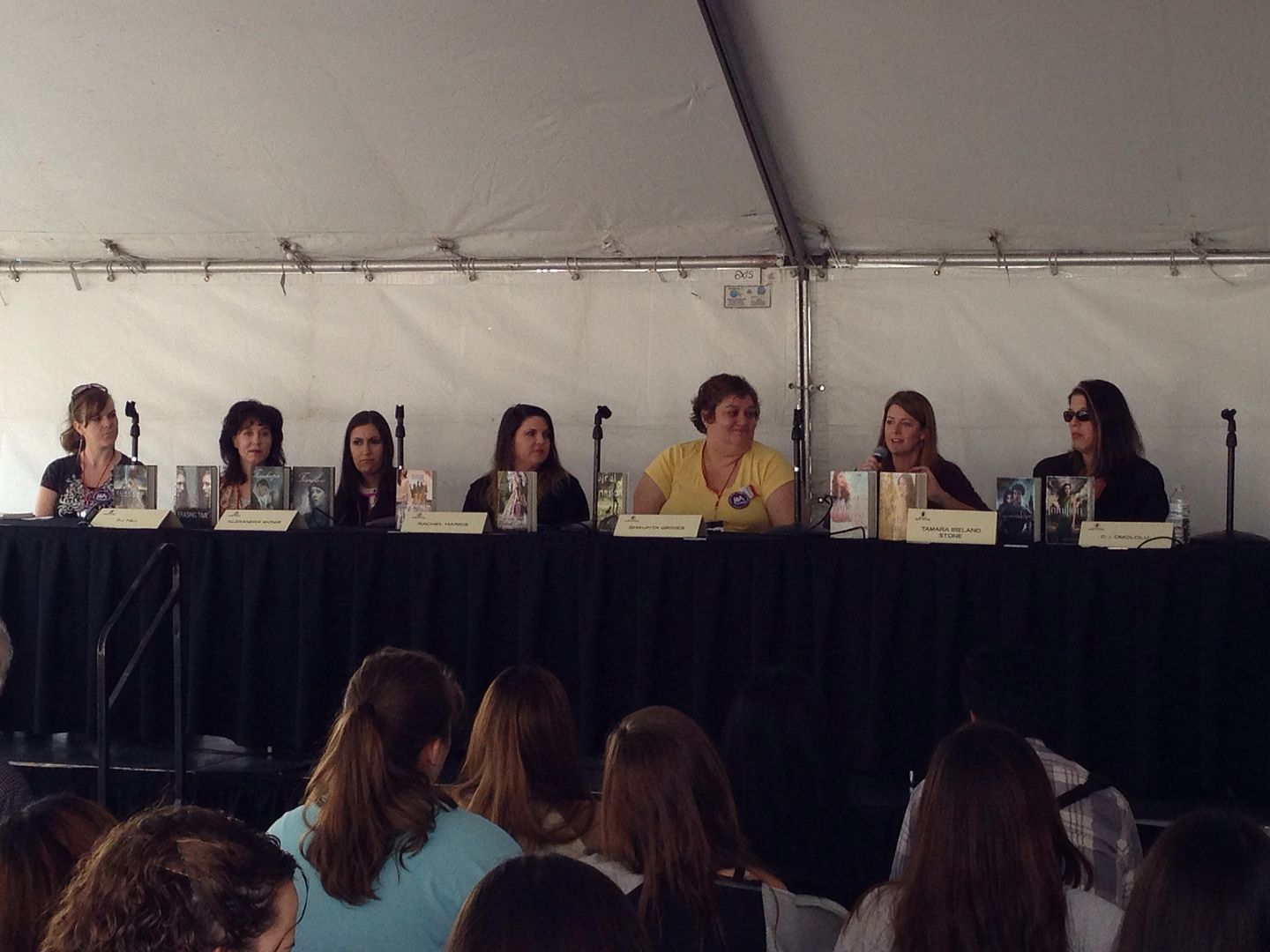 After that panel, I went over to say hi to Tamara [who waved while up on the panel]. We chatted for a minute and then went back over to find Anita and say hello again.
While we were standing there, Gena Showalter was signing books and taking photos with a small group of people who were waiting for her. I briefly thought about doing that, but I have so many books, it would be near impossible. I got a picture with Gena and told her I had eleventy billion books for her. She said that's what she liked to hear. :D
I then went to Anita to say hi and tell her how amazing her panel went. We chatted for a bit and then we had to go check on our parking situation. We stayed in the car until around 3:30. Hubs was sleeping and I was charging my phone.
We went straight to the Resurrecting the Future panel with Alexandra Bracken, Kimberly Derting, Anna Carey, Chris Howard, and Lydia Kang.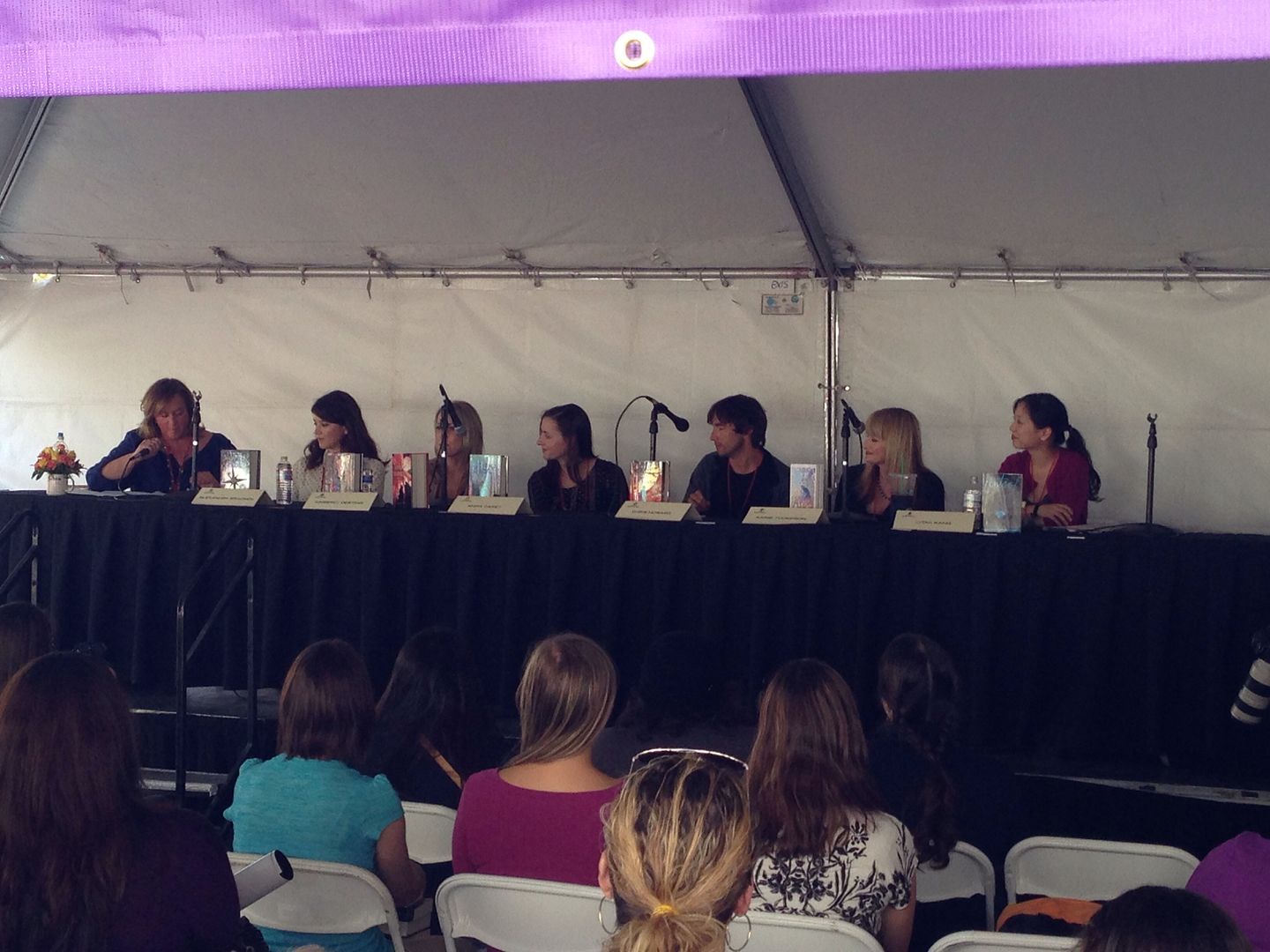 They started setting up the panel signing area around 4 and Hubs and I went over to set up a HQ of sorts. I went to Stacey Kade first. We talked about The Rules and how she had arc requests of the second one up already. I told her that I had just gotten an e-arc of The Bitter Pill and we chatted about that. And of course, our conversations on Twitter.
From Stacey, I went to Mary Lindsey. She was surprised to see my arcs of Fragile Spirits and said they were the first she had signed. We talked about a possible third and when I told her that she sent me one of them for review, Mary asked my twitter handle. And with my telling, she jumped up and we hugged. We ended up chatting about what the tag line was going to be. And when it was all over, we took some pictures.
Gena Showalter was next. There were a couple of people in line for her, but it went quickly. She laughed when she saw my stack and said she remembered that I said I had a lot of books. She's a quick signer and had the stack done in no time.
Josie Angelini was the last person I had for the tent one authors. We talked about the ending of the series, if I had liked it [I did], and the ending of Allegiant. Before we were able to really get into conversation about it, a line started forming.
While we waited for the switch over to the tent two authors, we chatted with Gretchen McNeil, Chris Howard and Tamara Ireland Stone. Then we took over the same table and Hubs watched my stuff while I ran around, getting stuff signed.
First up was Kasie West. We were chatting it up, talking about Tee Fury shirts and how many copies of The Distance Between Us I had while she signed. I got her to sign Xander over in one of Jaime's books. Annnnnnnd then we noticed that there was a huge line waiting for her.
Rachel Harris was the next author who was available. She asked who I was on twitter and I admitted that I was horrible at self promotion. She stocked me up with all sorts of swag after she signed.
I started to get in line for Amy Plum, but saw that the line for Katie McGarry was pretty short, so I went to her first. She told me that it was her first time being in Vegas, that she didn't travel a lot when she was young and in the past year, she's been all over the place. We talked about the awesomeness that is Crash into You and Isaiah and Rachel. I gushed over the book and the ending and really, just all of it.
I really wanted a photo, but Hubs was still standing guard. Thankfully, Crystal got in line behind me and was willing to take one for me.
Since her line had gone down a bit, Amy Plum was next. She was excited to see a big stack of books to sign. I told her that I was stocking up for giveaways since it's rare that she signs in the US. When she got to my arc of Die for Me, she said that the cover of Kate in the boat was super rare now. Amy offered bookmarks while signing.  I was able to get the woman standing behind me [not Crystal] to take a picture of us before I ran back to my table.
Seeing Jennifer E. Smith was a quick thing.  She signed my books, saying that she hadn't seen an arc of This is What Happy Looks Like in a while.  As she was signing, she started laughing, saying that her handwriting is already bad and it was only getting worse.
While I was walking up to Lydia Kang, she immediately noticed that I had an arc of Control. She said that she only had one and people kept asking her if they could have it and she wanted to know where I got my copy.  I said that I thought I got it from ALA [now that I've been thinking of it, I think I actually got it from the super secret back room].
After she signed the book, she started pitching Chris Howard's book.  I told her that I already had it and Chris said, "Yeah, we went to Disneyland together." That made me start to laugh because it made it sound like we were BFFs who went to Disneyland together all the time.  Lydia admitted that she had never been to Disneyland and somehow that led to Chris telling Lydia that I needed to be her tour guide.
Alexandra Bracken was a quick stop. We said hi and she said it was so nice to meet me and then got to signing.  It was nearing the end of the time for the signing, so people were running around.  After she was done, I thanked her and ran back to the table.
Jennifer Lynn Barnes was also a quick stop.  I had her sign my arc of The Naturals and when she commented on it, I told her that I won it from Hyperion and showed her the post-it that they wrote me.  After thanking her, I ran off to see the last person I had books for.
Tamara Ireland Stone was my last author for the entire event.  We chatted while she signed, she asked if she should sign my UK copy of Time After Time "To Kevin" since I'm her Kevin Bacon.  She said that it was a lot harder to sign to people that she knew, so I started laughing and saying, "You can have Bennett forever, I will never, ever give him to anyone else."
Did you see? Yep, Bennett is STILL mine.
After she signed my things, she stood up and we got some photos.  Tamara mentioned how we didn't get any photos of us during her launch party [I'm still bummed that I didn't remember to take photos when I was in Berkeley] and wanted to make sure that we took some. We hugged a few times and then I went back to the table/HQ to pack up the books and head back to the hotel.
As we were walking out, we saw Gretchen one last time.  I congratulated her [again] on the wedding and told her that I expected to see the dress…
Vegas Valley Book Festival was amazing.  The line up of authors was unlike anything I've seen before and I'm sure it'll be an annual trip for us…whether Hubs likes it or not.