I heard about Between the Devil and the Deep Blue Sea from Colleen.  We were talking about our upcoming plans and she told me that she was going to an author dinner with April.   At that time, I hadn't heard of the book, but I've loved all of the books Colleen has recommended, so I looked it up.  As soon as I saw the blurb that said it was "for fans of the Mara Dyer books", I was sold.  Obviously.
I borrowed the arc from Michelle and instantly fell in love.  At Christina's near insistence, I even participated in a group review that was posted on The Book Hookup.  It only seemed logical to ask April for an interview… And I'm thrilled to say she said yes.  Before we get to her answers, let's check out the book.
You stop fearing the devil when you're holding his hand…

Nothing much exciting rolls through Violet White's sleepy, seaside town…until River West comes along. River rents the guesthouse behind Violet's crumbling estate, and as eerie, grim things start to happen, Violet begins to wonder about the boy living in her backyard. Is River just a crooked-smiling liar with pretty eyes and a mysterious past? Or could he be something more? Violet's grandmother always warned her about the Devil, but she never said he could be a dark-haired boy who takes naps in the sun, who likes coffee, who kisses you in a cemetery…who makes you want to kiss back. Violet's already so knee-deep in love, she can't see straight. And that's just how River likes it.

Blending faded decadence and the thrilling dread of gothic horror, April Genevieve Tucholke weaves a dreamy, twisting contemporary romance, as gorgeously told as it is terrifying—a debut to watch

Sounds amazing, right?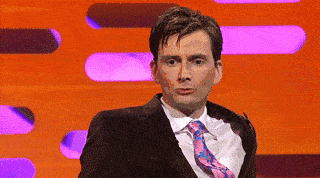 1. Where did the idea of Devil come from and was it always going to be two books?
My inspiration came from an article I read while living in Scotland: http://news.bbc.co.uk/2/hi/uk_news/scotland/8574484.stm I figured the whole thing traced back to one kid. One charming little liar of a kid. And that's where I got the idea for River.
Two books? I'm not sure. I didn't really think that far ahead, I guess. I just wrote Devil and then sat back and waited to see what would happen.
2. The relationship between Violet, Freddie and the Citizen is one of a kind. For a woman who has passed away and a house, they certainly have presence. Did you set out for them to be strong forces throughout the story?
The Citizen was always a major character–a crumbling mansion is necessary and Gothic. But Freddie really got fleshed out in revisions. I started out with a character that was rather like my own Dutch grandmother, and morphed her into someone else, someone complex and deep and flawed. She plays a fairly major role in the sequel as well.
3. Let's talk River. A bad boy who is so so so good. Thank you for giving him to me. How did he develop as a character that's [for lack of a better term because of spoilers] more?
Sure thing, Stacee. I had some serious Bronte exposure when I was young and it influenced a lot of what I write. I see shades of both Mr. Rochester and Heathcliff in River–Mr. Rochester is wounded and demanding and arrogant, but also a little insecure, and Heathcliff is dominating and manipulative and terrible. Yet both are capable of great love. I suppose this led to River and his more-ness, in a way.
4. You have a cast of characters who are mostly kids. DJ MacHale recently said that he doesn't write parents because then the story becomes about the parents instead of the kids. Do you agree or was there another reason the kids were on their own?
Here's what I think: When parents aren't around, kids do interesting things. They get bored and end up creating a lot of mischief and getting into a lot trouble. This allows for great plots to develop. My post-apoc WIP is all kids as well, and I find the Lord of the Flies dynamic utterly fascinating to think about, and write about.
I remember an incident with the neighbor kids a few years ago–their parents left them in the care of the oldest 14 year old boy for a few hours. Their father was an ex-cop and very strict…but the second the parents were out of sight those previously quiet, well-behaved kids climbed onto the roof of their house and started screaming and shouting at anyone who walked by. This is charming. And terrifying.
5. Describe Devil in 5 words.
Dangerous boy lies to lonely girl. Wait, that's six words. Shoot.
Speed [ish] round:
1. What's your go to guilty pleasure thing to eat?
Expensive dark chocolate and affogato.
2. What are you reading right now?
I'm about to start The Whatnot by Stefan Bachmann–I loved The Peculiar. Also Siege and Storm by Leigh Bardugo, My Berlin Kitchen, Dragonfly in Amber, The Queen of Attolia, The Doomsday Book and The Drowned Cities. 
3. Who are your favorite swoony boys?
Hmm. Benedict Cumberbatch as Sherlock and Khan. Francois Arnaud as Cesare in The Borgias. Rhett in Gone with the Wind. Mr. Rochester. Tyrion in The Game of Thrones. Eddie Redmayne as Jack in The Pillars of the Earth. Henry Cavill in The Tudors. All these characters have moved me, in their own way.
4. Are there any authors that you fangirl over?
Larry McMurtry. Susanna Clarke. Stephen King. George R.R. Martin. Scott Lynch
~~~~~~~~~~~~~~~~~~~~~~~~~~~~~~~~~~~~~~~
Huge thanks to April for taking the time to deal with my incessant fangirling to do the interview!
Make sure you check out her website and Twitter and add her books to your GoodReads TBR shelf!
Now.  I was lucky enough to win an arc of Devil from GoodReads and since I already have one, I'm giving it away! Contest is open internationally, additional rules are on the "terms and conditions" of the Rafflecopter widget.