When Denis Leary was announced at The Grove, it was a definite. We've both been huge fans for a long time. And then we went to a Hurricane Sandy event in Hollywood the night before because there were cast members of Sons of Anarchy attending. We had gotten home after 1:30am only to wake up at 4:30am.
Traffic wasn't bad, which translates to us getting to The Grove at 7:30. So we got some coffee and waited. Somehow, the events manager saw my Twitter conversation with Ava about getting up early, asked where we were coming from and offered to treat us to some coffee.
Books were bought and while walking around The Grove, we were approached by one of the production people for Extra. Perhaps you don't know that the show is filmed daily at The Grove? Oh yes. It is.
Anyways.
She offered free copies of Pitch Perfect if we stayed and were in the audience. No. Then she offered make up and jewelry. Nope. And then she said the magic words: free parking.
Yes. That's right. I agreed to be on tv for free parking. Keep in mind, we parked at 7am. The signing didn't even start until 7pm and The Grove charges hourly. So after about 2 hours of cheering for Mario and Maria, we walked away with free parking, $200 worth of Laroc makeup, ceramic coasters, a gold bracelet, nail polish and 2 vouchers for Pitch Perfect.
We went to Cheesecake Factory, walked the mall and slept in the car. I read a book. Finally we went back into the store just after 5pm [line up was 5:30].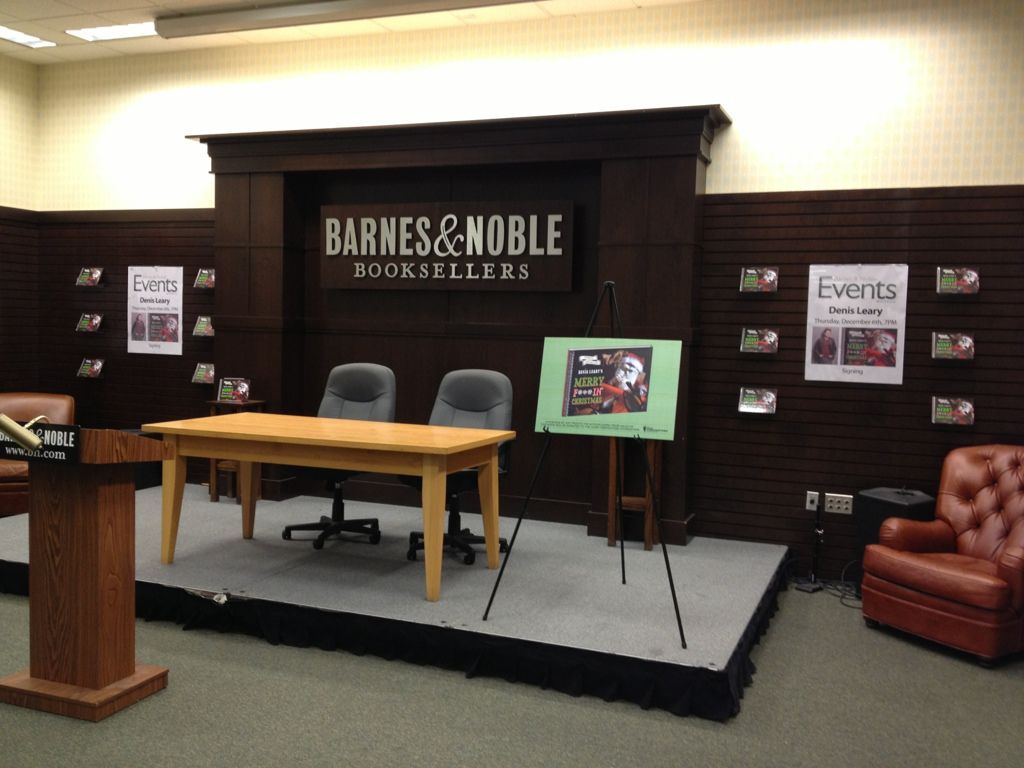 We had learned that Denis wasn't talking, just signing. But, they were doing personalization and he would take pictures.
After settling in as first in line, someone asked if Stacee was around. I shouted that I was sitting on the ground. A woman came over and introduced herself as the events manager, Lita. We chatted for a few minutes about our driving up from San Diego and how we didn't come up often because we have to take a full day off, leave the dog locked up, etc. She offered to give me her email address and said perhaps something could be worked out for future events.
Denis got there right after 7pm. He posed for pictures for the paparazzi who were set up in a corral.
We were first, so we got up to Denis right away. One of the BN workers took my book and opened it up to the signing page. Denis handed the woman the post it note and said, "I'm going to have you guys take these and just spell the names out otherwise I'm going to fuck it up".
She spelled out my name and he wrote it and then said, "Yeah. I would have fucked that up."
We chatted for a second, I thanked him for coming out and asked for a picture. Denis said of course and wanted to know where my camera was. When I pointed to Hubs, Denis said I should give the phone to one of the BN employees so we could all be in the picture. I said no, that I didn't want Hubs in the picture. We laughed and then I was done.
Hubs got his book signed and then asked for a picture. When I went to take the picture, Denis said, "It's the same camera!" I laughed and said yes. And then Denis shook his head and said he couldn't believe that we knew each other but didn't want to be in the same picture.
We were out of the store 4 minutes after Denis got there.
After the signing, we had to head back up to the bar from the night before because we won Camp Freddy tickets. And then after an exhausting [but enjoyable] day, a drive home.
Our meeting with Denis Leary was short but sweet. And hilarious. He was definitely worth the lack of sleep.