I was lucky enough to get my hands on one of the Breathless Reads boxed set when they came out. Right away, I fell in love with the cover of Venom. And after reading it, I couldn't wait to meet Fiona and get a finished copy of the book.
Towards the end of September, Paper Lantern tweeted that bloggers who were interested in participating in the online tour should send an email. Obviously, I'm not a reviewing book blogger, but I sent in an email to see if I could participate.
Lo and behold, Beth was more than happy to let me promote the Twitter party!! Also, below is an excerpt of Venomous, the prequel to Venom.

But first, the information about the Twitter party!!





Join me at the #VenomReleaseParty
October 30th,6-8pm
(1800 to 2000) CST
Hi everyone! Fiona Paul here, dropping by my favorite book junkie's digital space to invite you to a party! See, VENOM is going to have her book birthday soon, and rather than a traditional launch where I start the evening awkwardly tapping a microphone, sweat for an hour,and then end the evening awkwardly realizing the hem of my skirt has been tucked into my pantyhose all night, I figured I would have a party on Twitter!No mics. No sweating. No uncomfortable clothes. There will probably still be awkwardness because, you know, I'm going to be there, but the best thing about this launch party is that by having it on the interwebz everyone from Alaska to Zimbabwe can come. (Note: The timing of the party might be a tad late if you live in Zimbabwe. Sorry).
So why do you want to come to this party? See the above line about how I'm going to be there. Oh, also, there will be prizes.
Lead-up prizes: from today (October 23rd) to October 29th, I will be giving away 2 autographed Venom hardcovers. All you have to do for a chance to win in change your twitter avatar to the Venom cover, conveniently located at the top of this post, and follow me @FionawritesYA. Basically, I will log on, say "The first person to respond to this tweet with Venom as their avatar wins an autographed copy." It doesn't get any easier than that.
But Fiona, I use a pic of my dog Snufalufagusas an avatar, and if I change it he might get mad. No worries. You can still win lots of great stuff!Like the…
Attendance prizes

: All you have to do is show up at the party, AKA follow the #VenomReleaseParty hashtag and wait for me to announce giveaways. I will probably do some sort of trivia, like "First person to respond to this tweet with the place where you can find this [famous Renaissance work of art]wins [an awesome ARC]." I reserve the right to change my mind and do whatever Iwant, because it's my party. But I will give all five of those galleys away, even if the only person that shows up is my mom.
The attendance prizes, generously provided by Penguin Teen:
1.

ARC of The Madness Within by Maureen Johnson
2.

ARC of Prodigy by Marie Lu
3.

ARC of Orleans by Sherri L. Smith
4.

ARC of Out of the Easy by Ruta Septys
5.

ARC of Rise by Andrea Cremer
There is a good chance I will be adding additional prizes to this already awesome list! :)
But Fiona, what if I can't make it to your party in real time because I do live in Zimbabwe and I have to go to sleep before 0100?
Well, that brings us to the…
Bigger prizes: Anyone can win. All you have to do is tweet a pictures of yourself in a mask or Halloween costume to me anytime between October 23rd and 2359 Central time on October 29th. Important!! You must tag this picture with the #VenomReleaseParty hastag. No tag. No entry.
The pic can be you in a mask. It can be you in makeup. It can be you from twenty years ago. It can be you with Snufalufagus's head Photoshopped onto your body. It can be a drawing. The idea is to generate some fun pictures, not to stress anyone out. If you have changed your avatar to the Venom cover when you tweet this picture, I will give you a second entry. Maximum of two entries. One posted pic per twitter handle please.
The bigger prizes:
1.

A Penguin Teen Breathless Reads slipcase including Origin, Black City, The Innocents, Falling Kingdoms and Venom, with the Venom ARC autographed if desired
3.

A $25.00 gift card to barnesandnoble.com

*Stacee is promoting my party/awesome giveaway because she is rocks, not because she is in any way affiliated with me or Penguin Teen or Paper Lantern Lit. I will try to keep up with comments here, but please direct all questions to me via twitter or my email fionapaulbooks at gmail dot com.
*All prizes are open for everyone. I will ship anything internationally.
*Sorry, but you cannot enter without a twitter account. Now's a great time to make one!! :)
~~~~~~~~~~~~~~~~~~~
A Secrets of the Eternal Rose short story
~~~~~~~~~~~~~~~~~~~~
The year is 1600 and the streets of Venice, Italy are ripe with intrigue and danger. In this introduction to the world of Venom, eighteen-year-old Mariabella has recently elevated herself from the rank of common prostitute to the status of courtesan, a respected high-class escort for those men in Venetian society who can afford them. Mariabella steps out to attend a party on the arm of her powerful new patron, certain that the night will be filled with glamour, secrets, and adventure.
We leave the taverna and head toward the shore. The rushing sound of the water comforts me, but my chopines sink into the sand making it almost impossible to walk. I slip them off and carry them in one hand, my other hand tucked inside Batista's.
The beach is littered with pebbles and driftwood and dotted with patchy clumps of tall grass. I bend down and pick up a flat heart-shaped stone. "I dare you to throw this rock so far out into the water that we don't even see the splash," I say. It's a game we play. I don't even remember who came up with it. The dares start out small and escalate until someone refuses.
Batista takes the stone from me and cups it in one hand. He rears back his arm and throws the rock out into the waves. I don't see it land.
"My turn." Batista takes my chopines from my hand. "I dare you to let down your hair."
It's improper for any woman to go wandering around with her hair hanging loose, but we're alone, and for once I don't have to be proper. I reach up and pull out the pins, flinging them down on the sand, sighing as the blood rushes back into my scalp and the tight coils of hair tumble around my shoulders. The wind streams it out behind me like a flag. It feels so good. So freeing.
Batista drops my chopines. He pulls me in close, looking down at me as he cradles my face in his hands. "You are so beautiful," he says. "So perfect."
I wrap my arms around his waist and tilt my head upward. "I dare you to kiss me,"I say.
Our lips touch. Soft, and then harder. Warm, and then hotter. Batista's hands rake through my hair, his fingers tangling themselves in my dark curls. My hands caress his back. His kisses alternate between tentative and hungry, as if he can't quite decide who he's supposed to be. When he eventually breaks away, we stand pressed so tightly together that not even a slip of parchment could fit between us.
Batista is quiet for a few moments, looking out at the bank of mist that has rolled in, blotting out most of the stars. The wind snaps the fabric of my skirts like a sail. Ringlets of dark hair whip around my face as the damp air swirls around me. I shiver, only now realizing that I left my cloak at Palazzo Domacetti.
"We should get away from the water," he says."You'll get chilled."
But San Domenico is so small that the whole island is near the water. I wrap my arm around his waist as I point this out, nestling into the warmth of his body.
"Come. This way." He points at a tall black fence crowned with sharp spikes. The gate groans as it swings back and forth in the wind. Beyond it, I can barely make out the edges of a building crowned by a steeple. A crumbling old villa sits on this side of the fence, the glow of a candle penetrating one of its windows.
"What is it?" I ask. "A church?"
"And a cemetery," he says. I make a face, but Batista pulls me toward the fence. "Don't be afraid. At least it will be sheltered from the wind, and you won't have to worry about anyone seeing us together."
Reluctantly, I let him lead me into the church yard. It has both crypts and a small plot of underground graves, but the area is thick with high grass and thorny vegetation as if no one visits the place anymore.
But if no one visits, then why was the gate left open?
"Are you scared?" Batista asks. He's still holding my hand, but he walks several steps in front of me, more certain than I am of the uneven ground.
"No," I lie. I try to pick my way through the weeds without soiling the hem of my dress. It's the nicest gown I own, embellished at the bottom with lace trim. Joseph promised me new clothes,but I haven't even gone for a fitting yet. It will be weeks before I have anything new to wear.
"Look." Batista points at a crypt with a large angel perched on the roof. "Someone has left the tomb unlocked."
I squint. I barely make out the word carved over the door: Greco. Sure enough, the padlock lies in the grass and the door to the mausoleum is slightly cracked.
"Come inside with me." His voice is the lightest it's been all evening. "I dare you." Excitement dances between his words.
For the next part of the story, visit The Book Smugglers tomorrow, 10/24
~~~~~~~~~~~~~~~~~~~~~
For those of you who don't know, here are the details on Venom and the delightful Fiona Paul: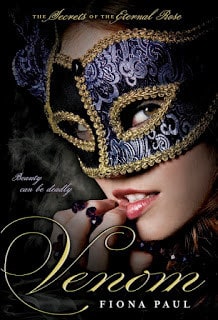 From the Penguin press release: Venom has all the makings of a novel that will top readers' must-read list: sexy characters; high society; midnight trysts; and a murderer on the loose – all set in Renaissance Venice.
Fifteen year-old Cassandra Caravello is a girl born into the elite world of the privileged few. Though Cass recognizes her good fortune, she longs to be freed of her boring life that is mapped out before her, including her engagement to Luca, her long-distance fiancé. When Cass stumbles upon a dead body one night, her life quickly takes a turn for the macabre.
Soon she is swept up in an unfamiliar world of mystery, wild romance, secret societies and danger. She meets the enigmatic Falco, who quickly becomes the object of her desire – however wrong it may be. Forced to examine who she is and what path she wants her life to take, Cass much also now question who can be trusted as she realizes that she, too, is in the killer's path.
Fiona Paul lives in the Midwest but travels a lot since she can't breathe if she spends too much time away from the ocean. She
graduated from Washington University in St. Louis with a major in psychology and spent a year teaching English in Seoul, Korea while she was deciding what she wanted to be when she grew up.
Answer: everything.
In addition to being a teacher and a writer, she's also worked as a sauté cook, sporting goods manager, veterinary assistant, and registered nurse.
When she's not working, you can usually find her kayaking,reading, or helping turtles cross the road. Her future goals include diving with great white sharks and writing more books, not necessarily in that order.
Venom

is her first novel.
http://fionapaulbooks.blogspot.com/
~~~~~~~~~~~~~~~~~~
Huge thanks to Fiona and Beth at Paper Lantern Lit for letting me be part of this!!