I happened to find out about Amanda Hocking on accident. I was intrigued about her books and was free the night of the event, so I figured why not.
I got down to MG just before 6pm.  I had purchased Wake already and wasn't planning on purchasing any of the other books.  Then when I walked into the store and saw the other books sitting there, I had to look at them.  And then I had to buy them.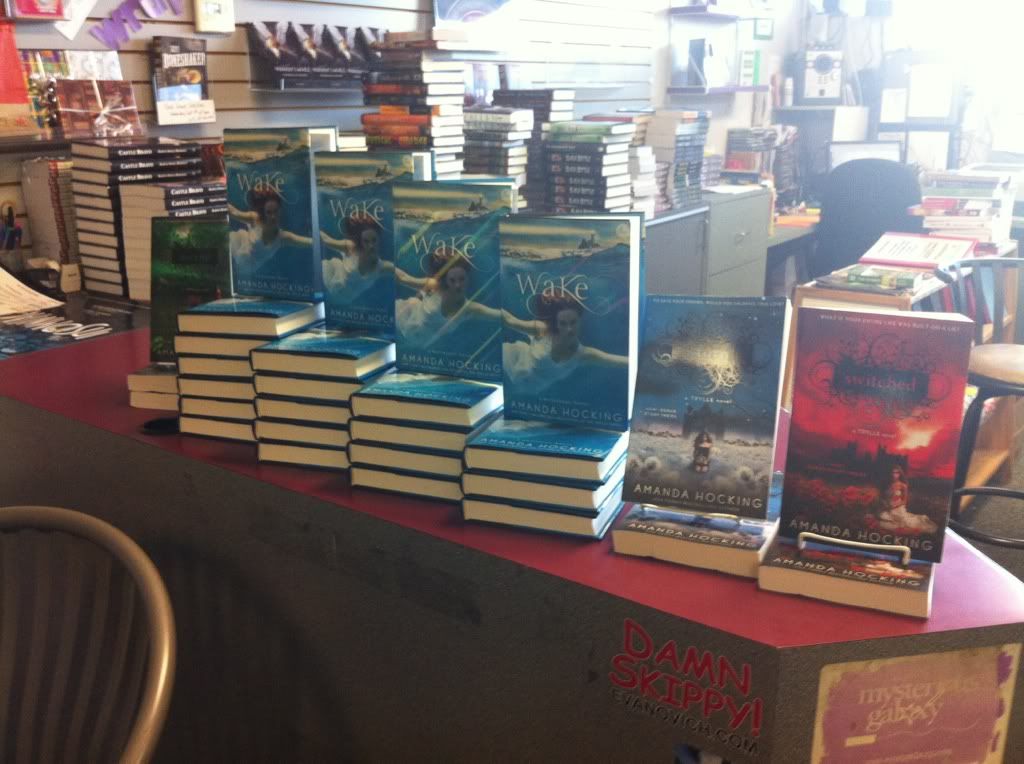 Amanda got there around 6:40 or so.  The guy from MG told her he didn't want to start early, that way it gave people more time to get to the store, but that once it started, she was free to do whatever she liked.  It started promptly at 7 and Amanda said she would read the prologue of Wake and then take questions because she "didn't have a presentation".
Amanda's 3 guests at a tea party would be: The Joker because he'd be nuts.  The Cheshire cat because it's a tea party and that's what you do.  And Adrian from Vampire Academy because it would be a lively bunch.  She said she wouldn't want Batman there because "he'd be all grrrrr".
At one point, Eric [her boyfriend? Husband? Assistant? Friend?] raised his hand to ask a question.  She started laughing and asked what it was.  He asked what she was having for supper. I asked which character of hers was her favorite to write and she said Daniel and Bobby.
After answering questions for about 40 minutes [mostly about her writing process and success with self-publishing], the signing started.  I asked the MG worker [who's super nice, but I don't know his name] if he could take a picture of Amanda and me together.
When I got up to Amanda, I thanked her for coming and she thanked me for coming out.  We talked about the Doctor Who post-its that I had used in my copy of Wake and that prompted her to tell me that she hasn't watched the reboot of Doctor Who, just the older version and her favorite Doctor is Tom Baker.  She also told me that when she was in London, she went to the BBC and saw the original Tardis, so I'm a little jealous of that.  Even though I did stand on/in David's Tardis set…