I've been a fan of Emilly Henry's since her first book.  I've really enjoyed the two books she'd previously published and I was eagerly awaiting her new words.  So, when I got the invite to take part of the blog tour for When the Sky Fell on Splendor I was all over it.
I was scheduled for an interview with Emily, but unfortunately at the last minute, it wasn't able to happen. Instead, I'll be sharing my top 5 reasons to read…and before we get to that, let's check out the book!
Title: When the Sky Fell on Splendor
Author: Emily Henry
Pages: 384
Publisher: Razorbill
Pub Date: March 12, 2019
Find it: PRH | Indiebound | B&N | Amazon | Goodreads

Almost everyone in the small town of Splendor, Ohio, was affected when the local steel mill exploded. If you weren't a casualty of the accident yourself, chances are a loved one was. That's the case for seventeen-year-old Franny, who, five years after the explosion, still has to stand by and do nothing as her brother lies in a coma.

In the wake of the tragedy, Franny found solace in a group of friends whose experiences mirrored her own. The group calls themselves The Ordinary, and they spend their free time investigating local ghost stories and legends, filming their exploits for their small following of YouTube fans. It's silly, it's fun, and it keeps them from dwelling on the sadness that surrounds them.

Until one evening, when the strange and dangerous thing they film isn't fiction–it's a bright light, something massive hurdling toward them from the sky. And when it crashes and the teens go to investigate…everything changes.
Sounds good, right?
Top five reasons to read When the Sky Fell on Splendor
the characters — all delightfully quirky and easy to root for
the found family — I'm a huge fan of this and I love when it shows up in books
the setting — fields and abandoned houses and cellars, oh my
the strange — yep
the tag line — "the serpent king meets stranger things"
~~~~~~~~~~~~~~~~~~~~~~~~~~~~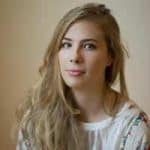 Emily Henry is the author of The Love That Split the World. She is a full-time writer, proofreader, and donut connoisseur. She studied creative writing at Hope College and the New York Center for Art & Media Studies, and now spends most of her time in Cincinnati, Ohio, and the part of Kentucky just beneath it.
She tweets @EmilyHenryWrite.
~~~~~~~~~~~~~~~~~~~~~~~~~~~~
Huge thanks to Penguin Teen for sending me an early finished copy and for an invite to the blog tour. Be sure to check out the rest of the blog tour for additional goodies!
Week One
March 4 – Butter my Books – Moodboard
March 5 – Adventures of a Book Junkie – Author Q&A Top 5 Reasons to Read
March 6 – Margie's Must Reads – Playlist
March 7 – Flying Paperbacks – Review
Week Two
March 11 – BookCrushin – Pop Culture Alien Invasions
March 12 – Elysian Artiste – Review + Moodboard
March 13 – The Midnight Society – Author Guest Post
March 14 – Morganreadsalot – Creative Instagram Picture