I don't think it's a secret that I love Paula Stokes and her words.  It goes without saying that when Paula asked if I wanted to beta read her upcoming NA book The Key to Everything, I couldn't respond to her in shouty caps fast enough.  Same goes for signing up for the blog tour.
Before we get to all things Bangkok — including an excerpt and a giveaway — let's check out the book!
Title: The Key to Everything
Author: Paula Stokes
Pub Date: January 2, 2018
Pages: 328
Find it: Amazon | Goodreads

College senior Oakland Fuller has always believed in signs and soulmates, so when both a therapist and a fortuneteller say that her repeated relationship failures are due to unresolved feelings for her high school boyfriend, Seth, Oakland tries desperately to get back in touch with him. Problem: Seth isn't responding to her online messages.

To rescue Oakland from a pathetic Christmas break of sitting in front of the computer, her best friend Morgan books the two of them on a guided excursion of Thailand. When the girls meet a pair of American soldiers in Bangkok, Oakland takes Morgan's advice and engages in a little harmless holiday hooking up. Sergeant Tyson Banks is the perfect mix of sexy and fun. Two weeks with him might just turn out to be the best relationship Oakland has ever had.

Until the day she spots someone familiar across a crowded temple complex—it's Seth! Somehow the boy she's been trying to reconnect with is in Bangkok too. If that's not a sign, then what is?

Filed with friendship, romance, and gorgeous faraway settings, The Key to Everything is a book for anyone who's ever dreamed of finding love when (or where) they least expected it.
Sounds good, right? And now, let's welcome Paula to the blog!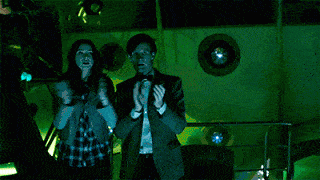 Paula: Today I'll be featuring an excerpt from the Bangkok part of the trip. Oakland and Morgan fly into Bangkok, stay there for the first couple of days, and later return to the same hotel there before flying home to California.
Here's a mood board for Bangkok, featuring city streets, the Grand Palace, the king's residence, delicious Thai food, a tuk-tuk (like a turbo-charged golf cart that functions as an inexpensive taxi), and Buddhist monks.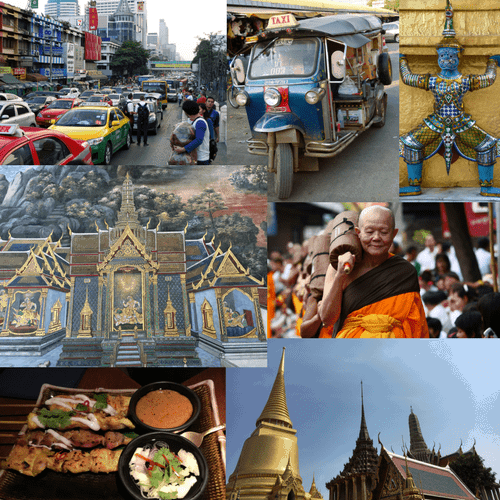 Oakland is fascinated by the spirit shrine outside of their hotel. Here's more info on that and if it sounds intriguing, be sure to enter the Rafflecopter below where you can win your own spirit shrine. (Spirits not included :D)
Once everyone has their luggage, we turn as a group and head toward the hotel's entrance. Sweat beads on my skin from the high humidity, but it's not nearly as hot as I imagined it would be. Then again it's still pretty early.

Halfway to the door, Morgan stops suddenly. "Ooh, Pracha. You should tell everyone about the spirit shrines."

I follow her gaze. To the right of the path, displayed on a carved marble pedestal, is what looks like the world's fanciest birdhouse. It's about two feet by two feet by three feet and painted completely gold. Roman style columns hold up a steep gabled roof with dragons on either end. I step to the edge of the path to get a better look. Candles and carved figures of elephants and dancing girls decorate the marble platform. Strings of bright yellow marigolds hang from each corner of the little house and burned sticks of incense sit on the pedestal in front, as well as pieces of fruit and candy.

Without warning, I sneeze. It's a doozy. Luckily no one is in front of me or I would have given them a shower.

"Excellent idea." Pracha rummages through his satchel until he finds what looks like a miniature drinkable yogurt. He sets the bar on the pedestal.

I sneeze again. Morgan gives me a questioning look.

"This is a spirit shrine," Pracha begins. "Buddhist people believe that sometimes the spirits of people who die in houses stay to haunt the house. Only by offering a separate place to live, and food and drink, can a person keep a spirit from haunting a house." He gestures with his arms as he talks about the shrine, obviously excited to be sharing a piece of his culture with us. "Every private residence in the city will have its own shrine, as well as restaurants and many stores. When we go out to the country in Chiang Mai, you'll see they sometimes do one shrine for an entire village. The more elegant and elaborate you make your spirit shrine, the happier your spirits will be."

"How do you keep the birds out?" someone asks.

"Birds are not allowed to—"

I sneeze a third time. My eyes are starting to get itchy. Apparently I'm allergic to marigolds or incense. Or Thailand. Hopefully not that last one.

"This is all quite fascinating," Crabby British Lady says. "But I've got to go to the loo, and this one here seems like we might need to screen her for Ebola." She gestures at me. "So let's keep moving along, hmm?"

"It's allergies," I say feebly.

"All the more reason to get inside," the British woman says.
~~~~~~~~~~~~~~~~~~~~~~~~~
Paula Stokes is half writer, half RN, and totally thrilled to be part of the world of YA literature. She started out writing historical fiction under a pen name and is now branching out into other YA genres.
When she's not working (rare), she's kayaking, hiking, reading, or seeking out new adventures in faraway lands. She's petted tigers, snuggled snakes, snorkeled with stingrays, and once enjoyed the suction-cuppy feel of a baby elephant's trunk as it ate peanuts from her palm. Her future goals include diving with Great White sharks, learning Krav Maga, and writing a whole slew of novels, not necessarily in that order.
Website | Twitter | Instagram | Facebook
~~~~~~~~~~~~~~~~~~~~~~~~~
Huge thanks to Paula for the invite! Make sure you're following along on the blog tour for all sorts of extra goodies! Tomorrow over at We Read! we're going to the beach :D And keep scrolling for a giveaway!
Right now you can buy a Kindle version of THE KEY TO EVERYTHING for the introductory price of $2.99. The price will go up slightly after this week.
Paula wanted to give away something fun for this blog tour that supports actual Thai people, so enter the Rafflecopter below for a chance to choose between a wooden spirit shrine and an elephant print tote bag (or your choice of bag/purse up to $16.99 from Veradashop), both handmade in Thailand.