When I got the email to sign up for the blog tour for Walk the Edge by Katie McGarry, I couldn't type fast enough.  I've loved Katie's books from the very beginning and I was dying to get her on the blog.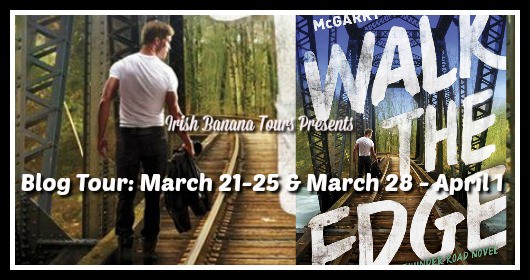 Before we get to Katie's interview, let's check out the book!
One moment of recklessness will change their worlds.

Smart. Responsible. That's seventeen-year-old Breanna's role in her large family, and heaven forbid she put a toe out of line. Until one night of shockingly un-Breanna-like behavior puts her into a vicious cyber-bully's line of fire—and brings fellow senior Thomas "Razor" Turner into her life.

Razor lives for the Reign of Terror motorcycle club, and good girls like Breanna just don't belong. But when he learns she's being blackmailed over a compromising picture of the two of them—a picture that turns one unexpected and beautiful moment into ugliness—he knows it's time to step outside the rules.

And so they make a pact: he'll help her track down her blackmailer, and in return she'll help him seek answers to the mystery that's haunted him—one that not even his club brothers have been willing to discuss. But the more time they spend together, the more their feelings grow. And suddenly they're both walking the edge of discovering who they really are, what they want, and where they're going from here.
1. Please give the elevator pitch for Walk the Edge.
When a classmate takes a compromising picture of seventeen year old Breanna Miller with known bad boy Razor from the Reign of Terror Motorcycle Club and blackmails Breanna with it, Razor and Breanna fall in love when they work together to break free of the blackmailer and the social media fallout associated with the picture.
2. Why do you love Breanna and Razor and why should we root for them?
Sometimes, the most powerful moments in life come when we are truly seen, when we are truly known. We can walk through life with most people in our lives having an idea of who we are, but we are not quite truly understood. That moment when you truly connect with a person, when they see not only all that's good about you, but all the rough edges, and they love you anyhow…
Breanna and Razor find this in each other. They not only find pure friendship, but pure love.
These two characters completely captured my heart and I'm very excited for them to capture the heart of my readers.
3. Without spoilers, what was your favorite scene to write?
Razor takes Breanna to a field and an abandoned train trestle. I wrote the entire book for this particular scene. It takes a great deal of trust for Razor to take her to this place and for Breanna to go with him. It's a moment where the future of their relationship is on the line and I loved writing each and every delicious minute.
4. You can only read one book for the rest of your life. What is it?
I'm going to cheat and pick two: the Bible and Stephen King's The Stand
5. What is one thing about publishing you wish someone would have told you?
There's easily over a hundred things I wished someone would have told me about publishing, but to be honest, like most lessons in life, I think you need to live them in order to truly learn. At least that's the case for me. I'm a headstrong, head first type of woman and I have a habit of treading where angels don't dare. I love writing and would have pursued it regardless of what anyone would have had to say. That's what happens when you're passionate about something.
I will say to anyone who also loves writing as much as I do—perseverance is the key.
~~~~~~~~~~~~~~~~~~~~~~~~
KATIE MCGARRY was a teenager during the age of grunge and boy bands and remembers those years as the best and worst of her life.
She is a lover of music, happy endings, and reality television, and is a secret University of Kentucky basketball fan.
~~~~~~~~~~~~~~~~~~~~~~~~
Huge thanks to Hannah at Irish Banana for the invite and to Katie for taking the time.  Make sure you're checking out Katie's website, following her on Twitter, liking her Facebook page, and adding all of her books to your Goodreads TBR list.
Definitely check out all of the tour stops and keep scrolling for a giveaway!
Tour Schedule:
Week 1:
Week 2:
**Good Luck!!**