When I saw that Veronica Rossi was going to be writing NA under a pen name, it was a no brainer that I was going to devour it.  I happened to see that there was a gdoc for the Boomerang blog tour, so I signed up, but wasn't really expecting to be chosen.
Fast forward weeks later and I got an email from the ladies at Bookslapped talking about the upcoming blog tour schedule.  I checked my calendar, but didn't have anything written down and wanted to double check before sending an email interview to the publisher.  Long story somewhat short, I was granted an interview with Veronica!
Before we get to her answers about Boomerang, let's check out the book, shall we?
Welcome to Boomerang.com, the dating site for the millennial gen with its no-fuss, no-commitments matchups, and where work is steamier than any random hook-up

Mia Galliano is an aspiring filmmaker. Ethan Vance has just played his last game as a collegiate soccer star. They're sharp, hungry for success, and they share a secret.

Last night, Ethan and Mia met at a bar, and, well . . . one thing led to another, which led to them waking up the next morning—together. Things turned awkward in a hurry when they found themselves sharing a post hookup taxi . . . to the same place: Boomerang headquarters.

What began as a powerful connection between them is treated to a cold shower courtesy of two major complications. First, Boomerang has a strict policy against co-worker dating. And second, they're now competitors for only one job at the end of summer.

As their internships come to an end, will they manage to keep their eyes on the future and their hands off each other, or will the pull of attraction put them right back where they started?
Sounds good, right?
1. Where did the idea for Boomerang come from?
The idea came from a Skype chat we had about a year ago. Lorin and I were going back and forth, just messing around and throwing out ideas, and Lorin mentioned the idea of a romance set in a dating service. I thought about it for days afterward. I think the next time we talked, I told her, "we should do this!" And the rest, as they say, is history.
2. I know why I love Mia and Ethan. Why do you love them and why should readers root for them?
I recently saw someone describe Mia as every girl's best friend – and I couldn't agree more. She's smart, warm, funny. She's a terrific character and the journey she's going through, of finding her own voice, is one everyone can relate to. And Ethan? Well, I think he's driven and loyal, and an all-around great guy. He treats Mia with respect. He treats her like an equal, and that's sexy. The blue eyes don't hurt, either.
3. Without spoilers, was there anything you had to cut that you wish you could have kept?
We cut a few scenes in which Ethan plays soccer with his ex-teammates and his new boss, Adam Blackwood. Mia is also there with her girlfriends. She's there in disguise, wearing a wig, and it was funny and cute, but we ultimately thought the book moved along at a faster clip without those scenes. It was the right call.
4. What makes a good villain?
A good villain is the hero of his own story. A good villain surprises. A good villain is human, and interesting, and flawed.
5.  How did the writing process work between you and Lorin?
I wrote Ethan and Lorin wrote Mia. We alternated chapters – and our goal was always just to make each other laugh or swoon!
6. Describe the book in 5 words
Sexy, funny, smart, playful, addicting!
7. What's next for you guys?
We sold three books in the world of BOOMERANG, so we'll have two more coming up. One probably later this year, and the last one early next year.
Speed [ish] round:
1. You get the call/email/letter that says you're being published for the first time. What happens next?
Run around screaming. Call everyone you know. Stop strangers at the grocery store, at the gas station, in the street to let them know you're a published author.
2. What three things would you take to a desert island?
A crate full of books. Sunscreen. A hammock.
3. You can only read one book for the rest of your life. What is it?
Persuasion by Jane Austen. Simply because I've read it more than any other book… that must say something.
4. Who are your favorite swoony boys?
Finnick from THE HUNGER GAMES. Hector from Rae Carson's GIRL OF FIRE AND THORNS series. Jonah Griggs from JELLICOE ROAD. There are more, but those are the ones that come to mind first!
5. What is the one thing about publishing you wish someone would have told you?
Getting published is only a step along the journey – and every step has its challenges and triumphs. Enjoy right now as a writer. Enjoy every step along the way.
~~~~~~~~~~~~~~~~~~~~~~~~~~~~~~~~~~~~~~~~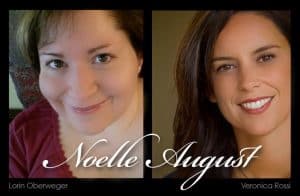 NOELLE AUGUST is an anagram for Veronica Rossi and Lorin Oberweger. Just kidding, it's a pen name!
VERONICA ROSSI is the author of the New York Times Best-selling UNDER THE NEVER SKY trilogy for young adults. The books are available in more than thirty countries and the film rights have been optioned by Warner Bros.
Veronica completed undergraduate studies at UCLA and lives in Northern California with her husband and two sons. She is fond of dresses with pockets, fluffy dogs, and cheese and chocolate — but not together.
LORIN OBERWEGER began her storytelling career by captivating her first-grade class with tales of her summers on a kibbutz in Israel. While teacher/parent night put an end to her first experiments in fiction, she'd already caught the bug and eventually made a career of all things story.
As a long-time independent editor and story development guru, Lorin's client successes range from small press publications to major bestselling novels. She's an award-winning author and has also worked behind the scenes as a ghostwriter on a variety of projects. Her work has received starred Kirkus reviews and glowing mentions in The New York Times. Oh, she did get to see a kibbutz, eventually, and found out she had it pretty much right all along.
Veronica and Lorin met at a writing workshop and just knew they were destined to create awesome things together.
~~~~~~~~~~~~~~~~~~~~~~~~~~~~~~~~~~~~~~~~
Huge thanks to Veronica for taking the time! Make sure you're going to the Noelle August website, following on Twitter, liking the Facebook page, and adding all of the books to your TBR shelf on Goodreads.
Haven't had a chance to get your greedy hands on a copy of Boomerang? Go enter the giveaway!