Veronica Roth was announced as part of the Pitch Dark Days tour and I knew that wherever she was going to end up, I was going to get there. When the tour stop was announced at the BN in Huntington, it was a done deal.
I got up to the store around 4:15. I proceeded to wander around, looking for a hardcover copy of Divergent for Michelle. The event already looked like it was going to be huge. People were walking around, carrying copies of the books and there were little clusters of people sitting on the floor. By 4:45, the event area was being set up and everyone who was sitting had been lined up and we were able to get 4th row seats.
The chairs quickly filled up and there was an additional line of people along the banister. 6pm brought the employees going through the chairs of people, writing post-its for inscriptions. And the line got even longer.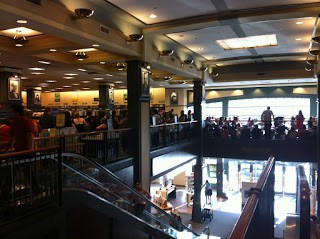 And then this happened…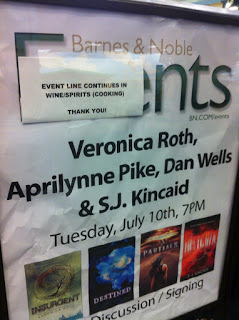 The authors got there right at 7. There was a brief introduction from each author with a synopsis of their books and then it went right into Q&A. Aprilynne said that they'd only have about 30 minutes due to there being so many people. There were some good questions and some of the standard advice sort of questions.
But let's get down to business, because we allll know that I didn't take any sort of notes so I could properly recap.
They started the signing going row by row with a line behind every author.  Originally [because I had 13 books with me to get signed], I was going to wait until the very end.  With the crowd control, it was much easier to get everything done…
SJ Kincaid was the first author I went to.  She is adorable.  I gave her my book and congratulated her on her book release day.  And then she put me on the spot by asking what my favorite book was.  Confused, I asked her if she meant for all time.  She said, "Favorite book that think of first." My answer was [of course] Pride and Prejudice.  She countered with, "Favorite movie Mr. Darcy?"
Pfft.  Like there's any real answer other than Colin Firth.
We chatted about how lovely Colin is in that role and how someone [SJ's cousin? Friend? I don't remember] thinks Colin does the creepy stare.  SJ and I agreed that the creepy stare is the best part of Colin's Mr. Darcy. I will be keeping tabs on SJ for this alone.  *nods*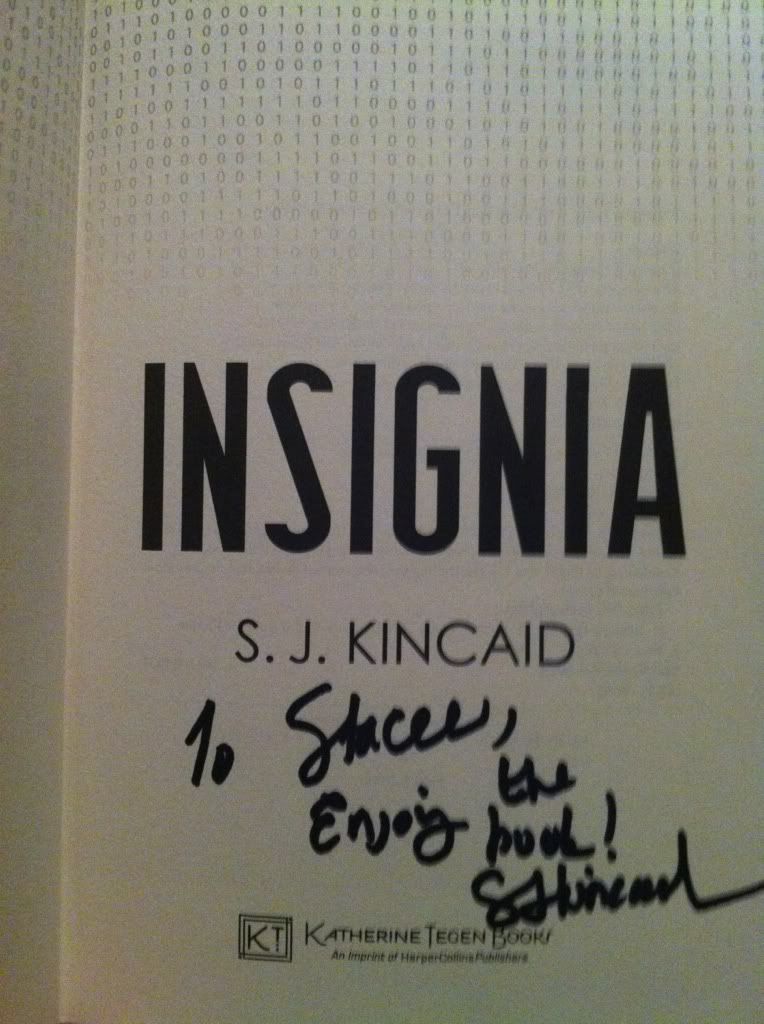 Aprilynne was next.  I had books for Jennifer to have signed, plus my copy of Dear Bully.  Aprilynne asked which book was for me and I explained how I had books for several people.  She also asked about Dear Bully and if I had been getting other authors.  I told her I was working on getting everyone to sign it and she said she's seen a lot of people doing that.
I quickly slid over to Dan Wells.  I did meet him when he toured with Lauren Oliver and Claudia Grey and he is a lot of fun.  Excellent sarcastic answers, plus he loves Hermoine.
I had gotten a copy of I Am Not A Serial Killer at ALA, so I had that signed. He also asked which book was for me since I had something for Jennifer.  Dan had pins on the table and I asked if I could take one.  He said yes, but for $10.  So, I took 2 and said that I would run and get him some money.  Dan said he would accept pretend money.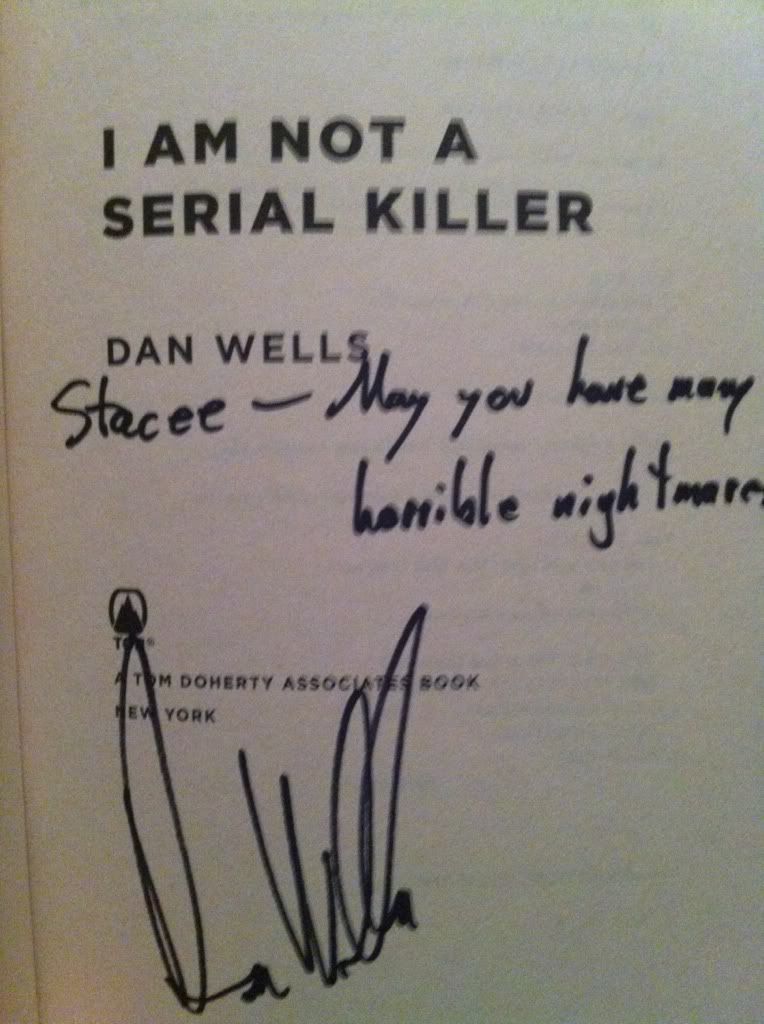 Now.
For Veronica, there were a shiton of people there.  One of the B&N events people [who's name I don't know…] said there was 350 people there and every single one of them had books for Veronica.
I had 8.  Plus my Nook.
When I got up to her, I started to apologize for the stack.  Veronica went to grab the first book off the top and somehow managed to knock over her Starbucks.  Thankfully, it missed all of Dan's swag and didn't hit any books or people.
I was watching her sign her name and noticed that she signs "Rth" and then adds the "o" afterwards.  When I commented on it, Veronica said that she changed it because when she signed it as one word, it looked like "V. Rats".
After the stack was completed, I asked if I could get a picture.  She told me it was no problem and to come around the table.  I went back to the front to thank her and again apologize for the stack.  Her answer was awesome, that she wasn't going to be mad that I had bought so many copies of her books.  And then told me that she once signed 20 copies for one person.
I was tempted to buy more, just to beat the record.
As we left, we noticed that people were lined up everywhere.  There was one large line, running down the banister and then people were lined up between the bookshelves.  The B&N in Huntington Beach always does a fantastic job of crowd control and everything always seems to run so smoothly.
SJ, Veronica, Dan and Aprilynne were all so much fun to talk with and they definitely made it worthwhile.